Khloe Kardashian is actually not pregnant with her boyfriend Tristan Thompson! Find out how the pregnancy rumor had spread.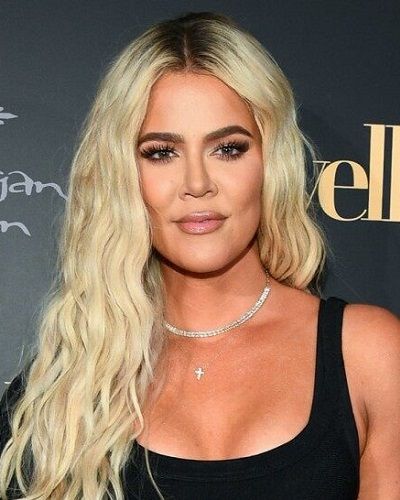 Khloe Alexandra Kardashian is an American television personality who is currently in a relationship with Tristan Thompson. The couple looks tremendously happy being together. They also keep on posting their photos together. Hence, the rumor about Khloe being pregnant with Tristan Thompson has been proved wrong. The rumor had spread because of one of the photos Khloe has posted in social media.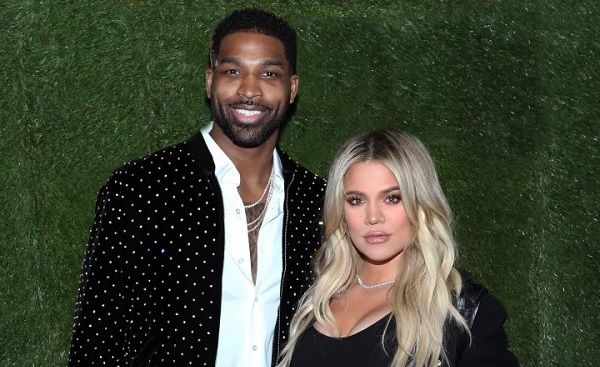 Khloe Kardashian's post, 'dad and mom' snap
Khloe Kardashian had posted a photo with her boyfriend, Tristan Thompson where she had captioned 'dad and mom'. There was nothing mentioned about Khloe being pregnant. However, the false information about her pregnancy was sparked from the photo that she has posted with her boyfriend. It is clear that the rumor evolved just because of the inscription of the photo.
Is @khloekardashian pregnant?? Her Snapchat has me thinking she is! I hope she is, she deserves all the happiness in the world ❤❤ pic.twitter.com/enx72SJEXv

— Emily 🙂 (@xemilyrodgersx) June 26, 2017
The above photo was posted by Khloe Kardashian herself. In the photo, Khloe was celebrating her 33rd birthday with her love partner. She has been more loved up than ever.
The picture posted by Khloe was nothing but only the celebration of her birthday. Talking about the caption 'dad and mom', she captioned the photo as so just because it was only a lovely nickname given to them as 'dad and mom'. Hence, the pregnancy of Khloe is all misleading. Her snap photos had only confused her fans and rumors metastasized unnecessarily.
Also read Khloe Kardashian is not happy with her mother Kris Jenner's current boyfriend Corey Gamble!
Khloe Alexandra Kardashian's birthday bash
It appears as if Khloe Kardashian had really enjoyed her 33rd surprise birthday party with her love, Tristan Thompson. Let's have a look in some of the birthday bash's pictures.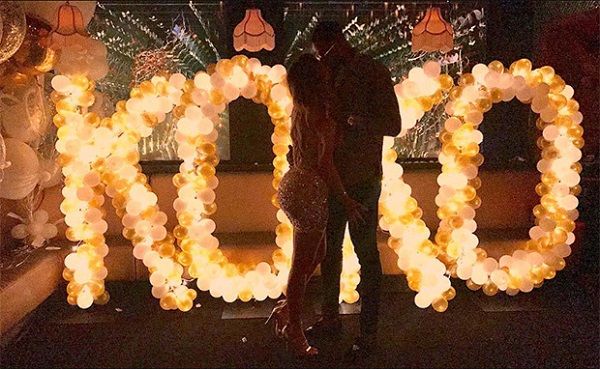 The previous photo shown is also from Khloe birthday celebration. In the photo, we can see a big " KOKO" behind Khloe and Tristan. Maybe it's her nickname or some stuff like that. Also, it seems as if the couple is extremely happy to have each other in their life. 'Birthday Girl' Khloe looks gorgeous in her pretty dress. Tristan Thompson also appears to be very delightful.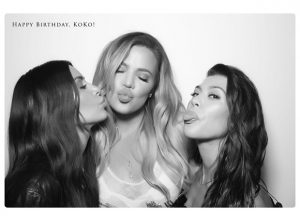 In the photo, three loving siblings, Kim Kardashian, Khloe Kardashian, and Kourtney Kardashian seem to be Posey and enjoying Khloe's birthday with a huge amusement and excitement.
Relationship of Khloe Kardashian and Tristan Thompson
Khloe is an old American Reality TV Contestant, 33-year-old. She was born as Khloe Alexandra Kardashian on 27th of June, 1984 in Los Angeles, California, USA. Similarly, she was educated at Home Schooled. She is best known for Keeping Up With The Kardashians in a career that spans 2007.
Tristan Thompson, a 26-year-old Canadian Basketball player was born on 13th March 1991 in Toronto, Ontario, Canada.
Khloe and Tristan both started dating since the month of September in 2016.
Past relationships of Khloe Kardashian
Khloe Kardashian had some past relationships. She had an ex-husband from her previous marriage. Her ex-husband was Lamar Odom, an American Basketball player. The married life of the couple lasted from 2009 to 2016.
She had also been in a relationship with James Harden, an American basketball player. Also, the relationship lasted for a year (2015-2016). She was also in a relationship with French Montana, a Moroccan Rapper ( 2014-2015), Dettick Ward, an American Football Player (2009), Rashad McCants, an American Basketball Player (2008) and Stevie J, an American Rapper (2005-2006). Furthermore, Khloe encountered with Odell Beckham Jr, an American Football Player (2016), Terrence Jenkins, an American Actor (2009) and Jeezy, an American Rapper (2008).
Also read Jordyn Woods admits to having hooked up with Tristan Thompson behind his girlfriend Khloe Kardashian's back!
Update on Khloe's daughter and her relationship with Tristan
The famous TV personality gave birth to her first child on 12th April 2018. The name of her daughter is True Thompson. She was born with her ex-boyfriend Tristan. There is news that he has cheated on her multiple times.
When she was pregnant with True, he cheated on her but they got back together again. A few months ago the news of Tristan cheating on Khloe for the best friend of Kylie Jenner came out.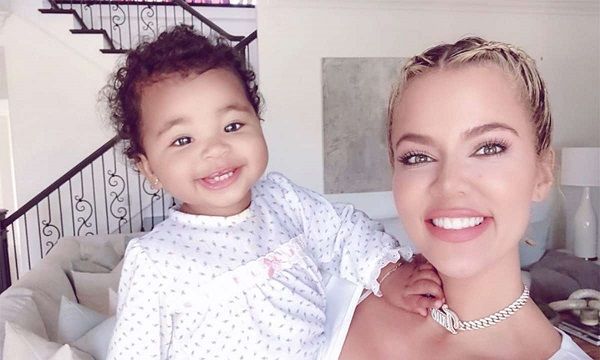 As he cheated on her for Jordyn Woods. Khloe was shattered by both of them. Also, she was close to Jordyn. After that, she shared multiple Instagram stories about being cheated on and how she was betrayed by her own close people.
Short Bio on Khloe Kardashian
Khloe Kardashian is an American television personality, socialite, model, businesswoman, and entrepreneur. She featured in a reality series named Keeping Up with the Kardashians with her family, The Celebrity Apprentice and The X Factor with actor Mario Lopez. See more…
Short bio on Tristan Thompson
Tristan Thompson is a Canadian professional basketball player for the Cleveland Cavaliers of the National Basketball Association (NBA). He played one season of basketball for Texas before being drafted fourth overall by the Cavaliers in the 2011 NBA draft. See more…