Khloe Kardashian: her willingness for surrogacy for her elder sister, her affairs with rappers and athletes and her revenge body! Read on for more!
Khloe's admission about her faking pregnancy
US Weekly have taken a look into 11th June 2017 episode of 'Keeping up with the Kardashians'. In this season finale, Khloe Kardashian opens up about her relationship with her ex-husband Lamar Odom. Khloe Kardashian visits a fertility clinic with her elder sister Kim Kardashian and queries the doctor on whether she could serve as a  surrogate mother for her elder sister who wants to have a third child with husband Kanye West. The doctor could be heard asking Khloe Kardashian whether she has ever tried pregnancy before. To this, Khloe Kardashian answers:
"I fake tried. I was married but I knew the circumstances weren't the healthiest, so I just kept pretending I was doing it." 
In this discussion, she candidly talks about her marriage to American basketball player Lamar Odom in 2009 after one month of dating. She also reveals as to why she knew that bearing children at that time was not in their best interest. She went on to say:
"When I was doing my fertility treatments, they were more so for Lamar. I had to stop cause there was much deeper stuff that was happening in our marriage."
Khloe Kardashian spoke about Lamar Odom's cheating and his drug addiction. She also mentioned his 2015 near-fatal drug overdose. Khloe Kardashian divorced Lamar Odom in 2016. She also recalled how she used to cover up for her husband even though she knew that it was leading to more troubles in their married life. She defended her acts saying:
"I was fine taking on that burden on my shoulders, because he had a lot of other deeper s–t to deal with."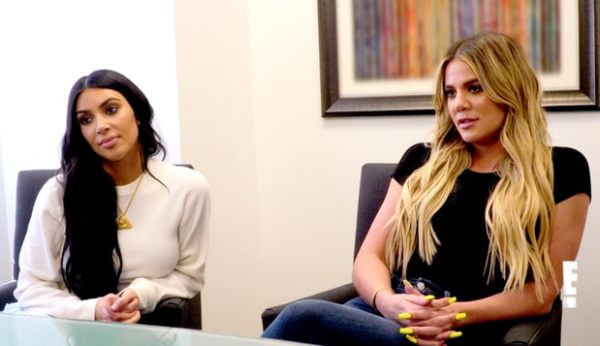 Khloe's love for athletes and rappers
Khloe Kardashian seems to have a fancy for rappers and athletes. Khloe Kardashian had dated the NBA player Rashad McCants in 2009. She left him citing infidelity. However, later she told New York Post that they had fabricated the whole thing up for the reality TV. Khloe Kardashian had a brief romantic association with NFL's football running back Derrick Ward in 2009. They were spotted cozying up at sister Kourtney Kardashian's 30th birthday. She then went on to marry Lamar Odom. They separated in 2013. In October 2015 Khloe put her divorce papers on hold after Odom overdosed in Nevada. She restarted the process in May 2016. After her 2013 separation from Odom, Khloe Kardashian was seen with basketball star Matt Kemp at multiple concerts. Khloe Kardashian had an on-again-off-again relationship with rapper French Montana in 2013 and 2014. They permanently separated in December 2014. After that breakup, she was not keen to enter into any new relationship. She had said repentingly:
"I jumped into something because I was just, like, lonely and destructive. But now I'm like, I just want to be alone."
But within 5 months she was up and ready to date retired NBA player Rick Fox. The couple went on a date at Mexican hot spot Casa Vega in LA's Sherman Oaks neighborhood. An eyewitness had said:
"It looked to be a fun date. She seemed happy."
Khloe met basketball player James Harden at Kanye West' birthday party in June 2015. But by February 2016 the duo had called it quits. Khloe Kardashian was seen flirting with NFL player Odell Beckham Jr. at a party in June 2016 though there was no dating following it. Later in July 2016, Khloe Kardashian had a brief dating session with American actor, singer, and songwriter Trey Songz. In August 2016, Khloe was introduced to NBA player Tristan Thompson by her friend and American actress Malika Haqq. They traveled everywhere together from Mexico to Miami. They are head over heels in love with each other and are serious about their relationship. Khloe's mom, Kris Jenner is also happy with this union. Kris Jenner told US Weekly:
"They are really cute. She's having a good time. He seems like a really nice guy."
The rest of the Kardashian-Jenner clan are also happy with this relationship.In spite of the long distance, the couple has tried to maintain their relationship and Khloe has flown to his game venues this season often to cheer him up. They have attempted to keep their relationship low-key and private and hence Tristan does not appear in her photos posted on her social media accounts. However, Khloe has admitted that she has never been in this type of great love before and would be thrilled to marry Tristan whenever he proposes to her. Khloe said:
"I would love to have a family. We've talked about it. He [already] is a father, and I now for a fact that he would be an impeccable father."
Tristan Thompson has a son Prince born in December 2016 with his ex-girlfriend Jordan Craig. Talking about motherhood, Khloe said:
"I definitely want to be a mom. But I don't put the pressure on it. It's not like, 'the clock is ticking.' I feel in my soul it will happen."
Khloe's revenge body and clothes
Khloe hits tabloids, not only for her love life but also for her skin tight clothes wear. Khloe Kardashian has a stunningly sexy body thanks to her strict work schedules and a healthy diet with no cheese. After her complete makeover, this host of FYI cable channel's talk show 'Kocktails with Khloe' adorns skintight outfits. For Scott Disick's birthday party on 28th May 2016, she was seen in a plunging pink latex dress of House of CB. On 23rd May 2016, she was spotted in LA in a without underclothes black Sergio Hudson jumpsuit which was kept together by means of strings down each side. She was dressed in suede Jitrois attire with a deep V-neckline during one of her shoot for 'Kocktails with Khloe' on 30th March 2016 at LA. She had also worn thigh-high lace-up boots. On 29th March 2016, Khloe had on a skin-tight zebra-printed mesh frock by Balmain for her shoot for 'Revenge body with Khloe Kardashian'. On 18th March 2016, during the filming of 'Kocktails with Khloe', she was seen in a denim pencil dress with a sexy cutout. On 2nd March 2016, she had worn a body-hugging cleavage-baring dress by Cushnie Et Ochs and with high heels. On 15th January 2016, her get-up in NYC included a hot pink bodysuit with a neckline extending to her navel and skintight pencil skirt. Both were made of a thin material. On 13th January 2016, she had adorned a catsuit. It was a jumpsuit with a mock turtleneck. On the same day later, she was spotted walking on NYC streets in a plunging black jumpsuit by Prabal Gurung which had a see-through lace back cutout. For Cosmopolitan's 50th birthday celebrations on 12th October 2015, Khloe wore a deeply cut bodysuit with a textured velvet maxi skirt which had a thigh-high slit. Khloe had attended the New York Fashion Week on 14th September 2015 in a see-through lace catsuit layered over a nude bodysuit. On 28th August 2015, Khloe was sighted at LA in a white embroidered see-through bodice with floral details bearing a thigh-high slit. On 31st May 2015, during her book promotion, Khloe was in a tight blue frock by David Koma with playful see-through panels. On 14th May 2015, she looked stunning in a billowing blue silk dress from Stello which featured a thigh-high slit and a plunging V-neckline.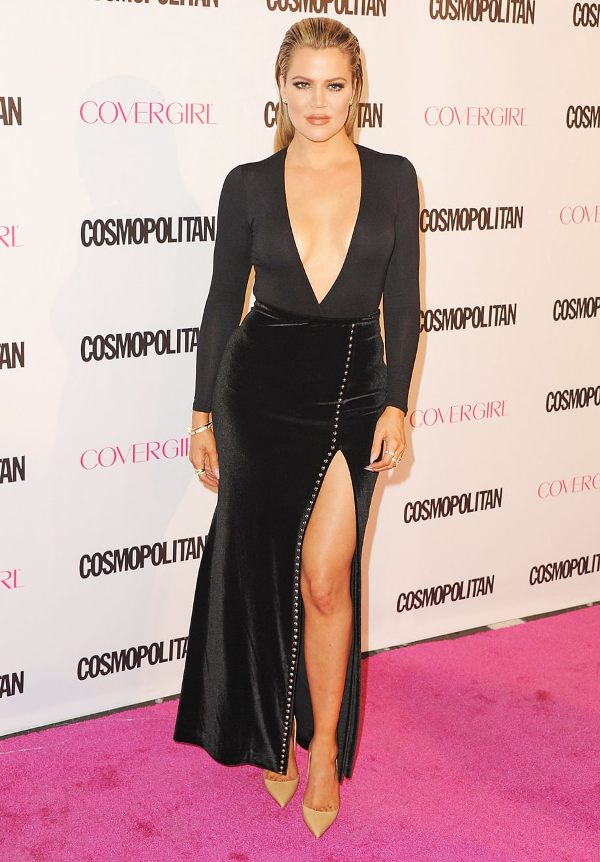 Short Bio on Khloe Kardashian
Khloe Kardashian is an American television personality, socialite, model, businesswoman, and entrepreneur. She was born on June 27, 1984, in Los Angeles, California of United States.  She was commissioned within the star along with her family in the year 2007 with the reality series named "Keeping Up with the  Kardashians". She is active in this industry from the past 2007 to the present context. In 2009, She participated in the second season of The Celebrity Apprentice, finishing 10th of 16 candidates by being fired by Donald Trump. In 2012, She co-hosted the Second season of the US adaption of The X Factor with actor Mario Lopez. In 2016, she hosted her own talk show, 'Kocktails with Khloe', and will star in the health and fitness docu-Series revenge Body with Khloe Kardashian. More Bio…