The best most relaxing birthday ever- Kim Kardashian West celebrated her 39th birthday With Intimate Dinner!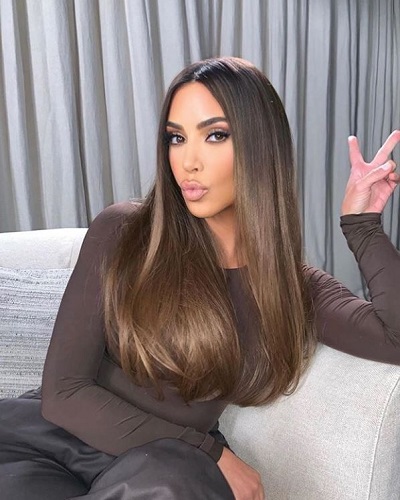 On October 21st, Kim Kardashian West turns 39 today. This Libra born star, Kim celebrated her birthday over the weekend, heading with her sisters Kylie Jenner, Kourtney, and Khloé Kardashian. Giving the company a group of best friends also joined Kris Jenner's Palm Springs compound.
Kim wrote on her Instagram story:
"There is nothing more that I'd rather do than be with all of my friends, laying out, in Palm Springs for the weekend."
Kim also gifted her pals with her product lines. She gave perfume, garments from her SKIMS shapewear. Everybody seemed pretty excited, digging into SKIMS-branded bags.
The guests gathered for her birthday dinner at a table cutely decorated with Maxxinista-style birthday-themed party favors. The centerpiece on her birthday table said "Kim Day."
Also read: No backtrack! Tyler Cameron stands by his criticism of singer Kanye West's remark on his wife Kim Kardashian's met Gala look!
Family sending love for 39th birthday
Since Kim's mother, Kris Jenner is off at Jennifer Lawrence's wedding. So, she was not there to attend the dinner last night. But she posted a birthday post with a beautiful caption on it.
She wrote:
"Happy Birthday to my beautiful daughter @kimkardashian! You are such a force of nature. You are an incredible daughter, mommy, wife friend and sister. Thank you for shining your bright light on everyone you love. You are always leading the way and showing us your true super power with how you are always reaching out to others. You are so kind, generous, and compassionate and I'm so proud of the amazing woman you have grown into. I love you so much and I'm beyond blessed to be your Mom. Have the best birthday and year ever ????????❤️ Mommy xoxo #HappyBirthdayKim"
Kim also asked Kylie to do her makeup for her birthday dinner. Furthermore, she also called her a "special makeup artist". Kylie also offered 39% off of their collaborative lip set in partnership with Kim's KKW brand. Since Kim also celebrated her 39th Birthday with 39% off on her @kkwbeauty products.
Kylie wrote:
"Happy birthday to my beautiful big sister. I'm so blessed to have you in my life!! Your love, guidance, selflessness and loyalty are unmatched ♥️ i love you in this life and beyond!!!"
Kendall posted many Instagram stories for Kim's birthday. Kourtney also posted an old picture of her and Kim saying:
"Happy Birthday Kimberly Noel Kardashian West! I love you forever."
Khloé Kardashian also poured her hearts out while writing a caption for Kim's birthday post. It seems Khloe is super proud of what Kim has achieved and will be achieving in the future.
"It's your birthday @kimkardashian!!! There are so many wonderful things I wish people knew about you. There are SO many things, so I will only name a few. For all the years of your life, you have glowed from the inside out. There has always been a magnetic energy about you. You've written your own set of rules, always with love. You have forever had an immense amount of courage and faith that everything will always work out. But most importantly, You leave people better. You want everyone to be the best version of themselves. You leave people feeling empowered and full. I pray, on your birthday and every day of your life, that you forever feel loved, respected and appreciated! We all love you so much! I am so proud of all that you were, all that you are and all that you are going to be! Happy birthday @kimkardashian!! You are everything to so many but especially me ♡"
Many other celebrates like Nicki Minaj, Ellen, Jlo, etc. also wished Kim on her birthday. Kim is getting showered by wishes.
Also read: Kim Kardashian got in trouble with Kanye West for letting North wear lipstick? "No more makeup" says Kanye West
Thankful for all the love
Kim thanked everybody for all of the birthday love. She also said this 39th birthday is the best most relaxing birthday ever she has ever had. A family dinner at her house organized by her mom and Kanye in Palm Springs my amazing friends and family.
Kimm had her favorite Armenian restaurant Carousel for the dinner. Later that time, there was another surprise waiting outside. She was surprised with a beignet truck and churro stand. It is obvious she received amazing gifts from my whole family.
Kanye gifted her the most amazing bags. On her behalf, Kanye and her kids donated $1 million to her favorite charities that work for the reform of prison.
A short bio on Kim Kardashian:
Kim Kardashian(West) is a reality TV personality, socialite, actress, businesswoman, and model. She along with her family are the star of the reality show Keeping Up with the Kardashian.
Kim's scandalous video with her former boyfriend Ray J made her more popular. She has had tremendous success as an entrepreneur, launching clothing lines and smartphone apps too. more bio…
References: (wmagazine, metro)