"Kobe is going to end up dying in a helicopter crash" Freaky Prediction Of Kobe Bryant Death Tweet Came True After 8 Years! Is It Real Or Fake?
People all over the world are paying tribute to the late basketball legend Kobe Bryant. He, his daughter Gianna and seven other people lost their lives on Sunday in the helicopter crash. All the fans, athletes, and stars are sharing a heartfelt message after the news. In between this one, the tweet started getting viral all over the internet. One of the twitter users predicted the death of Kobe back in 2012 and people are talking about it. Is it fake or did he really predicted his death 8 years back?
Freaky prediction tweet of Kobe's death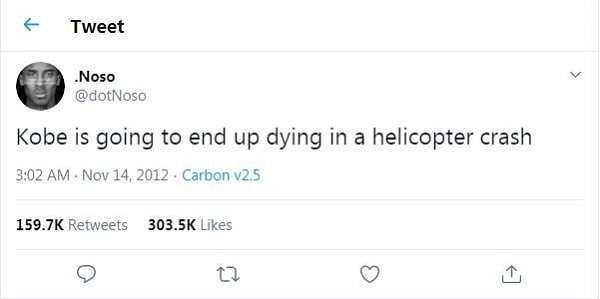 Twitter is full of tributes to Kobe from his fans and many stars all over the world. Meanwhile, one tweet allegedly posted in 2012 caught people's attention. One of the twitter users with the username dotNoso made a tweet where he predicted the death of the basketball legend Kobe. In the tweet he wrote:
"Kobe is going to end up dying in a helicopter crash"
Many people started retweeting and sharing the tweet which made it viral all over the internet. After the news of the death of the NBA player, he posted saying he is sorry. However, many people requested him to remove the tweet, but he did not take it down.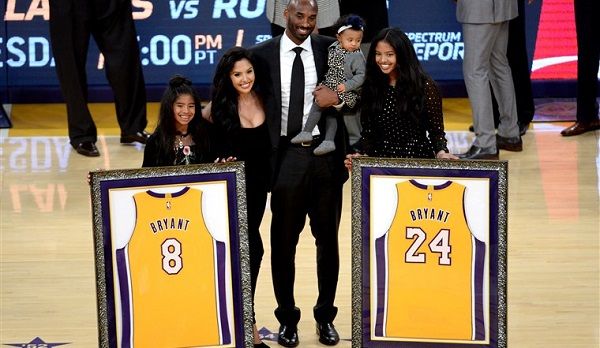 While many people were talking about the tweet, some fans were quick to notice the post was made using Carbon v2.5. One of the twitter users even commented on asking how did he use Carbon v2.5 while it was released in 2015. Meanwhile, another user also commented saying:
"This doesn't prove that it's fake. All of the tweets from this account around this date are sent from "Carbon v2.5″. It has to be a Twitter bug or something".
In between all these comments another user explained his point on the comment saying:
"The original Carbon app launched in 2011 (see their old username @CarbonAndroid). It did exist when this was posted," 
You may also read- Top 10 Pictures Of Kobe Bryant With His Wife And Children You Don't Want To Miss!! 
Is it real or fake?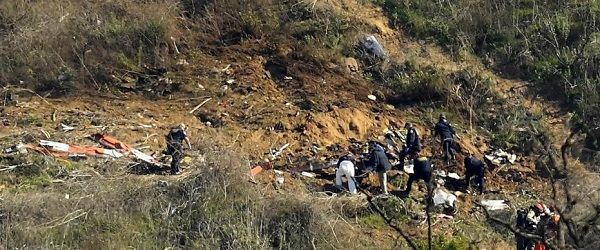 No one has yet confirmed either the tweet is fake or actually he predicted Kobe's death 8 years back. The Twitter user is silent and has not stated anything on this matter. Many twitter users are keeping their point on twitter can be real or fake. Meanwhile, some users also jokingly commented "Do trump next," and "Please say Kejriwal is going to lose the Delhi election".
The local and federal authorities are still investigating the crash. The authorities stated:
"It's a logistical nightmare in a sense because the crash site itself is not easily accessible," 
All the prayers to the families who lost their loved ones on the crash.
Source: Live Mint, Talent Crap, Twitter, India Today