Kourtney Kardashian Marriage With Travis Barker is Real!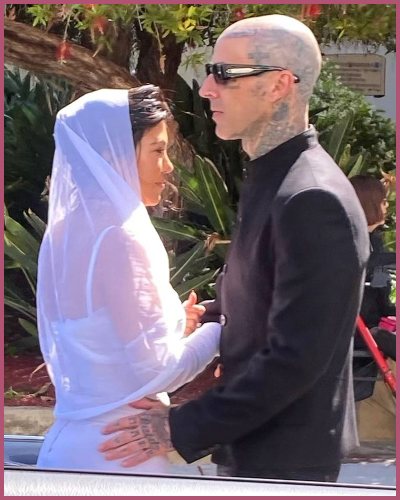 Travis Barker and Kourtney Kardashian legally married on May 15, 2022.
The couple had a practice wedding in Las Vegas on April 4, 2022, at 2 am in the morning.
Travis Braker engaged to reality TV star Kourtney in October 2021 after less than a year of dating.
---
Kourtney Kardashian is Mrs. Barker from now on!
The Kardashian sister legally exchanged her vows with American musician and drummer Travis Barker on Sunday, May 15, 2022, in Santa Barbara.
Is Kourtney Kardashian marrying Travis Barker under a grand celebration again for Hulu Tv The Kardashians?
Wedding of The Kardashians
The wedding nuptial ceremony of Kourtney and Travis took place among close friends and family members in an intimate ceremony. A source even disclosed,
"They had to legally get married first ahead of their big Italian wedding, which is happening very soon."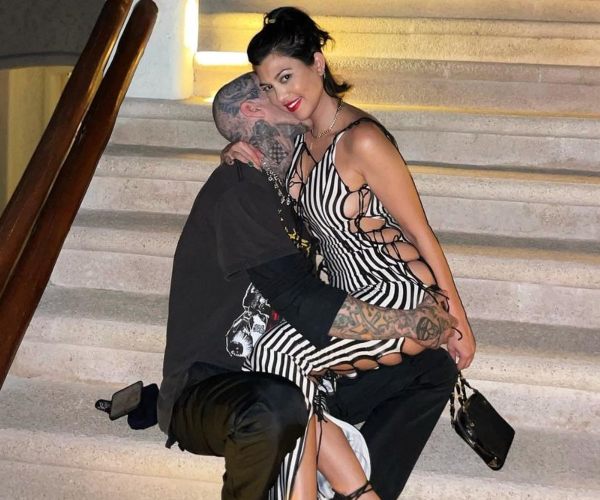 Further, it came out that everyone is excited about the Blink-182 rapper and famous Kardashian sister's upcoming wedding. Source continued,
 "All the details are set and the whole family, including all the kids, are very excited."
Kourtney Kardashian, 43, and Travis Barker, 46, engaged in October 2021 on the beach in Montecito, California. Their relationship began when Kourtney made her beau kneel down in late 2020.
Their romance celebration and beginning simultaneously featured on The Kardashians on Hulu followed by a surprise dinner for their families.
Also, reads Are Kourtney Kardashian and Travis Barker engaged? When is the wedding?
Kourtney Kardashian- Instagram post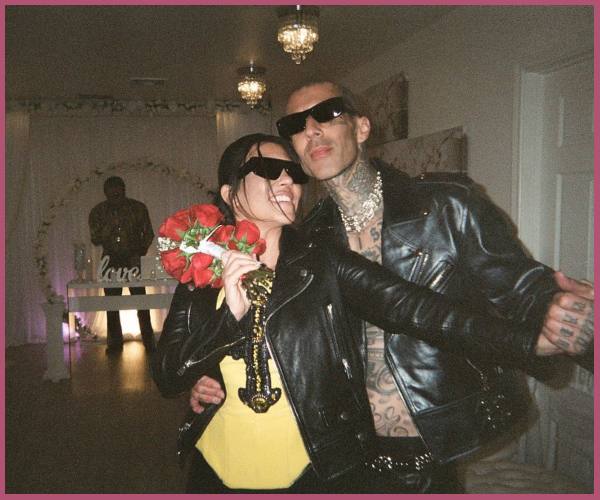 Early morning or say midnight of April 2022 the rapper and Kourtney had their wedding practice shortly after the drummer's Grammy performance. To which Kourtney posted their moments on April 6, 2022 with a beautiful lengthy caption,
"Found these in my camera roll. Once upon a time in a land far, far away (Las Vegas) at 2am, after an epic night and a little tequila, a queen and her handsome king ventured out to the only open chapel with an Elvis and got married (with no license). Practice makes perfect."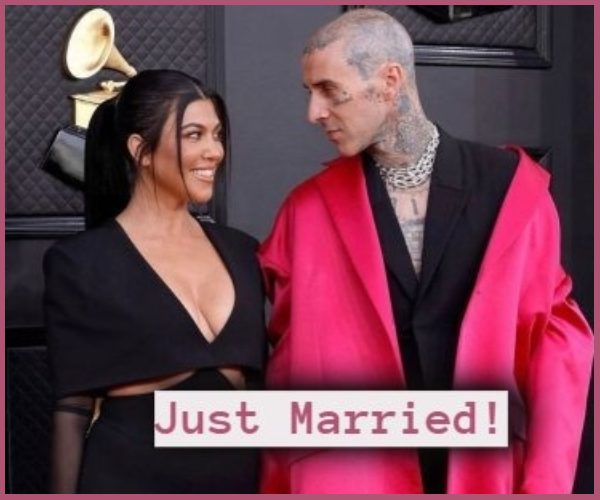 Kourtney Kardashian- Relationship Timeline
Kourtney Kardashian has been in a long-term relationship with the father of her three kids, Tv personality Scott Disick from 2007 to 2020.
Meanwhile, she had romantic encounters with accountant David Dee Duron (2020), Algerian model Younes Bendjima (2017 – 2018), American actor Quincy Brown (2016), singer Justin Bieber (201 -2016), and Joe Francis (2005).
Kourtney also was in four five-year relationships with singer Taryll Jackson (2001 – 2004) and actor Jeff Benson (1994 – 1999).
Kourtney Kardashian hookups with Luka Sabbat (2019 – 2020), Harry Hudson (musician) (2019), Fai Khadra (2016), and J.j. Corsini (2006) was also trending. Also, rumors of her flings with Michael Girgenti came in 2008.
Also, Read What? Kourtney Kardashian married fiance Travis Barker?