Kristen Stewart: her gay-lesbian nature, her new girlfriend Stella Maxwell and her views on sexuality: Know on it here!
The long-awaited reunion!
The Moschino Resort Collection fashion show after-party on the rooftop of Hollywood's Roosevelt Hotel, LA on 8th June 2017 was a time of happy reunion for American actress Kristen Stewart and actor Taylor Lautner. The 'Twilight' co-stars who played Bella Swan and Jacob respectively in the TV series have met five years after wrapping of the shoot of their famous 'Twilight' franchise. All eyes were on these two as they appeared closer than before. Taylor Lautner smiled as he wrapped his arms around Kristen Stewart and pulled her into a warm embrace. Kristen Stewart too rested against him and gave a soft grin as both posed for the cameras. Loyal Twilight fans were excited and happy about seeing the two together and took to Twitter to express their enthusiasm. One of the fans wrote:
"This is so beautiful. Warms my heart to see how they became best friends on and off screen. Lovely pair,"
Another fan tweeted:
"Because life is about the journey, and your real friends will always support your destination #friendship #KristenStewart #TaylorLautner."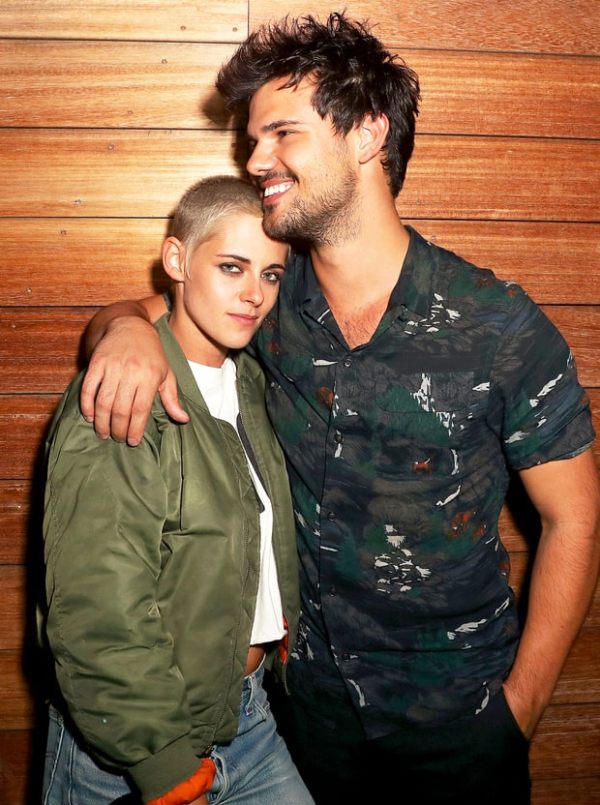 Kristen Stewart's bisexual affairs
Kristen Stewart had first dated her co-star on 'Twilight' Robert Pattinson. This ended abruptly when Kristen was caught kissing her married director, Rupert Sanders. She then switched to a girlfriend named Alicia Cargile and started dating her. Alicia Cargile is in the showbiz and works as a visual effects producer. She was also associated with French singer Stephanie 'Soko' Sokolinski. Since the last few months of 2016, she is seeing model Stella Maxwell.
Kristen Stewart was present at the Moschino Resort Collection fashion show at Milk Studios to support her girlfriend, Stella Maxwell. Stella Maxwell was going to walk the ramp in two very sheer yet colorful ensembles. Before the show, Stella Maxwell was seen hanging out with and cuddling Kristen Stewart.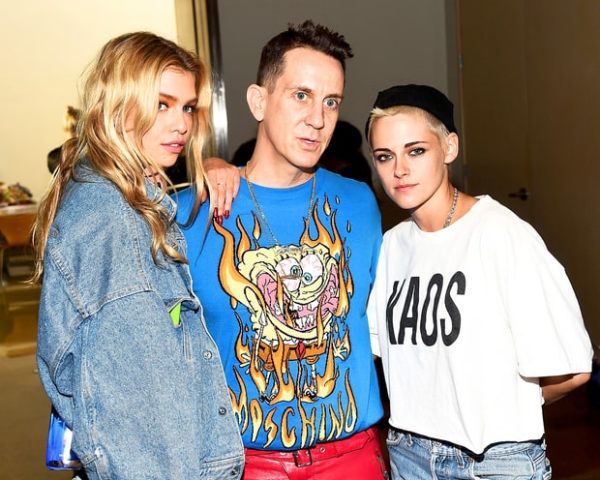 Earlier the same afternoon, the lesbian couple was seen enjoying a casual stroll around Silver Lake in Los Angeles. They were holding hands and appeared quite happy together. The couple was joined by Stewart's good friend, CJ Romero who presently is seen with pink hair. Kristen Stewart and Stella Maxwell were spotted kissing each other in Milan In December 2016. It has been known that Stella Maxwell has moved in with Kristen into her four-bedroom home in Los Feliz neighborhood of L.A. She still retains her New York City apartment. A reliable source has confirmed that in spite of their busy schedules, the two try to spare time for each other. They were seen together at Coachella Valley Music and Arts Festival's first weekend and at the Moschino party. Stella Maxwell also flew to New Orleans where Kristen Stewart was filming for her movie 'Underwater'.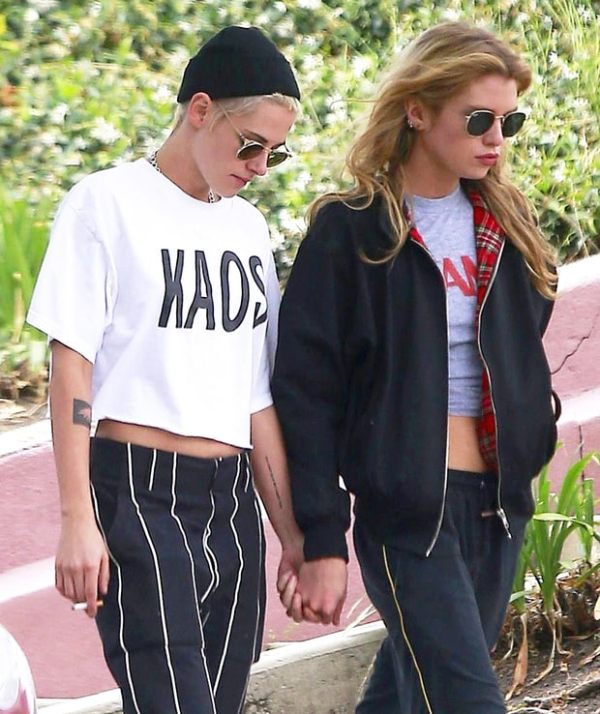 What does Kristen Stewart have to say about her relations?
On 4th February 2017, Kristen Stewart had appeared on NBC's Saturday Night Live. She had called herself 'so gay'. In one of her other interview, Kristen Stewart had remarked:
"it's cool that you don't have to nail everything down any more. That whole certainty about whether you're straight or gay or whatever."
In an interview given to Nylon, Stewart had once said:
 "I think in three or four years, there are going to be a whole lot more people who don't think it's necessary to figure out if you're gay or straight. It's like, just do your thing."
She has started enjoying her life more after she ceased getting anxious about what other people would think or say regarding her relationships. She feels that anti-gay people are getting fewer and marginalized. Now public proclamations about sexuality are met with yawns. Kristen Stewart does not agree with the view that she needs to define her sexuality. She embraces the 'ambiguity of life'. She said:
"Me not defining it right now is the whole basis of what I'm about. If you don't get it, I don't have time for you.
Kristen's mother Jules Stewart had also addressed the rumors about her daughter's sexuality way back in June 2015. She had expressed her happiness that her daughter has found her love. Jules had told Sunday Mirror:
'What's not to be accepting about her now having a girlfriend? She's happy. I've met Kristen's new girlfriend, I like her. What's not to accept? She's a lovely girl,'
She added:
'I accept my daughter loves women and men. We all choose our friends so we should be free to choose our lovers.'
In March 2017, Kristen told Guardian:
"I don't want to seem presumptuous, because everyone has their own experience. The whole issue of sexuality is so grey. I'm just trying to acknowledge that fluidity, that greyness, which has always existed. But maybe only now are we allowed to start talking about it."
Short Bio on Kristen Stewart
Kristen Stewart is an American actress and model. She is best known for playing Bella Swan in The Twilight Saga. She has won numerous Teen Choice and People's Choice Awards for her performance in The Twilight Saga. She was listed as the highest-earning female actress in the Vanity Fair "Hollywood Top Earners List of 2010". More bio…