Controversial pornstar Kristy Althaus removed from Miss Colorado Teen USA runner-up title! Know about her age, boyfriend, porn videos
The runner-up for 2012 Miss Colorado Teen USA, Kristy Althaus is one of the controversial figures. Kristy was known for the pageant even after years as she was stripped of her pageant title after she appeared in an adult video.
What happened to her pageant title?
After being the runner up of Miss Colorado Teen USA she was stripped of her title after an adult video of her emerged online. Shortly after a porn clip said to be starring the pageant runner-up began to spread, the judges changed their mind and removed her name.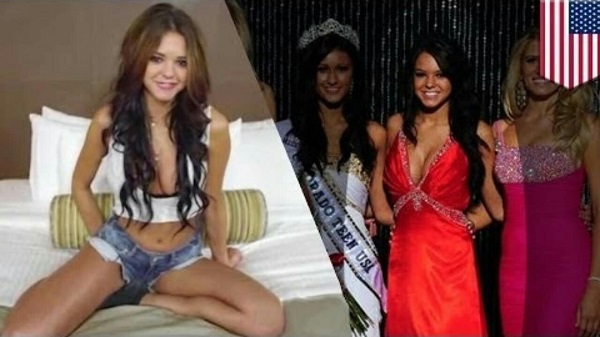 It all happened after two years of her winning the pageant a clip of her in compromising positions on a bed emerges on an adult entertainment website. Similarly, the clip starts with the woman on a bed as a man off-camera asks her how old she is, to which she replied that she is 18.
The production team of the Miss USA and Miss Teen USA state pageant removed Miss Althaus' name from the Official Results 2012 page. Miss Teen USA is jointly owned by Donald Trump and NBC Universal. However, there were arguments that she did not do anything wrong in the eyes of laws.
As the rules for the eligibility on Miss Teen USA website stated that the contestants must have never married or had a child, and must remain single throughout their reign. But she became more popular after her porn controversy.
Also read Michael Gove prune to Coronavirus! Insight on his wife, children, controversy
When did Kristy Althaus start doing porn?
As per the spread video, Kristy's age was asked by the man. She said that she was 18 years old which means she started doing porn as it was her first video. It had created the question that if the adult video was created before or after she entered the contest. However, the video came out over a year after the competition ended which suggests it was created after the competition.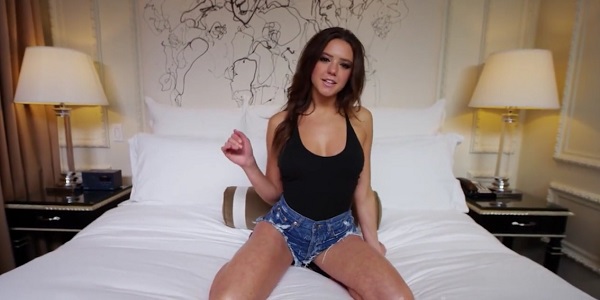 But there is no any confirmation as there is no time stamp revealed of the video. The video is no official document and Kristy could have been lying about her age which casts further doubt over the video and the reasons behind its production.
After the first video came out she fell into controversy and later her another video came out. It was produced by Girls Do Porn which was being used to promote sales on a different website. In the second video, she said,
"I just wanted to come back"
Likewise, it seemed that she was committed to developing a career in the adult entertainment business and followed up with a couple more porn videos that proved to be very popular. It gave Kristy some success in the business and a grounding in a potential porn career.
Derek Wolfe dating Kristy Althaus
Kristy Althaus has been linked with Derek Wolfe. He is an American football defensive end for the Baltimore Ravens of the National Football League (NFL). Similarly, he played college football at the University of Cincinnati and was selected 36th overall by the Denver Broncos in the 2012 NFL Draft.
After her porn scandal, Derek stood by Kristy and proudly proclaimed his love and affection for her through social media. They were dating each other for a while but they did not last long.
They broke up after he found out that she took porn as a career intentionally. He deleted the social media posts after that. Since then they are not linked together. At present, Derek is happily married to Abigail Wolfe. She is the mother of their daughters Tatum and Roxie. Likewise, they live happily together.
Kristy Althaus's age
Kristy Althaus is currently 26 years old. She was born on 2nd May 1994 in Aurora, Colorado, and turned 26 recently. Kristy is private about her family life. It is known that she was a full-time student and general studies major prior to competing in the Miss Colorado Teen USA pageant.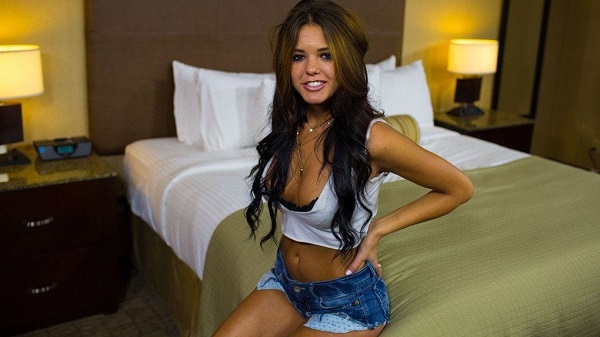 Also read Insight on the life one of the most googled model Denise Milani! Know about her age, issue with drug smuggling, children and modeling works
Where is Kristy now?
After the porn controversy, she gained huge fame. Since then she has appeared in a number of adult films. In October 2019, she launched a premium Snapchat for her fans which she began to promote from her Twitter account in 2019.