Kylie Jenner doesn't want her baby to grow! Kylie on fat-shaming trolls
Kylie Jenner gave birth to her first child Stormi Webster on 1st February 2018. Kylie keeps sharing the picture of her adorable daughter on Instagram. On 21st April 2020, Jenner shared the picture of her daughter. Stormi was wearing a brown T-shirt and black leggings.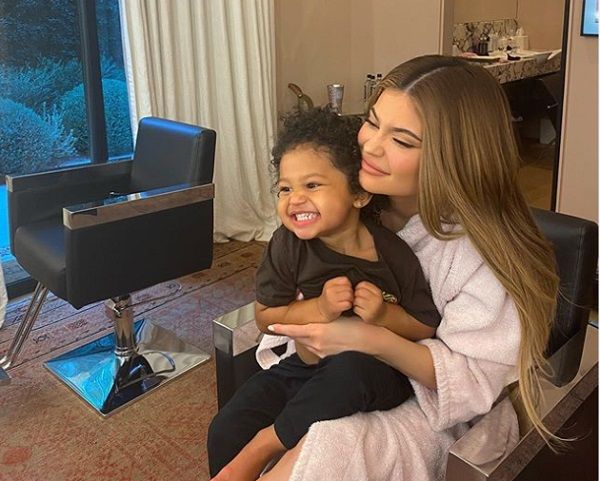 She looked very happy sitting on her mother's lap who was on a bathrobe. They looked comfortable and seemed like they were enjoying some show. She captioned the picture,
"my baby is getting so big"
Kylie kept two crying emojis on the caption. It seems like Kylie always seems her daughter small and cute. Khloe commented on the picture,
"I miss you guys so much ????????"
Also read Michelle Money provides health update on daughter Brielle who is critical after a skateboarding accident!
Kylie Jenner claps back at trolls
Kylie Jenner has been in the public platform throwback from 2017 – and there were some unkind comments.ms from a young age. There have been online trolls going on how Kylie looks after having a baby. One of her fan pages shared a throwback from 2017 – and there were some unkind comments.
Here are some of the comments,
"Wow she's so skinny here,"

"She was better" before she had Stormi Webster"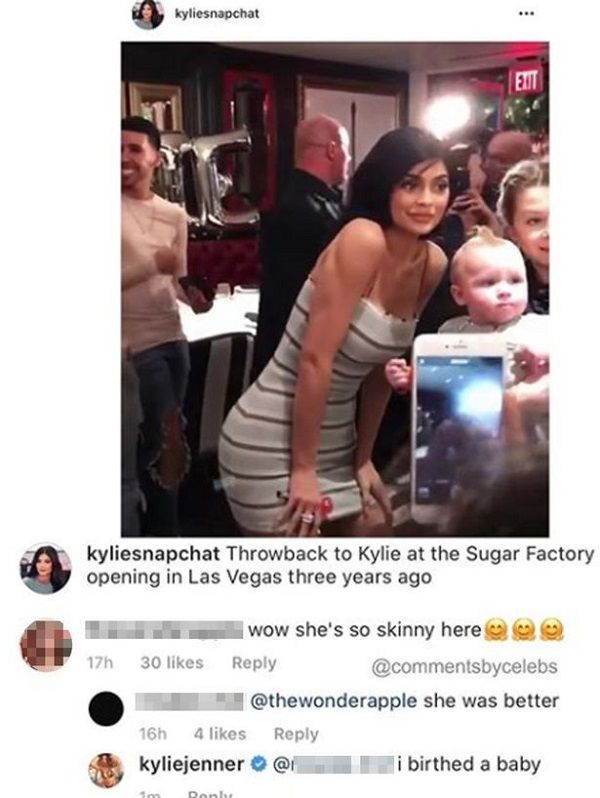 Trolls tried making her feel bad for her body. But Kylie was quick to hit back after struggling to accept what she was reading on Instagram. She said that she had birthed a baby.
Likewise, the trolls should have known better after the make-up mogul previously talked about the physical effects pregnancy had on her body. In the year 2018, she revealed that her figure changed drastically after giving birth but says she is comfortable with her shape.
Jenner said,
"I feel like people think that I like, bounce back super fast, which I guess I did and that I'm just, 'Oh, it's just, everything's so perfect,' and people like, can get the wrong idea on Instagram sometimes."
The mom of one added,
"Especially at such a young age to see your body go through such a change and it is physically, mentally and emotionally a challenge."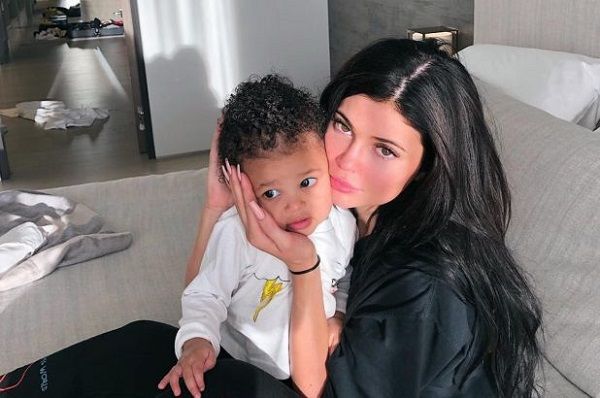 It seems like Kylie has no issue with how her body has changed these two years and she is a proud mother of her baby Stormi. Kylie said,
"It's just a change, and honestly, I'm finding I have to change my style a little because nothing in my closet fits me from before."
Also read 2019 Love Island winner Amber Gill talks about her relationships, ex-boyfriends, friends, death threats, and social media trolls!
Short bio on Kylie Jenner
The famous American reality television star is a socialite, model. and fashion designer. Kylie Jenner gained the stardom through her Kardashian family and appearing on the immensely popular show " Keeping up with the Kardashians". In 2015 Kylie also launched her own cosmetic line named "Kylie Cosmetics" which was a massive success. She is a social media star with millions and millions of followers. Read more bio…
Short bio on Stormi webster
Stormi Webster is one of the youngest members of the Kardashian-Jenner clan. Webster is renowned as the first child of Kylie Jenner and Travis Scott. Read more bio…
Source: Instagram, Mirror, Daily Mail