Is Kylie Jenner married to Travis Scott or just a rumor! Scott's pre-birthday gift to Kylie!
The American model Kylie Jenner just boarded a private plane to her birthday yacht party with a very interesting piece of luggage. She wore a garment that looked like a Wedding Dress. There is a picture from Tuesday afternoon at the Van Nuys Airport of them wearing a flowing, feathery, white dress protruding out the bottom of a garment bag as it's loaded into the plane.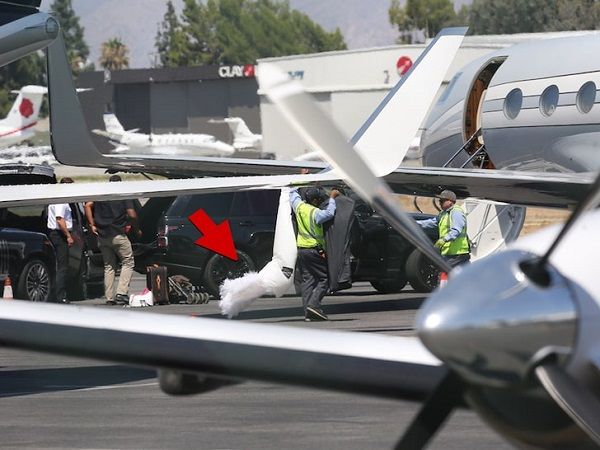 Similarly, one of the workers had a suit that appeared like a tux in his hand. Many sources tell that Kylie is not yet getting married. Kylie is famous for messing with people and it seems odd that she would leave the train to her wedding dress exposed. She clearly knew that paparazzi is watching her.
Many sources told that Kylie is not getting married on the trip. It is known from the sources that Kylie is jetting off to Italy for her 22nd birthday celebration. It is going down on the $250 million mega-yacht, "Tranquility".
Also read Kylie Jenner and Travis Scott had a lovely playdate on a sweet adventure to the park with their 1-year-old daughter Stormi
Who boarded on the plane with Kylie?
Kylie Jenner boarded on the plane with Travis Scott. Similarly, other members were her baby Stormi, Kris Jenner, Scott Disick, Sofia Richie, and Corey Gamble. Other members were her assistant Victoria and her friends Stassi Karanikolaou and Yris Palmer.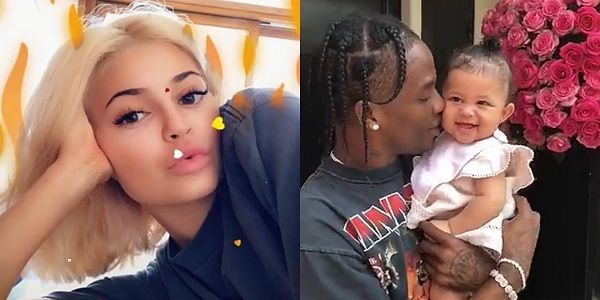 But Caitlyn Jenner and all of her sisters were missing. Kourtney has been vacationing in Europe and it seems like she will join the part at some point. It does not seem like it's her wedding because her sister Kim and Khloe are not going to join the trip.
Travis Scott's pre-birthday gift to Kylie Jenner
On 5th August, Travis Scott took the gifting idea on the next level. he has already begun the celebration of Kylie Jenner. He filled the entire home of Kylie with red roses. After that, Kylie went on to Instagram to show her house which was completely covered with red roses. She shared a video showing the sweet gesture.
Similarly, she captioned the video as,
"My house is covered in ROSES! @TravisScott and it's not even my birthday yet!!!!! Omg."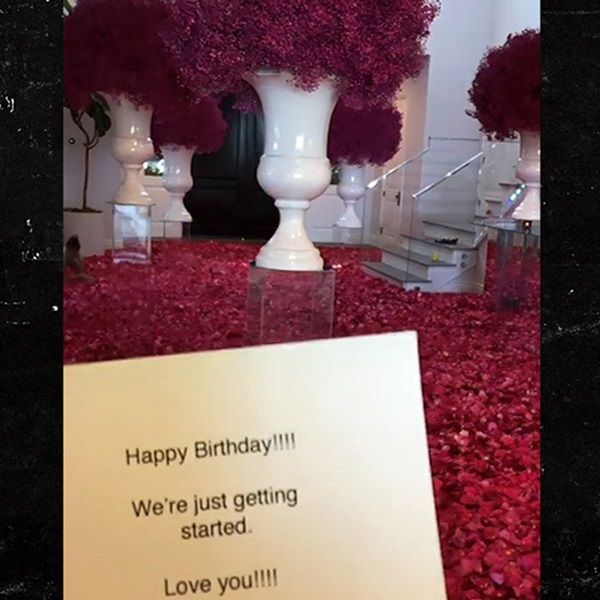 Likewise, they have been together for more than two years and seems like they are deeply in love with each other. In the recent Mother's day, Travis decorated his home with balloons and flowers. Kylie Jenner shared it on her social media as well.
Also read
Is Kylie Jenner trying for a second baby? Will she marry boyfriend Travis Scott soon?
Scott Disick on Sofia Richie-Kylie Jenner friendship! Is he happy about it?
Short bio on Kylie Jenner
The famous American reality Television star is a socialite, model, and fashion designer. Kylie Jenner gained the stardom through her Kardashian family and appearing on the immensely popular show "Keeping up with the Kardashians". In 2015 Kylie also launched her own cosmetic line named "Kylie Cosmetics" which was a massive success. She is a social media star with millions and millions of followers. See more…
Short bio on Travis Scott
Jacques Webster also professionally known as Travis Scott is an American rapper, singer, and songwriter.  Scott is well-known for his albums and 2 mixtapes which he released at the age of 25.   Justin Beiber's album 'Purpose' was one of his supreme works.  At present Scott is involved in making music. See more…
Source: tmz, pinkvilla