Lady Gaga's muse Zombie Boy dead at 32! Was it an accident or a suicide?
Canadian artist the tattooed model Rick Genest who was the muse of Lady Gaga had died in Montreal of an apparent suicide. He was 32 and was also called as Zombie Boy.
The circumstances of the death
Rick Genest was represented by the agency called Dulcedo Management and they confirmed the model's death on their Facebook page this Thursday.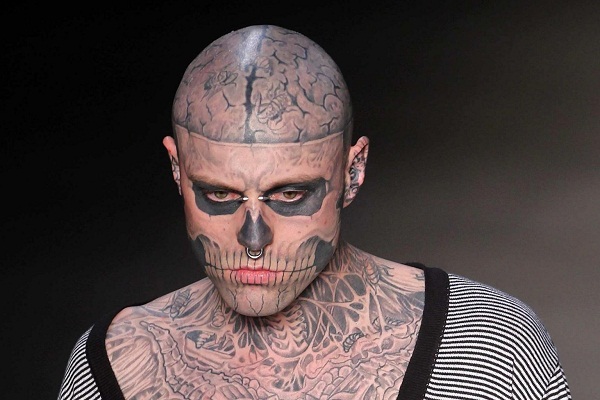 But they did not divulge more details on it. They then communicated with People Magazine and disclosed that the death of the Zombie Boy as he was popularly called occurred on Wednesday afternoon at his apartment building in the Plateau-Mont-Royal neighborhood.
He had fallen off the railings of the balcony of his apartment.
Also read: The second quarter 2018 suicides! The list of celebrities who died a suicidal death!
The response from Lady Gaga
Lady Gaga was upset about hearing about death and she said that it was 'beyond devastating'. She also tweeted that it was a case of suicide.
But Zombie Boy's manager Karim Leduc refuted the statement and said that his family feels that the circumstances do not point towards suicide. They feel that death has been an accidental one and also there was no suicide note.
Karim Leduc said:
"For us, the family and close entourage, we feel there's too many inconsistencies around his death to rule it as a suicide, and for people to jump to conclusions that rapidly was disappointing."
On learning more about the death, Lady Gaga on Saturday tweeted and apologized for her earlier tweet. She wrote:
"I spoke too soon as there was no witnesses or evidence to support any conclusion for the cause of his death, I in no way meant to draw an unjust conclusion."
Out of respect for Rick's family, Rick & his legacy I apologize if I spoke too soon as there was no witnesses or evidence to support any conclusion for the cause of his death. I in no way meant to draw an unjust conclusion My deepest condolences to his entire family and friends. pic.twitter.com/CJ9AdOJ22j

— Lady Gaga (@ladygaga) August 4, 2018
Also read "I don't hunt ghosts, I communicate with them"-Zak Bagans' paranormal investigation, his tattooed body and his lifestyle!
There has been no public statement issued by the Montreal police until now. Karim Leduc spoke on their behalf and said that the city coroner is still analyzing the video footage of the place where the death seems to have occurred.
His family and Karim believe that the zombie boy might have gone for the smoke to the emergency balcony which is usually locked. He might have sat on its railing which was at the level below his hips. As he sat there, he might have lost his balance and fallen back to his death. They feel that he has not leaped to his death but has fallen to his death accidentally. Mr. Karim said:
"From what we know, he fell on his backside,"
Update: Cause of death
As per the reports according to 28th October 2019, he died due to head trauma after falling from the balcony while he went to smoke in Montreal apartment building. Gagnon stated that Zombie boy was found,
"unconscious and bleeding"
Adding he,
"seem to be in a state of psychosis or delirium when he went out on the balcony to smoke… After analysis, given that the investigation did not reveal a clear and unequivocal intention to end his life on Mr. Genest's part, I cannot state that the death was a suicide."
About the zombie boy
Zombie Boy or Rico was just 32 and was born on 7 August 1985 and was raised in a small town in Quebec. He was fascinated by tattoos and has his whole boy inked from head to toe. In 2016, in an interview given to Irish Mirror, he had said:
"Even from age five I used to spend any pennies I had on bubble gum that came with transfer tattoos and stick them up my arms,"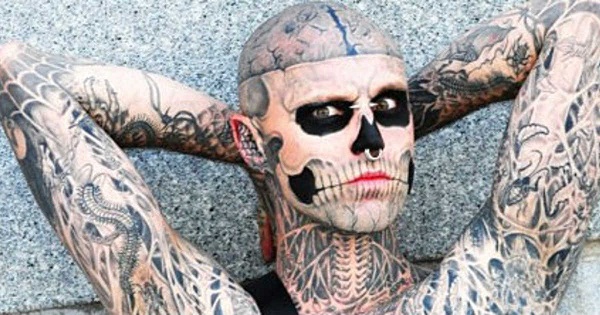 He added:
"I've always wanted to look different."
He had very few friends in school and was bullied by many of them. When he was a teenager, he was told that he had a brain tumor that would need surgery which could disfigure him for life.
After more tests and evaluations, he was subjected to laser surgery and survived it all. He started getting his body inked, ran away from his home, was homeless and cleaned windshields for a living.
He was asked for pictures and soon became a model. He featured in Lady Gaga's musical album Born This Way.
References: theguardian, nytimes