Lauren Burnham and Arie Luyendyk Jr. are engaged on the show, The Bachelors. Arie's ex-Becca Kufrin says, "Just hold her heart high – have the most respect for her, be committed to her…"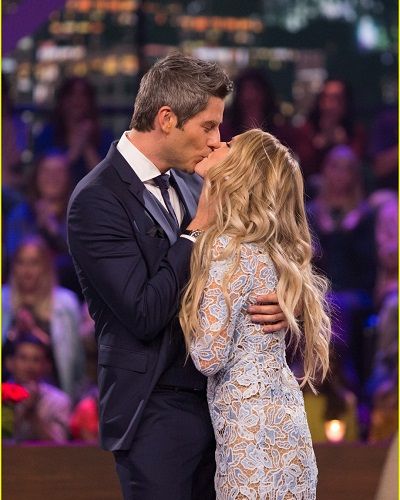 On the 6th March 2017 episode of  The Bachelor, the most controversial contestant of the show, Arie Luyendyk Jr. proposed the runner-up of the show, Lauren Burnham for the second time. And this time she said 'YES!'
Arie Luyendyk Jr. is an American-Dutch racing driver and Lauren Burnham is a reality television personality.
Update: Lauren and Arie Luyendyk Jr. are married. The couple married on 12th January 2019, Hawaii, and have a daughter Alessi Ren Luyendyk born in May 2019.
The Dramatic Proposal
Arie went on one knee with a diamond ring of 3.65 carats in front of her after After the Final Rose and said,
"I should have done this a long time ago."
Another angle of Lauren B.'s engagement ring from Arie #TheBachelor pic.twitter.com/DAYCXx3R0d

— Us Weekly (@usweekly) March 7, 2018
He continued,
"I've made some bad decisions but the best decision was running back to you. I can't imagine a life without you. You have shown me a love that is patient, a love that is kind, and I truly believe that you are my soulmate. I'm ready to face this life with you and all that comes with it, the good and the bad. I want to do this in front of everyone because I want to show you that I should have done this a long time ago."
Then he finally asked the question everyone was eagerly waiting for,
"Will you marry me?"
Then Lauren replied,
"YES!"
The host of the show, Chris Harrison humorously said,
"I do hope that this engagement lasts a longer time."
My heart ❤️ pic.twitter.com/jRYllNNHln

— Arie Luyendyk Jr. (@ariejr) March 7, 2018
Arie: 'She was worth the pain'
Arie definitely had to wait for her and had she not gave the positive answer, he would really be heartbroken. So, he is really happy now and says she is definitely worth it. He was attracted to her from the start but due to something or the other the right time did not come. He shared,
"I know it's easy to sit at home and judge, but no love story is perfect. I think for us I took that risk because it was worth it. She was on my mind day and night – there was a lot of guilt that came with that because I did make that decision in Peru. But taking that risk was so worth it."
Arie's reaction to the haters
'Every coin has two sides.' There were those who loved the couple and wished for their better future and there were also people who had nothing to do with the couple but to hate them and troll hate messages. So what is Arie's take on the hater? He gave one of the badass replies,
"It doesn't matter. She's sitting next to me. I have her heart and she has my heart and that's all the maters to me. 'This is why I did this."
You may like to read Here Are Things You Need To Know About The American Comedian And Singer Bo Burnham!
His first proposal
Prior, Arie proposed Becca Kufrin on the same show. After the ceremony, the ex-lover, Arie, and Becca also came face to face. after the split. He apologized to her and she forgave her. She told him,
"I do want you to be happy, I do, and I hope that Lauren is your one and that you have found that happiness in her. I forgive you."
After that, she told him that she was happy to see him and gave him some tips for his future relationship,
"I just want you to be honest with her. Just hold her heart high – have the most respect for her, be committed to her… "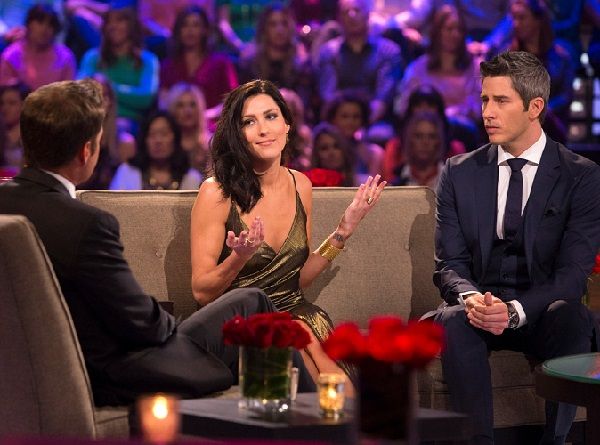 He then said,
"I do regret proposing that day because I wasn't fully ready. I think the pressure of this – the pressure of being The Bachelor, knowing that there's a timeline, and having to make the decision on that day."
However, she has a big heart and in the end, she concluded saying,
"I'm always going to have love in my heart for you – you were my fiancé and I did fall in love with you. But I'm moved on, I'm ready for the next chapter to find somebody better suited to me, like I hope Lauren is for you. I don't want to keep looking back in the past. I wanna move forward."
Hopefully, she finds her love very soon.
Also read Arie Luyendyk's wife Lauren Burnham had a miscarriage of second child!
Short bio on Lauren Burnham
Lauren Burnham is an American reality television personality. She received global fame after she competed in the 22nd season of ABC's 'The Bachelor'. More bio…