Law and Order: SVU's Mariska Hargitay and Christopher Meloni got reunited again for Chris Birthday!!See their time together on Valentines day and thought about each other!
Law and Order Stars Mariska Hargitay and Christopher Meloni reunited again for Birthday!
On Meloni's birthday, the duo was again together for the holiday selfie and as we know it caused a lot of attention to it.
Reunited for occasion
Mariska Hargitay had reunited with her former Law & Order: SVU costar Christopher Meloni for a special occasion over the weekend: Meloni's birthday.
Happy Birthday pic.twitter.com/EvNVsBi7o3

— Mariska Hargitay (@Mariska) April 2, 2017
The actress, 53, went to her Instagram on Sunday, April 2, to share a pic of herself with her former onscreen partner, who turned 56 that day. In the photo, Meloni wears a white cap and striped shirt as he embraces Hargitay and leans his head against hers.
"Happy birthday @chris_meloni,"
she captioned the sweet snap.
She uploaded two more pictures on Twitter, including one of herself laughing while kissing Meloni's cheek.
What? pic.twitter.com/lYGywuftM8

— Mariska Hargitay (@Mariska) April 2, 2017
The two stars had starred together on Law & Order: SVU for 12 seasons from 1999 to 2011. Meloni had left unexpectedly after season 12, leaving Hargitay's Olivia Benson without her longtime partner, Elliot Stabler.
Fans of the show wanted Benson and Stabler to end up together, but Meloni had told James Lipton in 2016 that he thought it would have been "the death knell of that relationship."
"[We] needed to keep that line taut but very clear,"

he said on Inside the Actor's Studio.

"Keep the tension — never cross it."
On Valentines Day
Valentine's Day is for love, and apparently, reuniting iconic TV partners.
On Wednesday, Mariska Hargitay posted a picture with her former Law & Order: SVU costar Christopher Meloni. Along with the image of Meloni kissing Hargitay on the cheek, the actress wrote,
"And then that happened… Just when I though Valentine's Day was over."
It's not their first-holiday get-together  — they posted a reunion photo prior to Christmas. The two were also hanging out last March, which Meloni had captured and shared on Twitter.
In the first 12 seasons of the NBC police procedural, Hargitay and Meloni played partners, Olivia Benson and Elliot Stabler. Currently, in season 18, Hargitay is in the series, while Meloni has moved on to roles on WGN's Underground and Netflix's Wet Hot American Summer revival.
Last May, EW talked to Meloni about the chances of him returning to SVU before the series eventually wraps. He noted:
"I always presented that I'd be open to doing the last few episodes, so that's really all I have to say about that, It's not up to me, I'll just say that. I've said my peace on it."
You may like to read Princess Love and Ray J welcome their second child! Have they reunited after all the public drama of a split?
Mariska Hargitay about leaving 
The actor Christopher left the show before season 13, riling fans of the beloved partners. When asked about Meloni, Hargitay acknowledged Meloni's new claim-to-fame—having the best butt in Hollywood—and praised him highly as an actor and a person.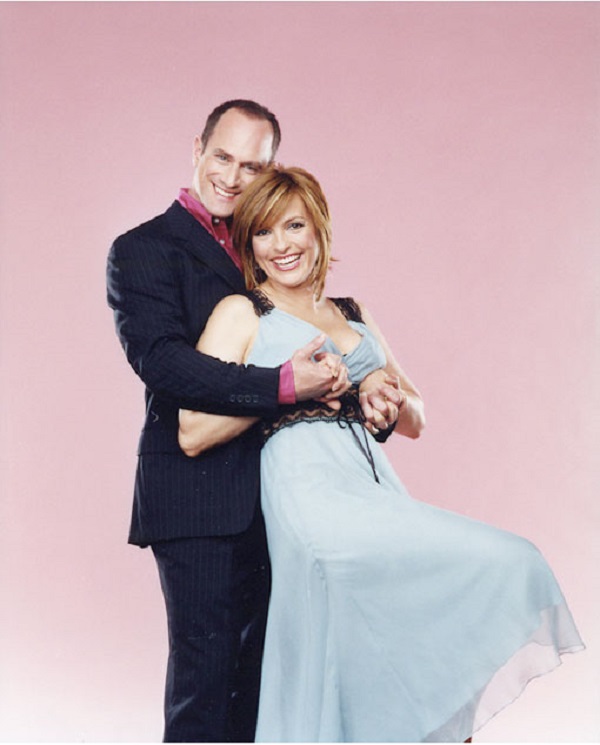 "I'm so grateful for my time with him, I think Chris is incapable of lying. He is a truth-teller; he's committed to the truth at all costs. I loved his passion and commitment…He made me better and I love him. I loved acting with him and I love him as a person."
she said in the clip.
Also read Bruce Willis reunites with wife and children finally! Find out his net worth and properties
Short Bio on Mariska Hargitay and Christopher Meloni
Christopher Meloni is an American actor. He is known for his television roles as NYPD Detective Elliot Stabler on the NBC police drama Law & Order: Special Victims Unit, and as inmate Chris Keller on the HBO prison drama Oz. In June 2012, he returned to HBO, as the vampire Roman on the main cast of True Blood for the series' fifth season. More bio…
Mariska Hargitay is an American actress best known for her role as NYPD Special Victims Unit Detective/Sergeant/Lieutenant Olivia Benson on the NBC drama series Law & Order: Special Victims Unit, for which she has earned multiple awards and nominations, including an Emmy and Golden Globe. More bio…