Lea Michele confessed she does not want to preggers anytime soon and the reason is hilarious. Know about her engagement and fiance
31 years old Lea Michele Sarfati famous as Lea Michele confessed that she does not want to be preggers anytime soon in a humorous way in an interview. Did she just say it as a joke or does she really mean it?
Let's find out!
Glee star, Lea is engaged to Zandy Reich, a businessman and she shared that one thing she is scared of is being pregnant. And the reason is that on the silver screen she is 31 years old is still playing the role of 21 years old.
In an interview, she said,
"I'm still playing roles that are under 21, so I kind of want to push that as long as I can. Having a baby might mess that up for me."
Some time in her life she wants to be a mother as she comes from a huge Italian family, having a child is very important for her but she feels that as she is in the peak of her career, she does not want to risk it by being pregnant.
She explained,
 "I come from a very large Italian family, so that's very important to me."
What is Lea engaged in?
Michele has a concert tour coming up with her Glee alum Darren Criss. So, she is quite busy preparing for an interesting tour.
There is also news that her wedding will be held soon. So there is wedding planning going on as well. After dating for a year Her fiance, Zandy proposed to her on April 28.
He proposed to her with a 4-carat diamond ring which he personally designed with Leor Yerushalmi and The Jewelers. She shared it via her social media handle, Instagram.
When he proposed to her, she thought he was kidding and told him,
"I think the first thing I said to him was, 'Stop joking around!' So I was super surprised."
She added,
"Everyone said, 'Try to be present because it'll happen so quickly.' Which I didn't listen to at all and blacked out and I barely remember. We both blacked out and were like, 'What? Did we say yes? Is this happening?' "
Zandy took Lea's father's permission before proposing to her and her father also liked him. Isn't it cute? She shared,
"I think when I realized my father potentially liked him more than me," she said. "I really think that's when I realized he was the one!"
Lea's previous relationship
Lea was in a relationship with Cory Monteith. They met on the sets of TV series Glee in January 2012 but came public with their relationship in August 2012. She was in a very deep and serious relationship with him.
But due to the drug overdose, Cory died on July 13, 2013. Due to the sudden death of her boyfriend, she was very shattered and did not date anyone for a very long period of time.
Zandy Reich is the first guy she dated after the death of her ex-boyfriend. Prior to Cory, she dated Theo Stockman for 2 years from October 2009 to September 2011.
Also read Sometimes destiny is what we never want to imagine. Lea Michele still misses her late boyfriend Cory Monteith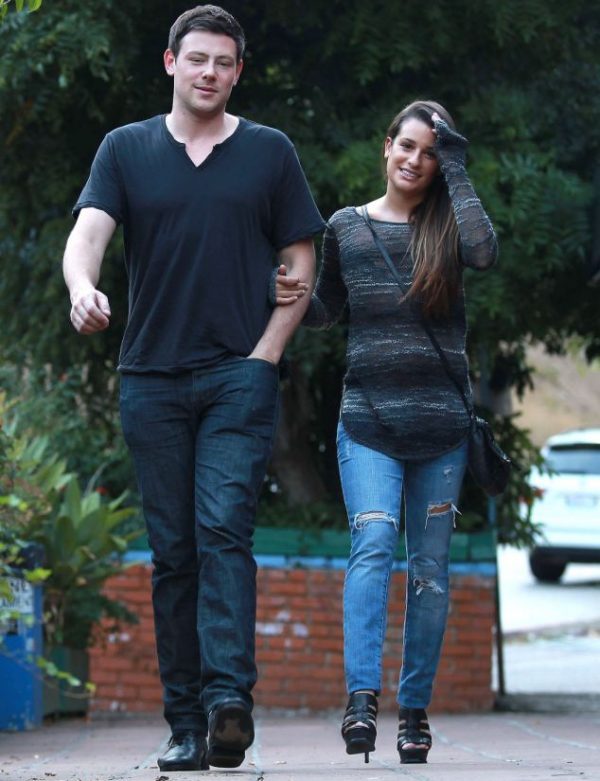 You may like to read Lea Michele married her fiance Zandy Reich in an intimate ceremony on 9 March 2019!
Short Bio on Lea Michele
Lea Michele is an Actress, singer, and author who is mainly eminent for her role in Comedy Drama Series 'Glee' on FOX which was started in 2009 and ended in 2015. She is going to release her upcoming 2nd album in 2017 and is currently involved with Robert Buckley and Joel McHale for the first episode of Hulu anthology series 'Dimension 404'. More Bio…