Is Lea Michele and Zandy Reich's married life on stake? Know about their married life, pregnancy, biography!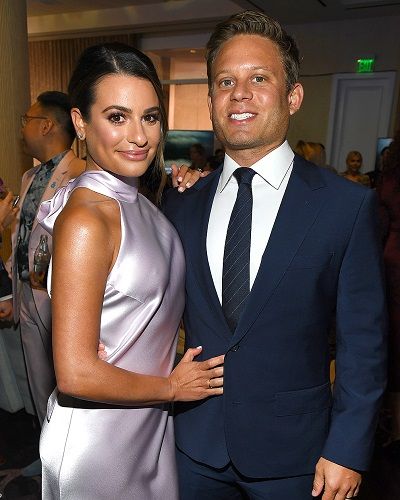 Actress Lea Michele suddenly became the part of the Glee scandal at the beginning of June 2020. Lea was surrounded by accusations that she was a bully and a diva on the set of Glee. 
Her co-star Samantha Marie Ware who had a recurring role in the series stated that Michele made her time there a "living hell."
Marie said,
"Remember when you made my first television gig a living hell?!?! Cause I'll never forget. I believe you told everyone that if you had the opportunity you would 's— in my wig!' amongst other traumatic microaggressions that made me question a career in Hollywood."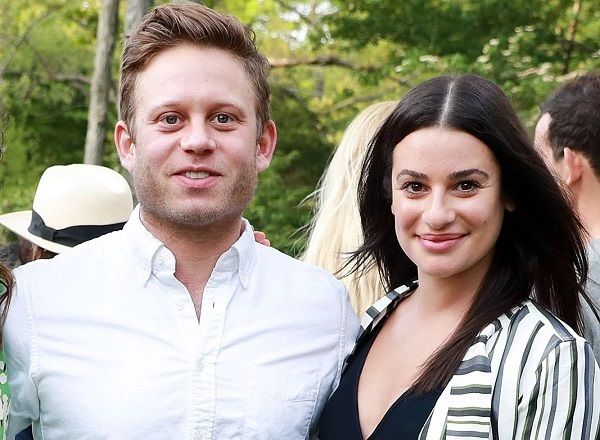 Likewise, other casts of the shows also shared the experience they had due to Lea's attitude. Due to the drama, people speculated that her marriage with her husband Zandy Reich is in trouble.
Sources claimed that her good-girl image got destroyed due to the ongoing drama. Similarly, the sources claimed that she is now more concerned about making her marriage healthy rather than repairing her career.
More on the controversy
Even though she was accused by her co-stars and which may have changed her good image but it has not made any effect on her marriage.
Few days after the drama, the two were spotted out together. It has not made impact on their private life.
But the accusations made on her caused her on HelloFresh. She was dropped by the brand HelloFresh. The company posted,
"HelloFresh does not condone racism nor discrimination of any kind. We are disheartened and disappointed to learn of the recent claims concerning Lea Michele,"
After the controversy, Lea made an apology, She wrote,
 "One of the most important lessons of the last few weeks is that we need to take the time to listen and learn about other people's perspectives and any role we have played or anything we can do to help address the injustices that they face,"
But fans were not able to believe her apology and they even called her weak. Also, they made an attempt to threaten her and cancel her.
Also read Myka Stauffer Addressed The Controversy Of Giving Up Her Adopted Son; Apologized With Her Viewers On Her Video!
Lea Michele and Zandy Reich's relationship
Lea Michele and Zandy Reich were speculated dating in July 2017 after they were spotted holding hands after having lunch together in NYC.
They were friends for a long time before getting together. Their friendship was turned into a happy relationship. In April 2018, Reich proposed her.
Lea revealed,
"When my boyfriend got the seal of approval from Ryan Murphy, that was it. Yeah my parents, yeah friends, whatever. But Ryan Murphy, it's a done deal — it sealed the deal."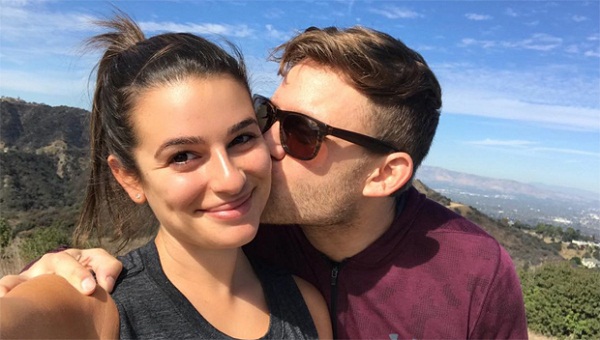 She made an official announcement through her Instagram showing her gorgeous engagement ring which was a four-carat elongated radiant cut ring designed by Leor Yerushalmi and The Jewelers of Las Vegas.
They walked down the aisle in March 2019. In March 2020, they celebrated their first wedding Anniversary. They are living a happily married life together.
Their wedding was an intimate and romantic ceremony in Northern California, celebrating with over 200 family members and close friends.
She shared,
"We are so excited to be married and grateful to be surrounded by our friends and family. And most of all, we're so happy to spend the rest of our lives together."
Lea Michele pregnant with first child
After walking down the aisle in March 2019, Lea revealed the news in March that she is expecting her first child. She flaunted her baby bump in her first outing since being trashed by her co-stars.
She flaunted her growing belly by wearing a tight black sports bra, and a pair of high waisted yoga pants while stepping out with her husband, Zandy Reich, in Los Angeles on 24th June 2020.
Also read Is Kian Lawley Hinting Ayla Woodruff's Pregnancy? Are These YouTubers Expecting Their First Child Together?
Short bio on Lea Michele
Lea Michele is an Actress, singer, and author who is mainly eminent for her role in Comedy Drama Series 'Glee' on FOX which was started in 2009 and ended in 2015. Read more bio…