It's a Baby Girl for Lesdomakeup! Unseen Photos from the Baby Shower of Leslie Quezada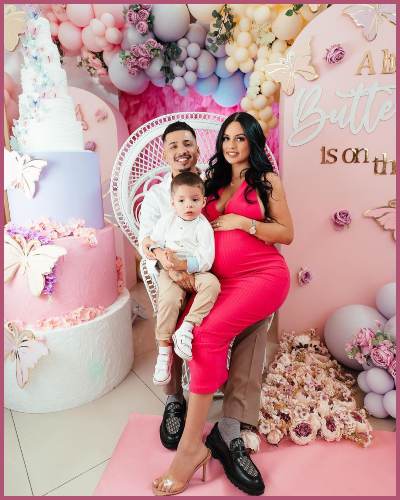 Lesdomakeup aka Leslie Quezada is soon the mother of her baby girl.
American beauty content creator Quezada celebrated her baby girl baby shower on August 3, 2022.
Learn about the relationship timeline and kids' detail of Quezada and Vlex Galindo.
---
Lesdomakeup has a grand pink-themed baby shower!
Lesdomakeup, 28, the American beauty content creator and YouTuber has a grand pink-themed baby shower for her baby daughter. She is excited to welcome her baby daughter anytime soon as she posts photos captioning,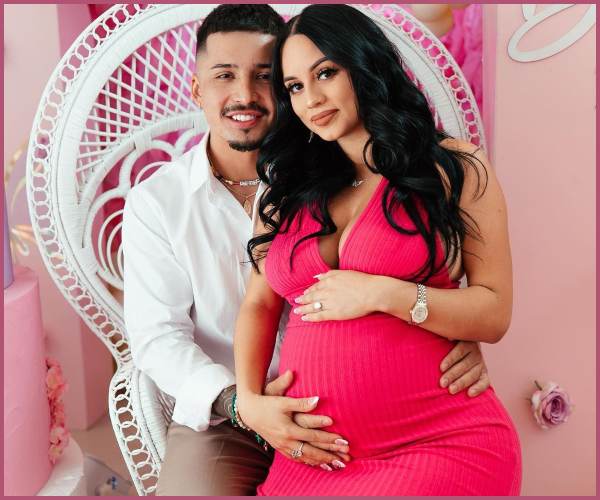 "Celebrating our little princess on the way! Our babyshower was beautiful and everything we imagined. Mommy, daddy, and big brother can't wait to meet you babygirl!! vlog is up! Link in bio 👶🏻🦋"
Lesdomakeup aka Leslie Quezada who is expanding her family shared her pregnancy news back on April 1, 2022. Back then she had surprised her fans with her newly bought house as well.
Leslie wore a red v-necked dress while sitting on Vlex's lap in the photos posted on Instagram. Her two men, son and partner Vlex donned a white shirt and formal pants of brown and grey color.
The walls were decorated with flowers and the background decoration reads,
"A little Butterfly is on the Way"
Congratulations on the baby shower post
Beauty content creator Gabriel Zamora commented on the baby shower post of Leslie Quezada who is also known by her YouTube name Lesdomakeup,
"I thought that was me for second lol you look gorgeous Les 💖"
Another Beauty content creator Nazanin Kavari who is due with her twins wrote in the comment section,
"Aww so cute 😍😍😍"
Other messages on her Instagram post read,
"Beautiful as always!! 😍😍😍 congratulations on your, baby girl💝"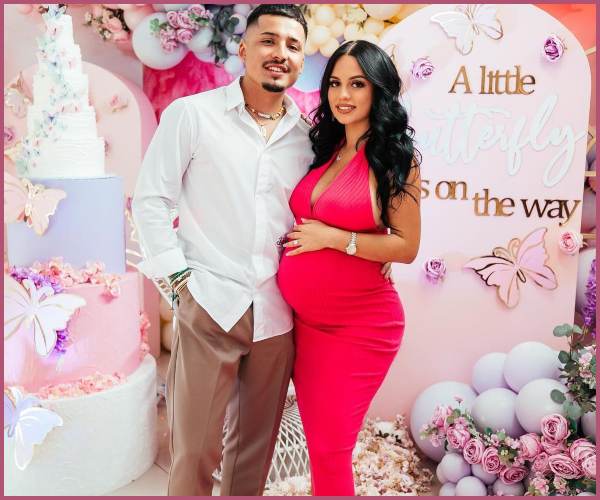 Congratulations and love kept on showering at the whole post while one of the regular subscribers on Her Youtube channel wrote,
"😍😍😍😍 Watching the baby shower vlog rn 💖💖💖💖"
Relationship Timeline of Lesdomakeup
Lesdomakeup is the fiancee of her long-term boyfriend Vlex Galindo who got engaged after nearly 5 years of their togetherness. She had a marriage proposal to remember which she posted on her YouTube channel.
Her engagement was special when she said,
"I couldn't sleep last night, I'm on closed 9, yesterday was the most unexpected and perfect day EVER!!! I'm the happiest gal in the world, YES! YES! A million times YES! I love you forever & ever babe"
Lesdomakeup is also a mother to son Gael Gianni born on December 16, 2019. The couple had a toyboy-themed birthday celebration for their son's 2nd birthday.
Also, Read Lesdomakeup! Surprises After Surprises Announces Her Pregnancy Through An IGTV video