Lesbian couple Rayya Elias is having qualitative time together with Elizabeth Gilbert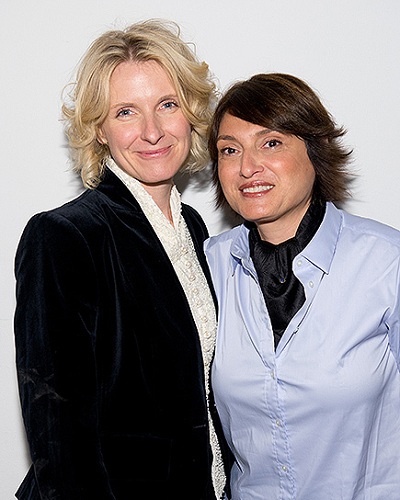 The feeling of love is something adorable. Everyone has the feeling and emotion regarding the love life. The love of lesbian and gay is also the love. Though their feeling is unique, that is also the love. And we hear more about love relationship in Hollywood Life and almost all of them are complicated but the lesbian love life of Rayya and Elizabeth is something new and a perfect example of the love relationship.
Let's dig deep to know in deep!!!
The perfect love relationship of Rayya and Elizabeth
This is what a Love relationship means!!! We hear and see much on the Love relationship, the lesbian love relation of Rayya and Elizabeth is something incredible thing and unique one. Though they are legally unmarried, they have strong bonding and looking at their intimacy and strong relationship, soon they would get married.
And Elizabeth said:
"Dear Ones: Over the last year, Rayya Elias and I have been through some really difficult days together — but not today. Today was precious and perfect. A simple and spontaneous ceremony of love, surrounded by a small handful of friends and family. Our ceremony was nothing legally binding (no need to alert the authorities, folks!)…just a quiet and private celebration of what we have long known to be true: We belong to each other. More difficult days are to come. It doesn't get easier from here. Her illness is grave. But our love is strong. We will walk together as far as we can go together. After that, it all gets turned over to God. Create beauty with every day you are given, Onward, LG (And thank you, @bindleandkeep, for putting a rush on @rayyaelias's suit, and for hand-delivering it yesterday. She looked beautiful. Thank you for the grace, the care, and the compassion. You are good people.)"
Similarly, Elizabeth also confirmed that they faced a lot of problem and struggles in their relationship. And they said:
"Over the last year, Rayya Elias and I have been through some really difficult days together — but not today,"
Rayya was suffered from pancreatic and liver cancer as the doctor confirmed that she will stay alive for a few years but she stayed 15 years more and during that age, they struggled the most. Similarly, Rayya and Elizabeth became the couple after Elizabeth ended up the relationship with his former husband  Jose Nunes. After Rayya and Elizabeth started dating each other, she revealed it to his fans and followers using Facebook where she said:
"There is something I wish to tell you today — something which I hope and trust you will receive with grace. Many of you already know who Rayya Elias is to me. She's my best friend, yes, but it's always been bigger than that. She's my role model, my traveling companion, my most reliable source of light, my fortitude, my most trusted confidante. In short, she is my PERSON. I have spoken about her so many times on this page, and many of you have heard me speak about her in my speeches, too (such as my "Hummingbird" speech, where I sang her praises with all the love I could muster.) Some of you have even come to see the two of us speaking together on stage, over the years. Anyone who has ever seen us together knows that I am devoted to Rayya. I've never made a secret of it. As Ann Patchett said once of our friendship: "Your love for Rayya has always been writ large."
Also know Lesbian affair of 43, Sarah Paulson and 75, Holland Taylor! Opened about their relationship in 2015
Also read Lesbian actress Stephanie Allynne never thought of getting married and having two children before 30. More on her childhood, net worth