Youtuber Leslie Quezada Welcomed daughter Kaeli Kimberli Galindo!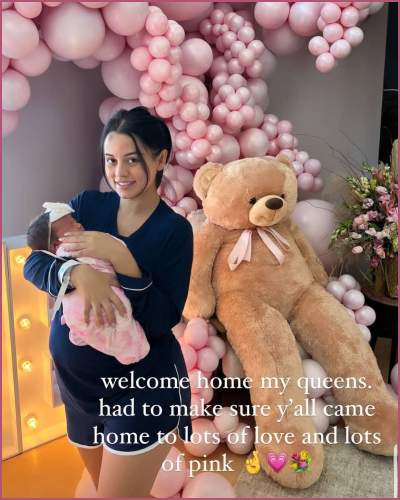 Lesdomakeup aka Leslie Quezada has welcomed a baby daughter Kaeli Kimberli Galindo.
She along with her partner Vlex have shared glimpses of the delivery of their second baby.
Let's see the unseen photos of the newborn baby girl of the American Youtuber.
---
It was all pink balloons while Vlex welcomed his baby daughter and mother Leslie Quezada after delivery on September 20, 2021! He captioned the snaps with the same saying,
"Welcome home my queens.had to make sure y'all came home to lots of love and lots of pinks"
Leslie Quezada is mother to two kids with fiance Vlex Galindo
The American Youtuber Lesdomakeup who has 2 M subscribers on Youtube, has recently marked the arrival of a baby daughter. Alongside the photos of her delivery room holding the newborn baby, she captioned,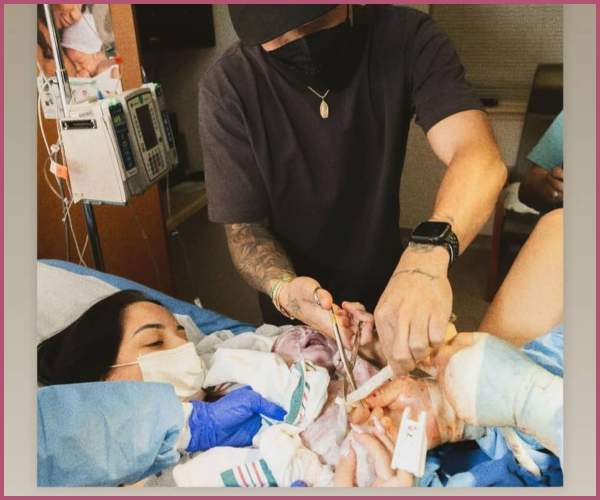 "Someone pinch me! Our babygirl Is here and she couldn't be any more perfect. My life felt complete the moment she was put on my chest, with my soulmate and mother both experiencing this moment w me, it felt surreal 🤍"
The loved-up couple, who are new parents to a daughter Kaeli Kimberli Galindo also shared the photos on their Instagram stories while continuing the lengthy Instagram caption,
"I can't stop thanking God, and thank you guys sm for your prayers and well wishes. It was all worth it 🤍 Kaeli Kimberli Galindo Sept 20, 2022 8lbs 5oz Welcome the world my princess 💘"
Their various snaps where father Vlex Galindo is milking the newborn daughter Kaeli and they were noting the time as 7 am feeding while expressing struggle to nurture the baby.
"We weren't mad just sleep deprived."
Also, Read 'I Saw My Girl' Youtuber Leslie Quezada has confessed her Dream pattern in Pregnancy!
Pregnancy Journey of Leslie Quezada
The journey of pregnancy of Leslie Quezada has really involved her fans. from her first baby belly snap to delivering her baby she has kept her followers up to date.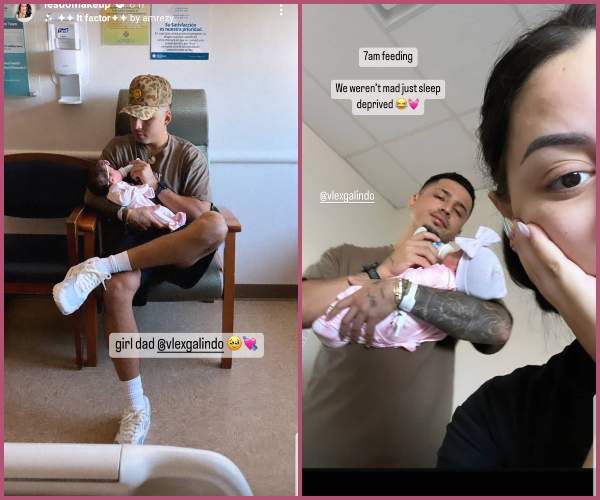 Lesdomakeup revealed that she was pregnant on April 1, 2022, followed by her pink-themed gender revelation party on August 3, 2022. The American Youtube Content creator had documented the whole pregnancy and uploaded it on Youtube which she disclosed saying,
"Celebrating our little princess on the way! Our baby shower was beautiful and everything we imagined. Mommy, daddy, and big brother can't wait to meet our baby girl!! vlog is up! Link in bio."
Just days before giving birth to the little angel she revealed that she saw her unborn baby girl in her dreams. She had also seen her firstborn with Vlex in dreams before he was born.
Also, Read It's a Baby Girl for Lesdomakeup! Unseen Photos from the Baby Shower of Leslie Quezada