Facts of
Liam Neeson
Quotes
I'm a big believer in acts of kindness, no matter how small
Every cliche about kids is true
they grow up so quickly, you blink and they're gone, and you have to spend the time with them now. But that's a joy
In real life, wolves will do anything to avoid contact with mankind.
Relationship Statistics of
Liam Neeson
What is Liam Neeson marital status ? (single, married, in relation or divorce):
Married
When did Liam Neeson get married ? (married date):
July 03, 1994
💑 Anniversary in 339 days 💑
How many children does Liam Neeson have ? (name):
Two (Micheal Richard Antonio Neeson and Daniel Jack Neeson)
Is Liam Neeson having any relationship affair ?:
No
Is Liam Neeson gay ?:
No
Who is Liam Neeson wife ? (name): View Couple Comparison

Natasha Richardson
More about the relationship

Neeson lived with actress Helen Mirren during the early 1980s. They had met while working on Excalibur (1981).

Neeson met his future wife, actress Natasha Richardson while performing in a revival of the play Anna Christie on Broadway in 1993. They married on 3 July 1994. On 18 March 2009, Richardson died when she suffered a severe head injury in a skiing accident at the Mont Tremblant Resort, northwest of Montreal.

Neeson donated her organs following her death. The couple had two sons together, Micheál Richard Antonio and Daniel Jack.
Who is Liam Neeson?
Liam Neeson is an actor from Northern Ireland. He rose to prominence when he starred in the title role in 1993 Oscar winner Schindler's List.
Neeson was then starred in other films, including the title role in the historical biopic Michael Collins, the film adaptation of Victor Hugo's 1862 novel Les Misérables, Star Wars: Episode I – The Phantom Menace as Qui-Gon Jinn, the biographical drama Kinsey, Batman Begins as Ra's al Ghul, the action thriller series Taken (2008–2014), Clash of the Titans as Zeus, The Chronicles of Narnia series (2005–2010) as Aslan, and The Grey. All these movies were a big hit critically as well as box office-wise.
He has been nominated for a number of awards, including an Academy Award for Best Actor, a BAFTA Award for Best Actor in a Leading Role & 3 Golden Globe Awards for Best Actor in a Motion Picture Drama. Empire magazine ranked Neeson among both the "100 Sexiest Stars in Film History" and "The Top 100 Movie Stars of All Time".
Age, Parents, Siblings, Family, Ethnicity, Nationality, and Education
Neeson was born Liam John Neeson on 7 June 1952, in Ballymena, County Antrim, Northern Ireland. He was born to Katherine "Kitty" Neeson (née Brown) and Bernard "Barney" Neeson. Raised as a Roman Catholic, he was named Liam after the local priest. The third of 4 siblings, he has 3 sisters: Elizabeth, Bernadette, and Rosaleen. At 9, Neeson began boxing lessons at the All Saints Youth Club and later became Ulster's amateur senior boxing champion.
Neeson first stepped on stage at age 11 after his English teacher offered him the lead role in a school play, which he accepted because the girl he was attracted to was starring in it. He continued to act in school productions over the following years. His interest in acting and decision to become an actor was also influenced by minister Ian Paisley, into whose Free Presbyterian church Neeson would sneak.
In 1971, Neeson was enrolled as a physics and computer science student at Queen's University Belfast, before leaving to work for the Guinness Brewery. At Queen's, he discovered a talent for football and was spotted by Seán Thomas at Bohemian F.C. There was a club trial in Dublin and Neeson played 1 game as a substitute against Shamrock Rovers F.C. but was not offered a contract.
Neeson received an honorary doctorate from his alma mater, Queen's University of Belfast, at the British consulate on May 6, 2009, in New York.
Liam Neeson: Career, Salary, and Net Worth
After dropping out from the university, he returned to Ballymena where he worked in various casual jobs, from a forklift operator at Guinness to a truck driver. He also attended a teacher's training college for 2 years in Newcastle upon Tyne, England, before again returning to his hometown.
In 1976, Neeson joined the Lyric Players' Theatre in Belfast where he performed for 2 years. He got his first film experience in 1977, playing Jesus Christ and Evangelist in the film Pilgrim's Progress (1978). Neeson moved to Dublin in 1978 after he was offered a part in Says I, Says He, a drama. He acted in several other Project productions & joined the Abbey Theatre (the National Theatre of Ireland). In 1980, he performed in the play Translations.
In 1980, filmmaker John Boorman saw him on stage in of Mice and Men and offered him the role of Sir Gawain in the film, Excalibur. After Excalibur, Neeson moved to London, where he continued working on stage, in small budget films & television. He lived with the actress Helen Mirren at this time, whom he met working on Excalibur. Between 1982 & 1987, Neeson starred in 5 films; most notably in 1984's The Bounty, & 1986's The Mission.
Neeson guest-starred in the TV series Miami Vice in 1986 & moved to Hollywood to star in more high-profile roles the next year. That year, he starred in Suspect in a role that brought him critical acclaim. In 1988, he starred in the fifth Dirty Harry film "The Dead Pool". In 1990, he followed this with a starring role in Darkman. Although the film was successful, his subsequent years would not bring him the same recognition. In 1993, he joined Ellis Island co-star & future wife Natasha Richardson in the Broadway play Anna Christie. They also worked together in Nell, released the following year.
Director Steven Spielberg offered Neeson the role of Oskar Schindler in the film about the Holocaust, Schindler's List, after seeing him in Anna Christie on Broadway. His critically acclaimed performance earned him a nomination for a Best Actor Oscar, & helped the film earn Best Picture of 1993. However, the best actor award went to Tom Hanks for his performance in Philadelphia. Neeson also garnered BAFTA & Golden Globes nominations for his work.
Soon, Neeson became an in-demand leading actor. He starred in the subsequent period pieces Rob Roy (1995) & Michael Collins (1996), the latter earning him a win for Best Starring Role at the Venice Film Festival & another Golden Globe nomination. Neeson went on to star as Jean Valjean in the 1998 adaptation of Victor Hugo's Les Misérables & in The Haunting (1999) as Dr. David Marrow.
In 1999, Neeson starred as Jedi Master Qui-Gon Jinn in Star Wars: Episode I – The Phantom Menace. Despite mixed reviews from critics & fans, it was an enormous box-office success & remained the most financially successful Star Wars film unadjusted for inflation, until Star Wars: The Force Awakens.  His performance received several positive reviews, & a Saturn Award nomination. A stock recording of his voice from The Phantom Menace can be heard during a scene in Star Wars: Episode II – Attack of the Clones. Neeson was later reported to be making an appearance in Star Wars: Episode III – Revenge of the Sith but ultimately did not. In the animated TV series Star Wars: The Clone Wars (2008–14), Neeson reprised the role of Qui-Gon.
Neeson narrated the 2001 documentaries, Journey, into Amazing Caves, & The Endurance: Shackleton's Legendary Antarctic Adventure. The latter won awards at a number of film festivals including Best Documentary from both the Chicago Film Critics Association & the National Board of Review. After being nominated for a Tony Award for his role in The Crucible, Neeson appeared in the 2002 submarine thriller K-19: The Widowmaker as Captain Mikhail Polenin. He was also on the cast of Gangs of New York and played in Love Actually (2003). His role as Alfred Kinsey in Kinsey again put the actor up for nomination for a Golden Globe Award but he lost to Leonardo DiCaprio for The Aviator.
In 2004, Neeson hosted an episode of Saturday Night Live. Despite vowing not to play any Irish stereotypes, Neeson did play a stereotypically Irish man in the home makeover show parody "You Call This A House, Do Ya?"
In 2005, Neeson played Godfrey of Ibelin in the Kingdom of Heaven, Ra's al Ghul in Batman Begins, & Father Bernard in Breakfast on Pluto. That same year, he gave his voice to the lion Aslan in the blockbuster fantasy film The Chronicles of Narnia: The Lion, the Witch, and the Wardrobe. In 2007, he starred in the American Civil War epic Seraphim Falls.
He also voiced the main character's father, James in the video game, Fallout 3. In the director's commentary of the 2007 Transformers DVD, Michael Bay said that he had told the animators to seek inspiration from Neeson in creating Optimus Prime's body language. Neeson also appeared in the BBC Northern Ireland/Big Fish Films television drama Five Minutes of Heaven.
He starred in the action film Taken in 2008. It was a worldwide box office hit, grossing $223.9 million worldwide, making almost $200 million more than its production budget. Taken brought Neeson back into the center of the public eye and resulted in his being cast in many more big-budget Hollywood movies. That year he also narrated the documentary Black Holes: The Other Side of Infinity & again lent his voice to Aslan in The Chronicles of Narnia: Prince Caspian (2008). He also provided a voice for the anime film Ponyo on the Cliff by the Sea in 2009.
In 2010, Neeson played Zeus in the remake of the 1981 film, Clash of the Titans. The film went on to become a huge box office hit, grossing $475 million worldwide. Neeson also starred in the erotic thriller Chloe in 2010. Chloe had enjoyed the commercial. Later the same year, he played John "Hannibal" Smith in the spin-off movie from the television series The A-Team. That same year, Neeson also voiced the character, Aslan, again in the sequel The Chronicles of Narnia: The Voyage of the Dawn Treader.
In 2011, he starred in Unknown. It has been compared to Taken, which was set in Paris.
Neeson reunited with director Steven Spielberg with plans to star as Abraham Lincoln in the 2012 film Lincoln. In preparation for the role, Neeson visited the District of Columbia and Springfield, Illinois, where Lincoln lived prior to being elected and read Lincoln's personal letters. He eventually declined the role, claiming he was "past his sell date" & had grown too old to play Lincoln. He was later replaced in the role by Daniel Day-Lewis.
In 2011, he played himself, in BBC2's series Life's Too Short. In late 2011, Neeson was cast to play the lead character, a journalist, in a new album recording and arena production of Jeff Wayne's War of the Worlds. He replaced Richard Burton, who had posthumously appeared in the arena production through CGI animation. Neeson did not physically appear on the stage, instead of playing the role through the use of 3D holography.
In 2012, Neeson starred as John Ottway in The Grey. The film received mostly positive reviews & Neeson's performance received critical acclaim. He also starred in Taken 2, a successful sequel to his 2008 blockbuster. That year, he once again played Ra's al Ghul in The Dark Knight Rises, the third & final film in Christopher Nolan's The Dark Knight Trilogy. He narrated the first trailer for the film.
Neeson had a supporting role as the henchman Bad Cop/Good Cop in the animated film The Lego Movie, which was a critical and commercial success. He later played Bill Marks in the 2014 action film Non-Stop. Neeson also appeared, uncredited, as God in the BBC2 series Rev., & starred in the 2014 film A Walk Among the Tombstones.
In 2016, Neeson narrated the RTÉ One three-part documentary on the Easter Rising, 1916. The same year, he also voiced the Monster in the Spanish film A Monster Calls, & on 12 December, appeared on BBC's The One Show to talk about the film.
In the year 2000, Neeson was offered the "Freedom of the Town of Ballymena" by the Ballymena Borough Council, but because of objections made by members of the Democratic Unionist Party regarding his comments that he had felt like a "second-class citizen" growing up as a Catholic in the town, he declined the award, citing tensions. Subsequently, on 28 January 2013, he received the Freedom of the Borough from Ballymena Borough Council at a ceremony in the town.
Neeson was appointed Officer of the Order of the British Empire (OBE) by Queen Elizabeth II in her 2000 New Year Honours. The American Ireland Fund honored him with their Performing Arts Award for the great distinction he has brought to Ireland at their 2008 Dinner Gala in New York City. On 9 April 2016, Neeson was honored with the Outstanding Contribution to Cinema Award by the Irish Film and Television Academy (IFTA). In 2017, Neeson was listed by UK-based company Richtopia at number 74 in the list of 200 Most Influential Philanthropists and Social Entrepreneurs Worldwide.
In August 2009, Neeson said that he had been naturalized as a United States citizen.
While his salary depends on his work endorsements, he has an estimated net worth of $145 million.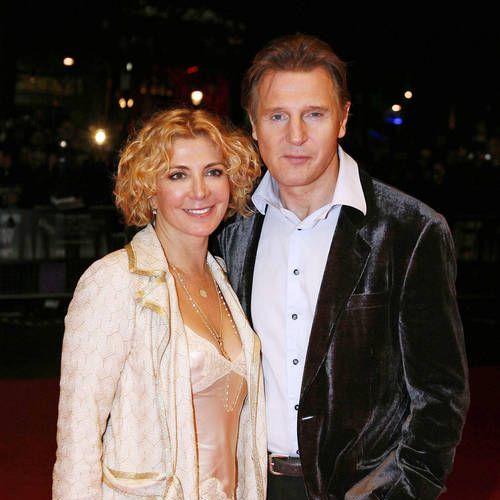 Liam Neeson: Rumors and Controversy/Scandal
There were rumors about Neeson converting to Islam, which he denied. However, the actor has expressed an affection for the Adhan, the Islamic call to prayer, that he grew accustomed to while filming Taken 2 in Istanbul: "By the third week, it was like I couldn't live without it. It really became hypnotic and very moving for me in a very special way. Very beautiful." Other than this, there are no many significant rumors and controversies regarding him yet.
Body Measurements: Height, Weight, Body Size
He has a height of 6 feet 4 inches with a bodyweight of 102kg.  He has light brown hair color and his eye color is blue. His shoe size is 12 (US).
Social Media: Facebook, Instagram, Twitter, etc.
He is active on social media sites like Facebook, Twitter, and Instagram. He has over 32k followers on Facebook, he has more than 36.2k followers on Instagram, and has more than 1.4 k followers on Twitter.
Also know more about the early life, career, net worth, relationships, and controversies of other actors including Wes Brown (actor), Chris Santos (Actor), Bowen Yang, Dwight Yoakam, and Thaao Penghlis.
Photos of Liam Neeson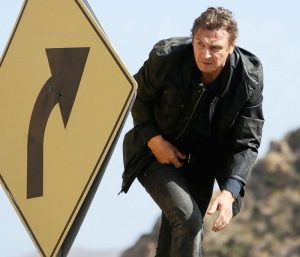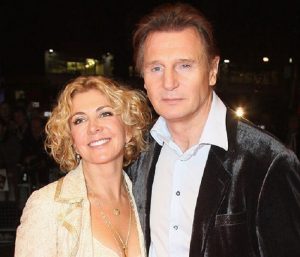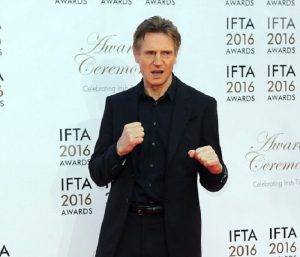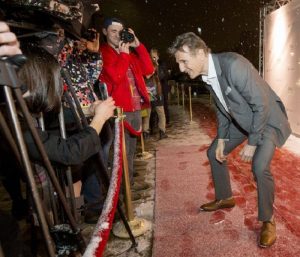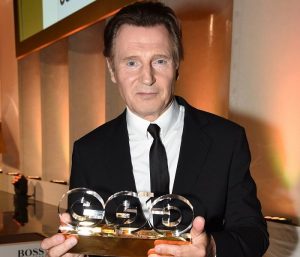 ---