Liev Schreiber and girlfriend Taylor Neisen enjoy Labor Day in the Hamptons with some friends!
Liev Schreiber, 52, and his girlfriend, Taylor Neisen, 27 took the opportunity of Labor Day to enjoy at the Hamptons in New York. They were there with some other of their friends. Liev went shirtless revealing his great physique. He did get some sunburns and was cheerful as he walked around with his purple Playmate cooler.
Liev Schreiber and his Labor Day celebrations
On Monday, 7 September 2020, Liev Schreiber, 52 enjoyed his day with his girlfriend, Taylor Neisen, 27, and a few other friends. He was in good moods as the group had a great day outing at the Hamptons at the tip of the Long Island in New York.
He seemed to have gotten a few sunburns but still appeared happy and smiled at the cameras as he moved around carrying his purple Playmate cooler. The father-of-two did look handsome. He was shirtless and revealed his macho physique to all.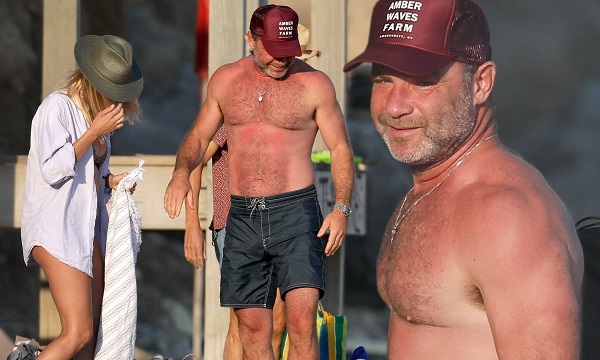 He was only in a pair of dark grey board shorts. Liev was wearing a silver watch on his left wrist. And there was a silver pendant hanging around his hairy chest. Protecting him from the sun was a maroon trucker cap that had 'Amber Waves Farm' written on it in the front.
What was Taylor Neisen wearing?
Liev's young girlfriend, Taylor Neisen, was looking gorgeous in a patterned grey bikini, that had a string top and high-waisted bottoms. At one point in time, she also covered herself up in a men's dress shirt and grey fedora.
After they finished the day at the Hamptons, they prepared to leave and were packing up their stuff. At that time, Taylor lovingly threw her arms around Liev in an act and display of affection for him. There were some seagulls also around the area which added beauty to the whole place.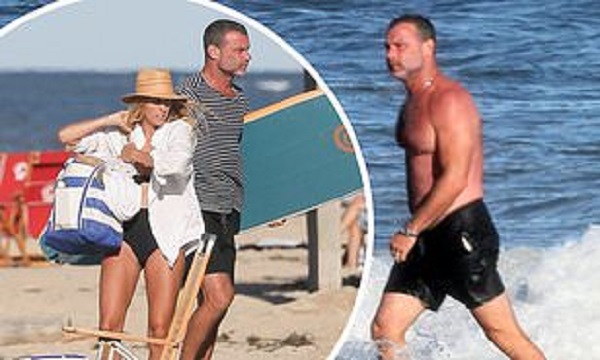 The actor Liev has been nominated six times both for a Primetime Emmy Award as well as a Golden Globe. He was earlier in a relationship with British actress Naomi Watts. The previous couple has two children together-sons Kai, 11, and Sasha, 13. Their relationship lasted from 2005 to 2016. Though they have separated, they still have an amicable bond and co-parent their kids together.
Liev and Taylor-the relationship timelines
The Ray Donovan actor Liev has been dating Taylor Neisen from October 2017. Taylor is a former Miss South Dakota beauty pageant winner. She allegedly has also worked as a nanny before with his family. There were also rumors that Liev had cheated Naomi with his nanny but he had denied those accusations.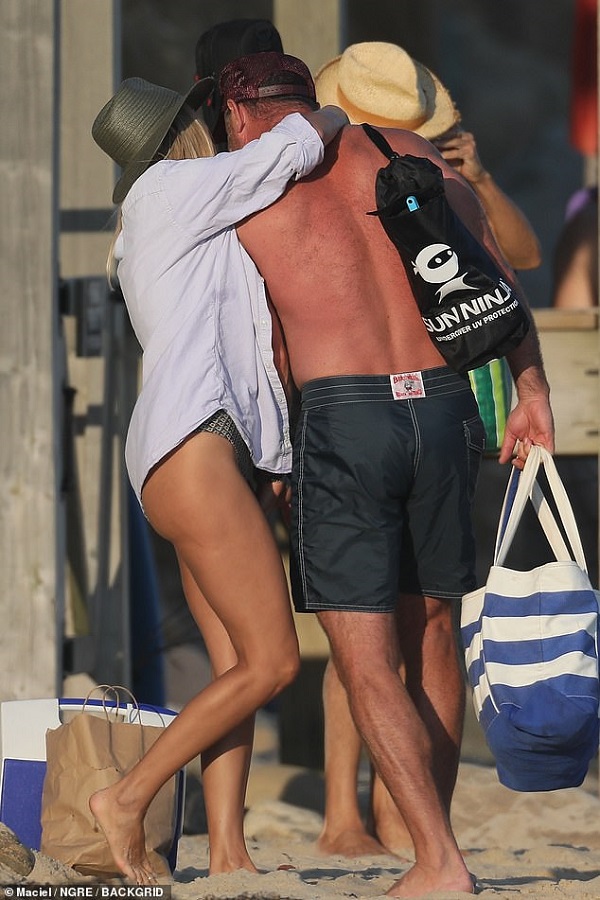 Taylor resembled Naomi and was like a younger version of her. She also got along very well with the two children of the former couple. The couple goes for walks together and also some outings. Prior to getting into a romantic relationship with Naomi, Liev was also seeing Kristin Davis. They were together from 2000 to 2003. The two kept their affair low-key but loved to watch together Shakespeare at local parks.
Click to read the complete bio of LIEV SCHREIBER HERE