Life is music for Samantha Fish. This guitarist is enjoying her career as she is going on tours, concerts with her band members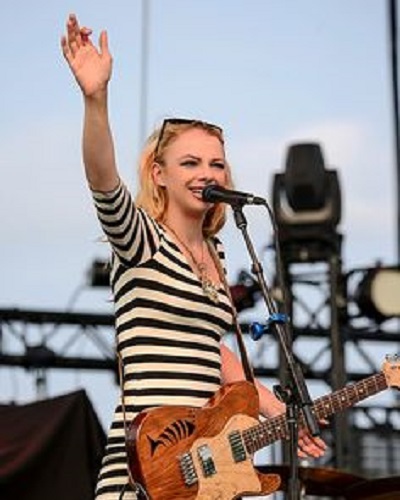 Music has the power to make anyone feel good. It is like a cup of coffee that freshens us. After we listen to music, tension reduces, the pain reduces and everything be in the place where it should be.
Samantha Fish Band is a band of six rock members. This band is taking music to another level as they are roaming different countries as a tour just for the purpose of music and concert. One of the lead members of the band is Samantha Fish.
So today we will be talking about their trips, concerts and much more!
How did Samantha start her career?
Samantha was born and raised in Kansas City, Missouri. Since her childhood, she was dedicated to the music and used to play drums when she became 15 years old, she started playing guitar.
After reaching 18 years old, she joined the local band members at Knuckleheads Saloon and other musicians preceded them to improve her music life. As she is a dedicated person, she made ladders and walked one by one to grab her ambitions to become a musician.
In 2009, she released and produced "Live Bait," a live album. It was her first live album. Her first album was liked and appreciated by her fans, followers, and audience.
Similarly, after four years of the release of her first album, she released her second album named "Black Wind Howlin".
On July 10, 2015, her third album "Wild Heart" was released. She also did a solo performance naming "Chills & Fever" on March 17, 2017.
Famous as a guitarist than singer
Wherever, she goes for the concert, no doubt she performs in a fabulous way and moreover, she is famous for singing and playing guitar. Her specialty is her guitar.
And says,
"Having a great time on the American Juke Joint Tour with Lightnin' Malcolm. We have 5 more shows on this tour, don't miss out!! Tonight we are in Wyomissing, PA at Building 24!"
You may like to read Meghan Markle's half-brother Thomas Markle Jr speaks against her and wants Queen Elizabeth II to intervene to abolish the family rift!
She was looking mind-blowing in the concert. Her outfit was very casual. As always, she likes to take her guitar wherever she goes. Her voice is magnetic and makes everyone addicted.
Mysterious love life
Samantha is currently single. Even if she is dating or in a relationship, there is no information about her love life. Her romantic relationship is still a mystery.
She is a tomboyish artist and she doesn't like drama in her life. She is mostly surrounded by the male fans.
And the question is, is there someone who has stolen Samantha's heart and has build a firm place inside her heart?
Also read Odette Annable and Dave Annable split-up after 9 years of marriage!
Short Bio on Samantha Fish
Samantha Fish is an American blues singer-songwriter and guitarist. She is famous for her albums Live Bait (2009), Girls with Guitars (2011), and The Healers CD/DVD (2013).
She is also popular for her recent album Chills & Fever (2017). Fish is the winner of Best New Artist Debut – 2012 Blues Music Awards in Memphis. She is also popular as a member of Samantha Fish Band. More Bio…