Lionel Messi and stunning wife Antonela Roccuzzo's Caribbean honeymoon had 'Surprise Visit' by Luis Suarez and partner-Details!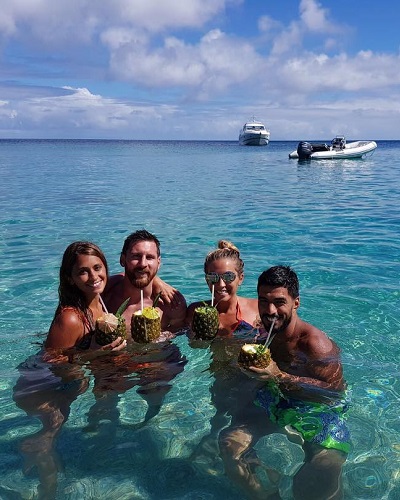 Surprise Visit during Honeymoon! The recent 'Wedding of the Century' of the most loved football player Lionel Messi and his new Wife Antonella Roccuzzo was amazing and followed by the luxurious Honeymoon which was joined by non-other than his Teammate Luis Suarez. Let's Check out the Details!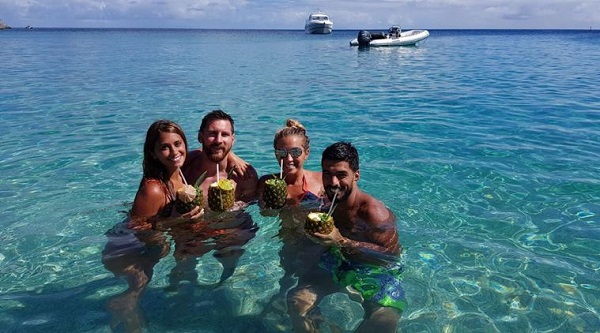 Mr. and Mrs. Messi Honeymooon with Luis Suarez
Messi and his wife Antonela Roccuzzo were enjoying their Marriage on the Caribbean island St Bart's with the company of their children.
The couple was enjoying the lavish hotel as they soak up the sun in a luxury £3,500-a-night pad. They also played some games in the pool with the children and surprise to all they were joined by Messi's Team- Mate Luis Suarez.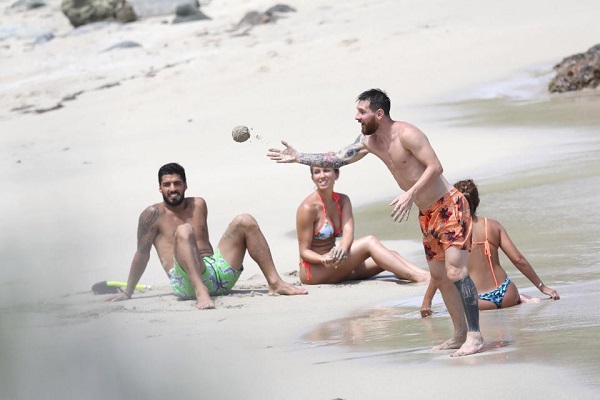 Although it was the married couple's time having the children and later joined by teammates made the trip even more as it can be seen in their faces their wide smiles having the time of their life.
Messi, 33, and Antonela, 32, sip from hollowed-out pineapples, take a dip in the ocean, and frolic on the beach.
Looking stunning in the swimsuit were joined by Suarez, also 33, and his wife Sofia Balbi, 30, on the tropical island.
Two sons of Messi and Antonela's were taken care of by their loving Father, Thiago, four, and Mateo, 22 months, in the sea as they wear life jackets to stay afloat.
Barca teammate Suarez uploaded a cheerful snap to Instagram of both couples enjoying a drink in the water, captioned:
"Thank you for the visit. We had a great one."
Newly-wed Antonela posted a picture of herself and Messi, simply captioned: "Honeymoon" with a heart emoji.
We hope they live happily forever as they are living now!
Lionel Messi's Wedding of the Century
The childhood friend to a Life partner. Messi, 33, and Antonella Roccuzzo, 32, took their vow at a luxury hotel and casino in Santa Fe province the city of Rosario. The Ceremony was attended by approximately 260 guests with hundreds of provincial and federal security guards on hand. See More at…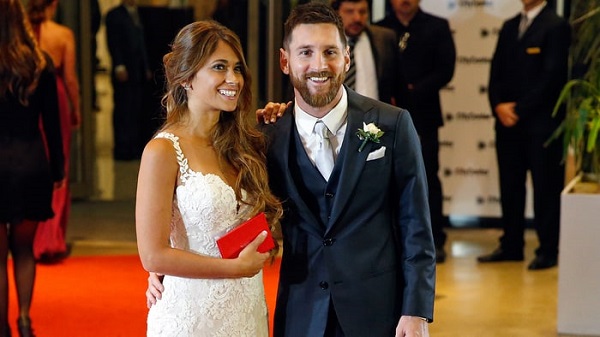 Short Bio on Lionel Messi
Lionel Messi is an Argentine professional footballer. He is best known as the player for Spanish club FC Barcelona and  Argentina national team. He is considered to be the best player in the world and has become the only player to win five FIFA Ballon d'Or awards, four of which he won consecutively, and the first to win three European Golden Shoes. More Bio…