Lionel Messi is All Smiles as He Poses with His Wife and Children after Historic World Cup Win!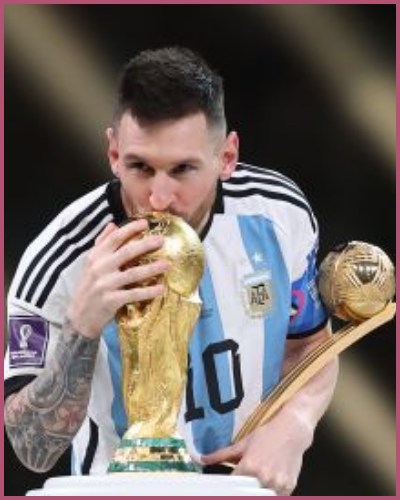 Lionel Messi is the happiest right now as his dream of winning the world cup finally came true.
The player was over the moon to commemorate the historic win with his family.
Leo's wife Antonella Roccuzzo also took to her social media to celebrate her husband's victory.
---
Lionel Messi poses with his wife and three sons after winning the 2022 World Cup
It's a historic win for Lionel Messi.
Celebrating World Cup's victory was something the legendary player had dreamt of all his life and what better way to do it than with his family?
After winning the final match against France in Qatar on December 18, Messi posed for pictures with his wife, Antonella Roccuzzo, and their three sons: Thiago, 10, Mateo, 7, and Ciro, 4, on the field.
The family of five looked absolutely delighted after Argentina's unbelievable win.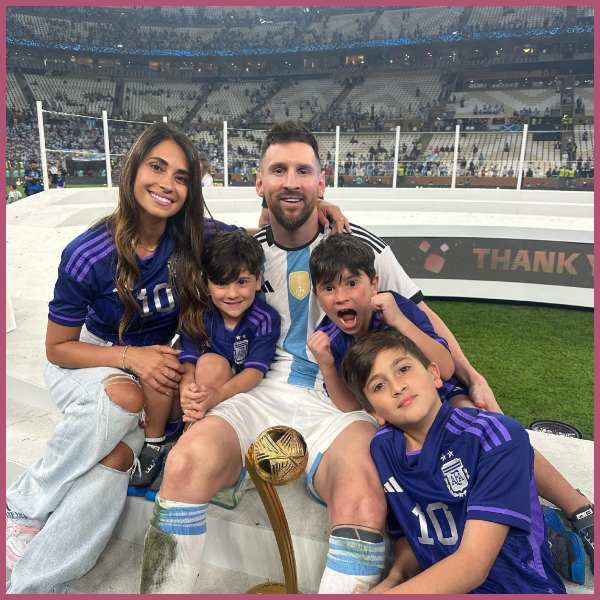 Messi's wife also celebrated her husband's victory with a proud Instagram post that she shared in Spanish post the win.
The 34-year-old model wrote:
"WORLD CHAMPIONS🇦🇷🇦🇷🇦🇷🇦🇷🇦🇷 🇦🇷🇦🇷🇦🇷🇦🇷,"

"I don't even know how to start … we feel the greatest pride for you @leomessi. Thanks for teaching us to never give up, we have to fight until the end."
She continued:
"FINALLY YOU ARE THE WORLD CHAMPION, we know what you suffered for so many years, you wanted to achieve this!!! LET'S GO ARGENTINA 🇦🇷🇦🇷🇦🇷."
Leo and the Spanish model kissed between taking pictures with their boys and his trophy.
Antonella and the boys wore matching 10 jerseys to support the footballer.
Also, Read Drake Curse continues as he loses a $1 million Bet on World Cup Final Prediction!
Messi is not retiring from football anytime soon
Messi also took some time out to thank all his fans post the amazing win. He gave his supporters a big  shout-out saying:
"So many times I dreamed it, so much I wanted it that I still don't fall, I can't believe it …… Thank you so much to my family, to all who support me and also to all who believed in us,"
He continued in his native Spanish:
"We prove once again that Argentinians when we fight together and united we are able to achieve what we aim. The merit is of this group, which is above individuals, is the strength of all fighting for the same dream that was also the one of all Argentinians … We did it!!!"
This win was a much-needed one for Messi because this was his fifth and final world cup. He first played in 2006 when he was just 18 years old.
In October Messi announced: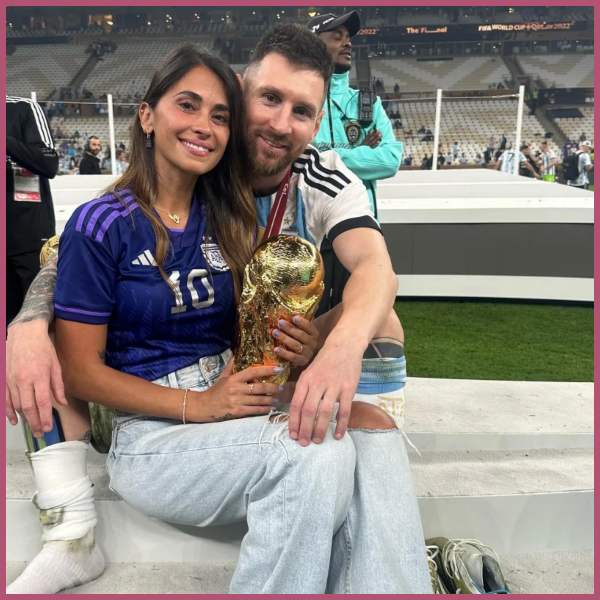 "This will be my last World Cup – for sure,"

"The decision has been made."
Despite not coming to the 2026 world cup, Messi is not yet retiring as he mentioned that he will continue playing for Argentina some more time.
The football legend said via ESPN,
"I won the Copa America and the World Cup in a short time,"

"I love what I do, being in the national team, and I want to continue living a few more games being world champion. I am going to take the Cup to Argentina to enjoy it with you."
Also, Read RIP Grant Wahl! American soccer journalist died in Qatar while covering the 2022 World Cup