Los Angeles is burning! Know the list of celebrities whose houses Getty Fire has engulfed!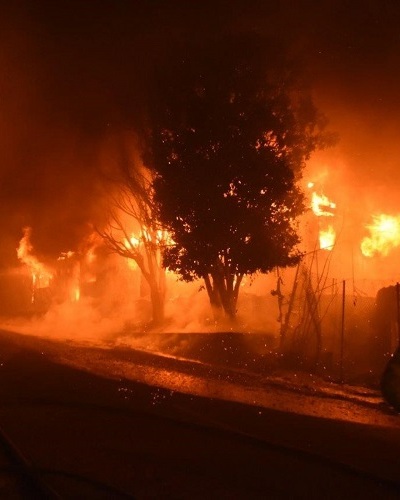 The wildfires in Los Angeles are spreading with no relief. They have engulfed nearly 8 houses in the locality. The houses of many celebrities have been destroyed and they were forced to evacuate the house for fear of their lives.
So who are these celebrities and what have they said about this fire called Getty fire?
Getty Fire and its havoc
The Getty fire of Los Angeles has created havoc there. It has razed to the ground any structures or buildings that came it's way. The report states that at least 8 structures have been destroyed and more are in the process.
The fire has become uncontrollable and people are running helter-skelter trying to save their lives from it. The blaze has until now involved nearly 618 acres of land and property.
Yesterday, the Los Angeles Fire Department released an update on it which read:
"This dynamic fire has been moving largely in a westward direction, fanned by Santa Ana winds. We are anticipating a favorable change in wind conditions as the day progresses. Firefighters continue to actively protect structures throughout the evacuation zone."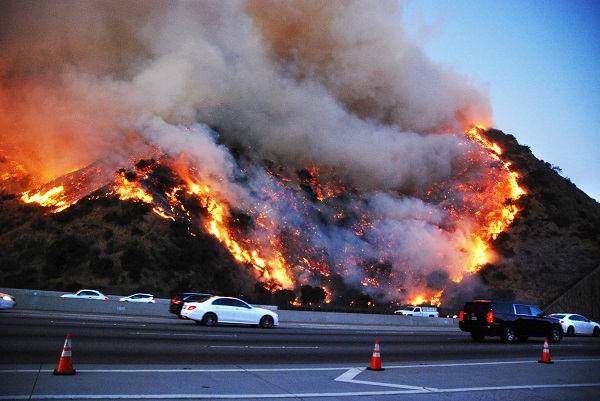 LAFD also gave mandatory orders to people to evacuate the area and issued no-go zone warnings and maps. A large number of celebrity homes are under the threat of this fire since it has sprung up in the celebrity enclave of Brentwood in Southern California this Monday 28 October 2019. It is near the famed museum and homes of big stars had to be evacuated.
The fire started at 1.30 am on Monday from 405 Freeway. It caused a power failure in the area and nearly 2600 customers in Bel Air, Westwood, and Brentwood were affected.  The firefighters are trying their level best to contain the blaze but in vain.
Mayor Eric Garcetti reiterated:
"Get out when we say get out,"

"The only thing you cannot replace is you and your family."
Celebrities who were affected by Getty Fire
The celebrities whose homes were threatened or destroyed took to social media to let their fans know where and how they are. Arnold Schwarzenegger wrote:
"We evacuated safely at 3:30 this morning. If you are in an evacuation zone, don't screw around. Get out. Right now I am grateful for the best firefighters in the world, the true action heroes who charge into the danger to protect their fellow Californians,"
Arnold's ex-wife Maria Shriver tweeted:
"Praying for everyone in the path of this terrifying destruction. Thank you again to our firefighters for keeping us safe. If you're in an evacuation zone, please follow the warnings and evacuate immediately. The winds are strong and the fires move quickly,"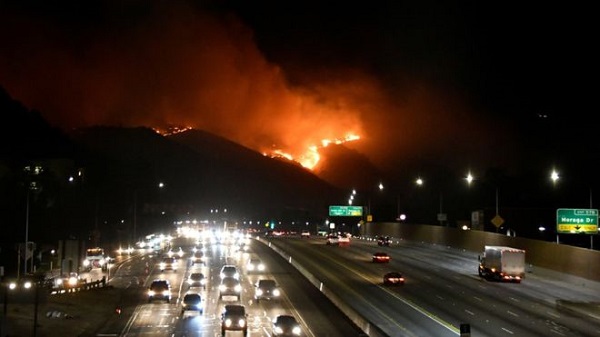 The premiere of Arnold's new film venture "Terminator: Dark Fate" was canceled and the food of the after-party was donated to Red Cross.
NBA player LeBron James informed:
"Man these LA (fire emoji) aren't no joke. Had to emergency evacuate my house and I've been driving around with my family trying to get rooms. No luck so far!" 
An hour later, he wrote that with the help of emergency workers, he has found some accommodation. Expressing his gratitude, he wrote:
"My best wishes as well to the first responders right now doing what they do best!"
Chris Pratt urged:
"I personally will be going to LAFD.org to make a donation. I urge you to do the same if you please."
More social media posts from celebrities
Brandi Glanville wrote:
"Wake up!!! Brentwood is on fire!!! F–k!"
Clark Gregg updated:
"Safe in a hotel room with my family and dogs. Awakened and evacuated by the amazing alert system from #lafd #Grateful #GettyFire,"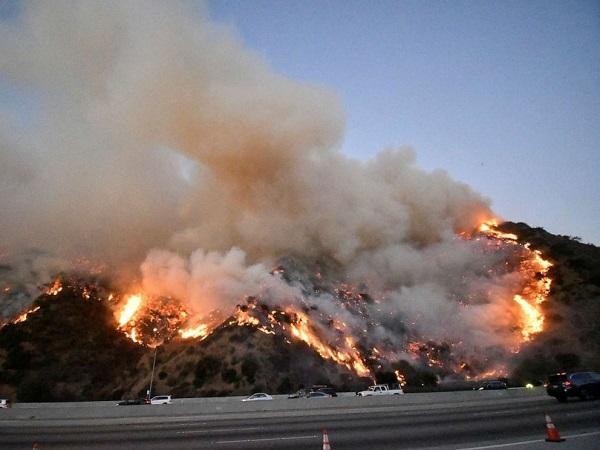 News host Katie Couric prayed:
"Praying for anyone near to the #GettyFire and for the emergency crews working to get it under control – stay safe California."
Christa Miller posted a picture of her house in flames but informed us that she and her family are safe. Other celebrities who evacuated the house in the area include producer Glen Mazzara, Kurt Sutter, Film director Peter Berg, and journalist Kelly Rizzo.
Source: Toofab