Madonna Net Worth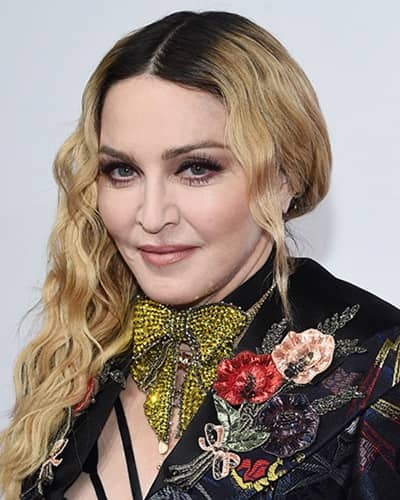 As of 2022, Madonna has a Net Worth of $ 850 million Dollars. 
Madonna owns a collection of various artworks worth at least $100 million and possibly several times that amount in the right art market.
In April 2021, Madonna paid $20 million for The Weeknd's mansion in Hidden Hills, California.
---
What is Madonna's Net Worth? (Updated 2022)
Madonna has an estimated Net Worth of $850 million as an American best-selling recording musical artist and entertainer. Madonna is best known for pushing the boundaries with her music, songwriting, visuals, and style, and she is frequently cited as an influence by other artists. Madonna first appeared on the music scene in the early 1980s, releasing three hit singles and a hit album between 1982 and 1984. Her no-holds-barred performance at the MTV Video Music Awards in 1984, on the other hand, literally rocked the rock world.
Her performance of "Like a Virgin" was one of the most contentious ever broadcast, and it is still one of the most frequently referenced moments in VMA history. It was also a watershed moment for the artist, who has built her entire music career on pushing boundaries. Since her second album, "Like a Virgin," she has released ten more albums, set multiple sales and chart records, and toured extensively, including her "Sticky & Sweet Tour," which is the highest grossing tour by a solo artist in history. She has received seven Grammy Awards, as well as 219 other music honors.
In addition to her music career, she has directed two films and two commercials, and she has starred or played a supporting role in dozens of films, including "Evita," for which she won a Golden Globe. She is an entertainment force, a formidable businesswoman, and one of music's greatest success stories.
| | |
| --- | --- |
| Net Worth: | $850 Million |
| Date of Birth: | Aug 16, 1958 (64 years old) |
| Place of Birth: | Bay City |
| Gender: | Female |
| Height: | 5 ft 4 in (1.65 m) |
| Profession: | Film Producer, Actor, Dancer, Film director, Author, Entrepreneur, Singer-songwriter, Composer, Screenwriter, Record producer |
| Nationality: | United States of America |
KEY FACTS
Has sold more than 300 million albums worldwide
Is the best-selling female recording artist of all time
Owns over $100 million worth of art
Owns $80 million worth of real estate
Beginnings in Life and Career
Madonna Louise Ciccone was born on August 16, 1958, in Bay City, Michigan. She eventually moved to Rochester Hills, Michigan, with her family, where she studied dance and earned a dance scholarship to the University of Michigan. In 1978, she dropped out of college and relocated to New York City to pursue a dance career. Madonna began promoting herself as a solo act after forming and playing with various bands such as "the Breakfast Club" and "Emmy," and signed a deal with Sire Records.
Musical Career and Breakthrough
Her first two Sire singles, "Everybody" (1982) and "Burning Up" (1983), were club hits in the United States. Her star rose further after the release of her self-titled debut album in July 1983, which peaked at number eight on the Billboard 200 chart six months later. Her second album, "Like a Virgin," debuted at number one in November 1984, and was the first album by a female to sell over five million copies in the United States. To name a few, she has released over ten studio albums, including "Like a Prayer" (1989), "Bedtime Stories" (1994), "American Life" (2003), "Hard Candy" (2008), "Rebel Heart" (2015), and "Madame X" (2019). Madonna was inducted into the Rock and Roll Hall of Fame in 2008, in her first year of eligibility, after selling more than 300 million records worldwide.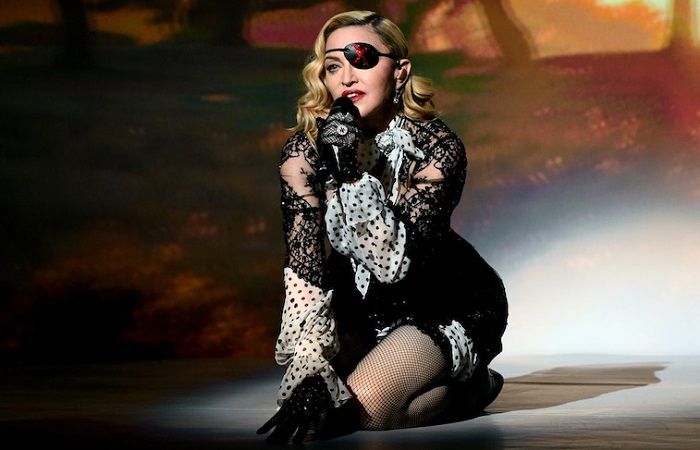 Other Interests
Madonna has had a successful acting career in addition to her musical career, earning a Golden Globe Award for Best Actress for her role in the 1996 film "Evita." She has also appeared in films such as "Desperately Seeking Susan" (1985), "Dick Tracy" (1990), and "A League of Their Own" (1992). She directed the film "Filth and Wisdom" and produced and wrote the documentary "I Am Because We Are" (2008). (2008).
Salary Structures in Film
"Desperately Seeking Susan" earned Madonna $80,000 in 1985. The following year, she was paid $1 million to play opposite her then-husband, Sean Penn. Earning $1 million in 1986 is equivalent to earning around $2.3 million today. She was paid $35,000 for her role in "Dick Tracy" in 1990. For "Body of Evidence," she earned a film career-high salary of $2.5 million PLUS a percentage of the gross in 1993. She also bargained for the right to keep her entire wardrobe. She was paid $1 million for her critically acclaimed performance in "Evita" in 1996.
Madonna is also a savvy businesswoman. She founded the entertainment company Maverick in 1992 as part of a joint venture with Time Warner, which paid her a $60 million advance and 20% of royalties from the music publishing division. Her coffee table book "Sex" (1992) was one of the first projects released from her Maverick venture, and it sold 1.5 million copies at $50 each in its first few days, despite controversy and a strong negative public reaction to the book's contents. Her other book projects include a contract with Callaway Arts & Entertainment to write five children's books. "The English Roses," the first book, was released in September 2003. Maverick became a wholly owned subsidiary of Warner Music after Warner Music purchased Madonna's shares in 2004.
Madonna has also launched four fashion lines. Her first fashion collaboration was with H&M in 2007, followed by one with Dolce & Gabbana. Furthermore, she founded MG Icon LLC, a joint venture with her manager Guy Oseary and Iconix Brand Group, to produce her lifestyle and fashion brands "Material Girl" and "Truth or Dare by Madonna." She also launched a skincare line, MDNA Skin, in Japan in 2014, before expanding into Taiwan, Hong Kong, and the United States in 2017. Throughout her long career, she has had numerous brand partnerships and endorsement deals, including one of her first in January 1989 with Pepsi.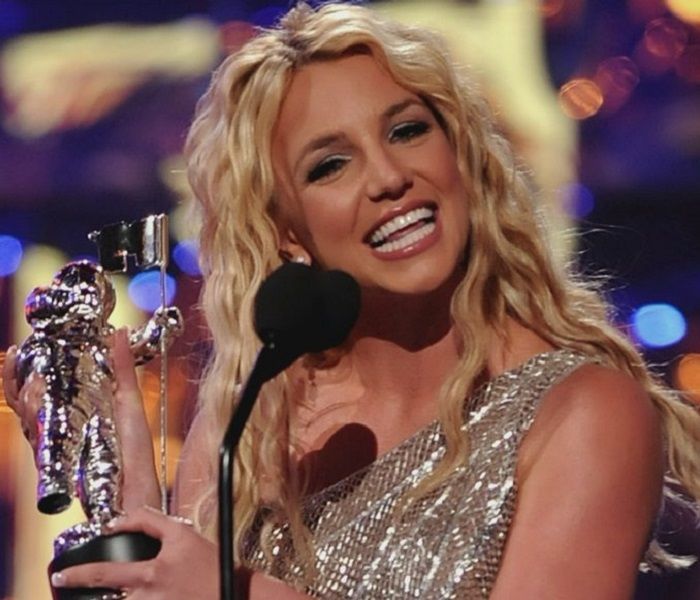 Private Life
In October 1996, Madonna gave birth to her daughter with fitness trainer Carlos Leon, although their relationship ended in May 1997. In 1998, she met director Guy Ritchie and gave birth to their son in August 2000. In addition, Madonna adopted her son David from Malawi in 2006. Madonna and Guy Ritchie married in December 2000 and divorced in 2008. Ritchie was awarded between £50-60 million ($66.67-80 million) in his divorce settlement, which included the couple's London pub and residence, as well as the Wiltshire estate in England. Madonna adopted twin sisters from Malawi in February 2017.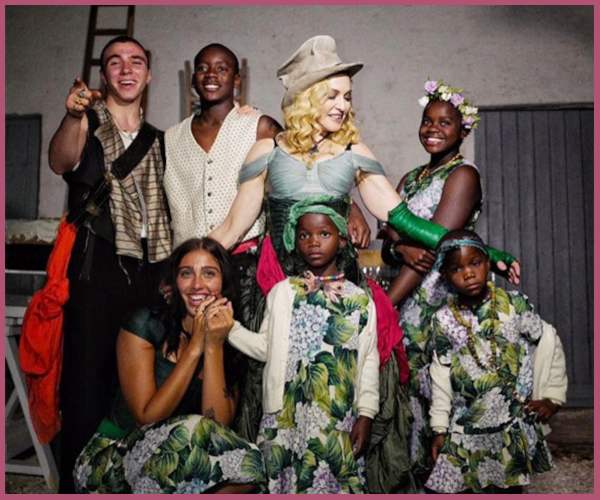 The Art Collection
Madonna owns a collection of various artworks worth at least $100 million and possibly several times that amount in the right art market. She owns one of only five Frida Kahlo paintings, as well as works by Picasso, Diego Rivera, Damien Hirst, and Marilyn Minter.
Property Management
Not surprisingly, Madonna has a sizable real estate portfolio that includes properties all over the world. She once had SIX properties in London alone. It's not clear how many of those she still owns, it's likely that some were traded to Guy Richie during their divorce.
Madonna has owned a townhouse on Manhattan's Upper East Side for several decades. The 4 story, 57-foot wide Georgian townhouse spans more than 12,000 square feet, with 26-rooms, including 13 bedrooms, 13 bathrooms, 9 fireplaces, 11 foot ceilings, a library, a Georgian staircase, an elevator, a double-car garage, a 3000 square foot garden with trees, roses, and rhododendrons, and future plans for a new rooftop garden.
Madonna paid just under $9 million for an 18th century mansion on 5.5 acres in Sintra, Portugal, in September 2017. She owned a 6,000-square-foot New York City apartment for many years, which she sold in 2013 for $16 million. She still owns a smaller unit in the same building, which she purchased for $7 million in 2008. But that's not her only New York City abode! She paid $32 million for a 12,000-square-foot townhouse with a two-car garage, NINE fireplaces, a wine cellar, and an elevator in 2009. She also owns a 50-acre equestrian property in Bridgehampton, New York, which she purchased in two installments for $7 million in 2010.
Madonna paid $12 million for an incredible Beverly Hills mansion in 2003, when she was married to Guy Richie. Sela Ward and her venture capitalist husband Howard Sherman were the sellers. The property included a 17,000 square-foot home with 9 bedrooms, a full-size home theater, a gym, a pool, and a tennis court on 1.25 gated acres. She listed the house for $28 million in 2012. She then listed it again in 2013 for $22.5 million, eventually selling it for $19.5 million later that year. Russell Weiner, the founder of Rockstar energy drink, was the buyer. Russ listed the house in 2018 for a whopping $35 million.
In April 2021, Madonna paid $20 million for The Weeknd's mansion in Hidden Hills, California.
Is Madonna worth a billion dollars?
Madonna, contrary to popular belief, is not a billionaire. Back in 2013, a little-known Madonna fan blog misinterpreted the fact that her MDNA tour grossed $300 million as Madonna being $300 million richer and thus a billionaire. Her Net Worth was $650 million at the time. To begin with, even if Madonna did make $300 million, after taxes, she would only be worth $950 million, making her far from a billionaire. However, the claim that $300 million in gross concert revenue equates to a net $300 million increase in her personal wealth is grossly inaccurate. That $300 million figure represents gross revenue, which is revenue before expenses. After all expenses are deducted, Madonna is lucky to take home 10-20% of her tour's profits. That's still a good living, but nowhere near $300 million. Unfortunately, many reputable media outlets contributed to the spread of this false rumor by spreading it as fact across hundreds of websites, magazines, and newspapers. Almost every reputable wealth tracking media outlet, including Forbes, CelebrityNetWorth, Bloomberg, and others, has since debunked the rumor.