Fans are Confused by Madonna's New Face at the 2023 Grammy Awards!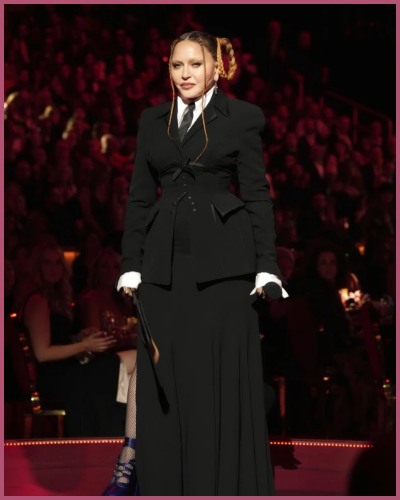 Many fans took to social media to comment on Madonna's new face at the Grammy Awards.
The singer's fans thought it was her impersonator on stage and not her.
Over the year, the singer has been posting a lot of controversial TikTok videos which did not go too well with her fans.
---
Madonna's new face confuses fans at the 2023 Grammy Awards
Madonna's new face is making quite a stir on social media.
Many fans went online to share their confusion over the Queen of Pop's appearance at the 2023 Grammy Awards held in Los Angeles on Sunday.
The Material Girl singer graced the stage to introduce Kim Petras and Sam Smith for their single Unholy. But fans were not happy with the 64-year-old star's look- particularly her face.
One fan commented on her look with a meme video of Adele looking baffled at a basketball game,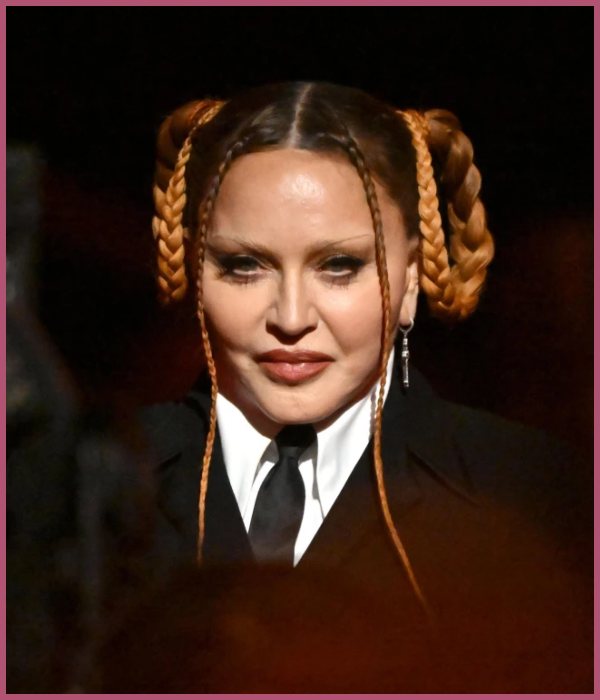 "Me attempting to ignore the fact that Madonna has a whole new face. #GRAMMYs," 
Another fan wrote,
"Whaaaaaat happened to Madonna's face?! #GRAMMYs,"
Referring to photos of the Vogue singer's most iconic looks over the year, someone else commented,
"This legit looks like a Madonna impersonator with pics of rhe [sic] real Madonna in the background. She really f–ked up her face,"
Someone else echoed,
"Madonna looks good for her age… if her age is 2,700 year old vampire who eats babies and small animals alive," 
One troller wrote,
"Has Madonna been nominated for 'Best New Face' at this year's Grammy Awards?"
Also, Read Queen of Pop, Madonna Sparks Concern after Going Topless in New NSFW Photos!
Fans criticize Madonna's shocking TikTok videos
One user added a gif of various math equations and wrote,
"What magic formula was used to create #Madonna's new face👀🤷🏽‍♀️? I'm so confused #GRAMMYs,"
For the music's big night, the pop star braided her hair in ponytails and dangled tight braids down the front sides of her face. She also bleached her eyebrows.
The Papa Don't Preach singer wore a black blazer dress and long maxi skirt with a slit over a collared shirt and black tie. She completed her look with fishnet tights and purple platform heels.
Madonna began her speech at the 65th annual award show,
"Here's what I've learned after four decades in music,"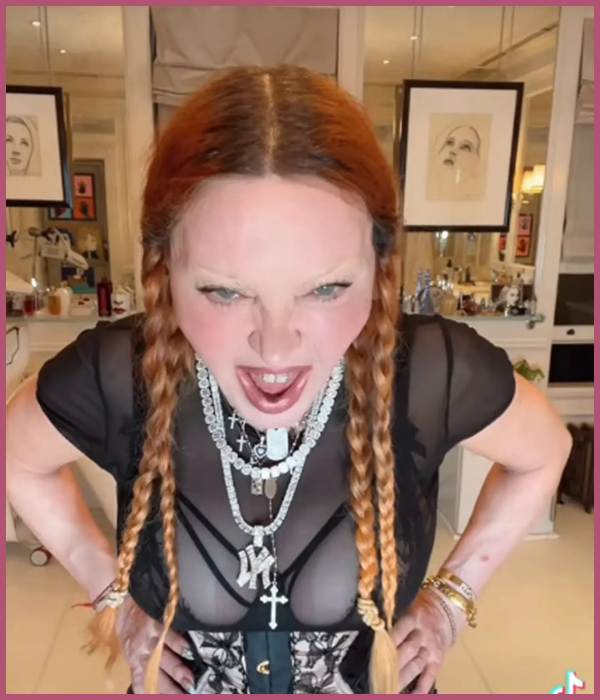 "If they call you shocking, scandalous, troublesome, problematic, provocative or dangerous, you're definitely onto something."
Madonna also thanked all of her fellow rebels for "forging a new path and taking the heat for all of it."
In recent times, the performer has been getting lots of criticism for her strange looks. Plastic surgeons revealed that the Miles Away singer has had a facelift, nose job, pulled-back skin, and various other injections.
She will start her Celebration tour this year.
The pop icon has been making headlines on social media but for all the wrong reasons. Apart from her confusing looks, the star is also known for her infamous TikTok videos.
Also, Read 50 Cent Slams and Criticizes Madonna for her Recent Seductive Social Media Posts!