Manchester United legend David Beckham is all set to launch his new Major League Soccer team in Miami
On Good Morning America Monday morning, the former English football legend, David Beckham confirmed the news that he is going to be the owner of a new MLS franchise.
During the show, the Manchester United legend made the announcement of the new Major League Soccer team in Miami, Florida. It has been more than four years when he talked about his interest to form a new club.
Speaking on Good Morning America, Beckham said,
"Everyone knows that we did the announcement for Miami four years ago, and then we've had a lot of bumps along the road and that's been frustrating. But now we're in such a positive place."
After MLS commissioner Don Garber expressed his interest in Miami forming a club, the negotiations over the new stadium began.
However, nothing came as a solution over the years. Back in June 2017, they secured three acres of land worth $9 million in the Overtown neighborhood of Miami.
Many of the pundits have been also saying that bringing David Beckham in MLS will be Jordan for Major League Soccer, he can take MLS to next level.
Besides his modeling and brand launching, Beckham has been busy throughout the years on the new team and stadium.
Talking about his family and the struggle of forming the new club through this time, he said,
"I think you have to go through these things in order to come out on the other side and be stronger and a better person. When you have children you want to protect them, you want to teach them. They've seen Daddy fly to Miami, they've seen him come back, they've seen him smile from talking about Miami, they've seen me frustrated."
You may like to read Soccer players who turned their love life into married one and are still together in this Valentine with their family!! Featuring David Beckham, Lionel Messi, and Luis Suarez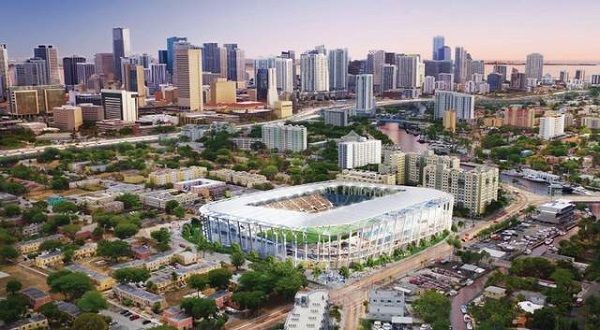 He added,
"It's been painful at times. I'm a persistent person. I don't like to lose. There's going to be difficult times. It's just how you react when you go through difficult times."
In the Monday morning, the 42-year-old veteran footballer took Instagram to share his feelings,
Also read Zlatan Ibrahimovic is geared up to conquer Major League Soccer after he signed for LA Galaxy from Manchester United and also revealed how David Beckham convinced him to join LA Galaxy