Manchester United transfer rumors: Antoine Griezmann decides to join the Reds only if he will get £400,000-a-week
Atletico Madrid is all geared up to start an auction for their game maker, Antoine Griezmann. At the moment, Manchester United is favorite to make the bid for the Frenchman. Currently, Griezmann has clearly stated that he wants to move on in this summer.
Furthermore, he has a £89m release clause in his contract. As per the reports, he is demanding a mouth-watering amount of wage worth £400,000 a week.
Additionally, he also idolized the Manchester United legend David Beckham and even said that he wears the No. 7 long sleeve jersey because of him.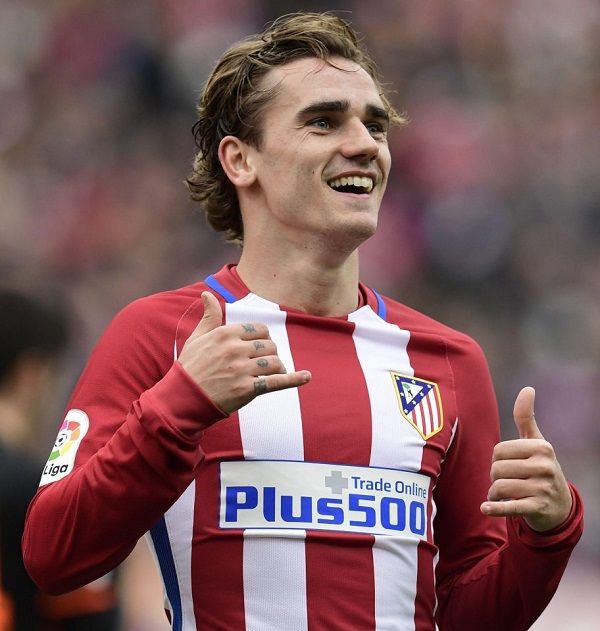 Last season, Manchester United tried to seal the deal. Moreover, his national teammate Paul Pogba has been also trying to land him at the Old Trafford.
However, there was a transfer ban over Atletico Madrid as the striker couldn't sign for The Reds. After that, Jose Mourinho switched the target and landed the Belgian forward Romelu Lukaku for £75 million.
Now, the transfer ban in over and he is all set to sign for the new club. Previously, Barcelona was also one of the favorites along with Manchester United to land the French international.
After signing Philippe Coutinho from Liverpool recently, Barcelona is now out of the race.
Initially, Manchester United had offered him £290,000 a week. However, it fell wide short comparing to what Griezmann wants.
As per the reports, Griezmann is not happy at Atletico Madrid as they continuously faced failure competing with rivals Barcelona and Real Madrid. It was also said that Real Madrid is also interested to sign the French striker.
The Old Trafford source said,
"The goalposts have moved significantly since the first attempt to sign Griezmann. The package offered last year which was agreed is now a lot less than what he wants next summer. It might be too much even for us to afford. The club is desperate to sign him but it is an awful lot of money. His people are making different demands which the club might be reluctant to give in to."
You may like to read Swimsuit model and beauty blogger, Andreea Cristina talks about the dark side of the social media!
Antoine Griezmann numbers at Atletico Madrid
In 2014, the 26-year-old striker joined Spanish giants Atletico Madrid from Real Sociedad for £24million. So far, Griezmann has won Supercopa de España in 2014 and also became the UEFA Champions League runner-up in 2015-16 season losing to Real Madrid.
During his career at Atletico Madrid, the French international has scored 65 goals in 123 matches for the club. Furthermore, Griezmann has also become La Liga Best Player in 2016 followed by the 2nd runner-up in 2016 Ballon d'Or against Lionel Messi and Cristiano Ronaldo.
In addition, he was also named La Liga Player of the MOnth in January 2015, April 2015, September 2016, and March 2017.
Also read Why is wife of Atletico Madrid and France ace Antoine Griezmann, Erika Choperena targeted on social media? Know about her marital life
Short bio on Antoine Griezmann
The popular French professional footballer Antoine Griezmann plays as a forward for Atlético Madrid and the French national team. He plays for Atletico Madrid currently and he had played for Real Sociedad. Similarly, he is famous for representing himself in Russia for the World Cup 2018 as a part of the national team by showing his talent to all. More bio…