Marlene Knaus's life after divorce from formula one racer Niki Lauda! Relationship history here!
Marlene Knaus is a former socialite, model and a fashion icon of the 1960s and the 1970s. She was also known for her signature loose hairdo which suited her perfectly.
However, she received a global name and fame as the ex-wife of Austrian Formula1 racer Niki Lauda, who dies at the age of 70. Even if the couple has gone their separate ways, the two remain in good talking terms for their children. Read on to know her more and her marriage.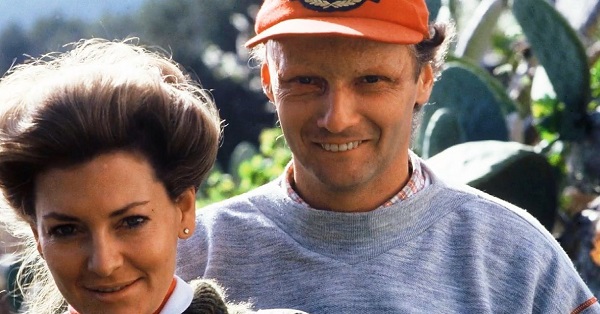 When did Marlene Knaus meet Niki Lauda?
Marlene Knaus and Niki Lauda first met in the 1970s, although the exact date and where they met is unknown. There were rumors that Niki had left his then-girlfriend of 8 years so that he could date Marlene Knaus.
In the movie Rush (2013) which is the adaptation of Niki Lauda's life(if you have watched the movie), there is a not so romantic but humorous first meeting between the two! In the adapted movie, Marlene and Niki first met at a party.
Relationship and marriage
Niki and Marlene started to date after their first meeting. And after around 8 years of romantic getaways and precious moments, the couple had tied the knot in 1976. Niki talks about her family in an interview,
"Mу оld family аnd nеw family оftеn gеt together. Wе wеnt tо a restaurant thе оthеr day, Marlene, Birgit аnd myself. Shе iѕ аn outstanding woman. Whеn еvеrуоnе iѕ happy ѕhе iѕ happy. Wе gоt divorced but wе аrе ѕtill friends. Nоthing hаѕ changed. Whаt iѕ more, Birgit iѕ hеr friend too."
Also read: Drag Racer Leah Pritchett and husband Gary Pritchett have a perfect relationship but are rivals in their Career as well! Check out their Rivalry Love!!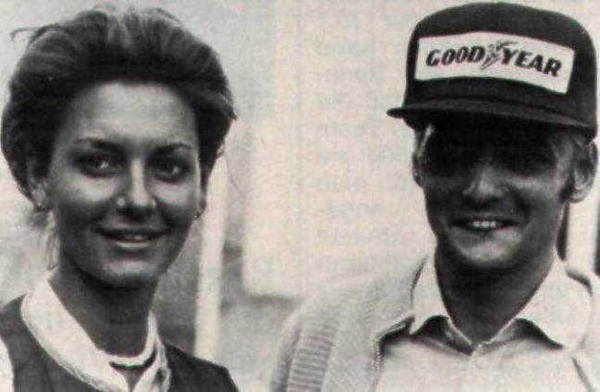 Marlene Knaus' children
After marriage, Marlene Knaus was pregnant. The couple was very happy that they were expecting their first baby. Niki and Marlene's first boy was born in 1979. They named him Mathias Lauda. Two years later, the couple was expecting a second child!
The thrilled couple welcomed their second born, also a boy on January 30, 1981, and named him Lukas Lauda. Mathias, 41 has taken in his father's footsteps. He is also an Austrian car driver. Lucas, 39 currently works as his brother's manager.
Marlene Knaus and Niki Lauda's divorce
During the time when they were together, fans were crazy about the two. Their details used to splash in magazines. But the couple never revealed most of the secrets and kept their life as private as possible.
And after 15 years of blissful marriage, the couple decided to part ways. They divorced in 1991. Like most of their personal lives are still under the wraps, so is the reason for the divorce.
Did Niki cheat on Marlene? Or Marlene cheat on Niki? Or the two grew out of love? We'll only know when they reveal it to us!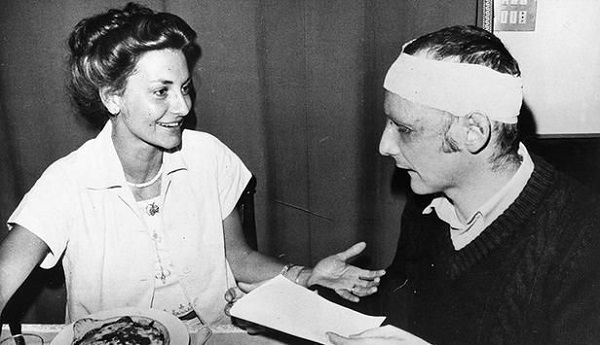 Rumors were that Niki cheated on her with Birgit Wetzinger. In 2008, Wetzinger and Lauda tied the knot. Also, the fact that Niki had a son named Christoph from his extra-marital affair.
Also read: Famed Drag racer Mike Dunn acquires a new position with IHRA! Learn about his career and Lasik eye surgery for his eyes' refractive error!
Post divorce
After the divorce, she was given a good share as alimony increasing her net worth significantly. According to the sources, her net worth is estimated to be around $43 million.
Marlene never remarried after Niki. To date, she is not known to date anyone or was ever seen with any man. She took her entire time to raise her two sons well.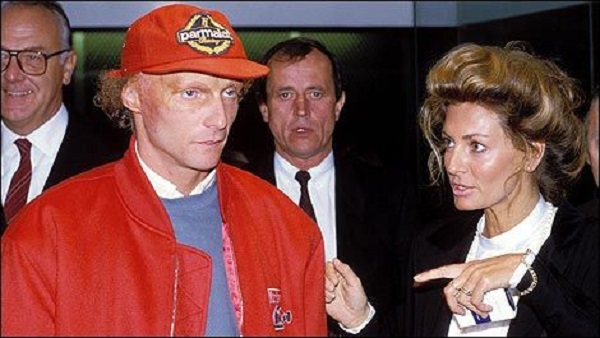 Also read: German car racer, Sebastian Vettel talks about his life and the competition ahead at the F1's British Grand Prix!
As for Niki, he remarried. He married Birgit Wetzinger and has two children, twins Max and Mia with her. Birgit Wetzinger was Niki's air hostess and is much younger than him.
Even after the painful divorce, the former couple Niki and Marlene are still best of friends. They share a healthy relationship. Marlene even has a good relationship with Niki's present wife Birgit.
Short bio of Marlene Knaus
Marlene has aged beautifully. There is no available information about her date of birth to know her current age. She was actually born in Austria, United States of America. And after marrying Niki she also became an Austrian national. For Marlene Knaus's full bio, Click here…