What went wrong in the 27 years of marriage of Bill Gates and Melinda Gates? Is divorce really the solution!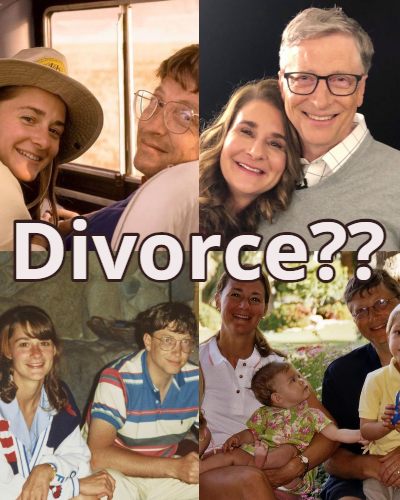 Billionaire Bill Gates and Melinda Gates are getting a divorce after 27 years of marriage
Bill not being able to manage work-life and personal life reason for divorce?
They have managed way to divide the assets so how much will Melinda receive!
---
From growing old together to we can't grow together Bill Gates and his wife Melinda Gates's life changed. This coronavirus pandemic has taken a big toll on everyone's relationship and it seems like Bill and Melinda did some serious thinking. The two tweeted,
"After a great deal of thought and a lot of work on our relationship, we have made the decision to end our marriage,"
It's difficult for us to ignore the fact of how compatible the couple was. Being one of the wealthiest couples their shared interest in philanthropy was invincible. In the recent tweet, he also shared how the two raised three incredible children and built a foundation together.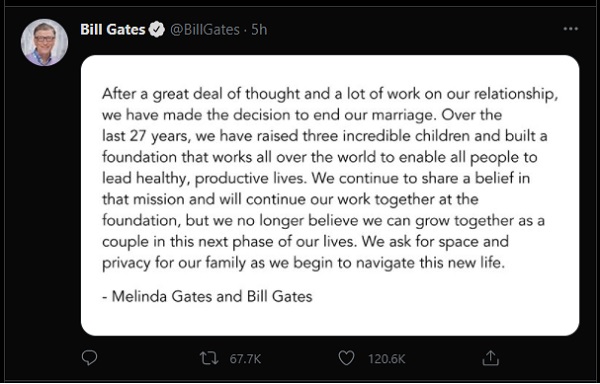 Assets division
Even though they are parting apart they will continue to share the belief and work with a full heart for the Bill & Melinda Gates Foundation. Everything suggests that they have worked to make their relationship work for 27 years but nothing seemed to have worked and they have finally given up on each other. It has come to a point where they cannot grow together in the next phases of their lives Bill (age 65) and Melinda (age 56).
He ended the tweet by writing,
"We ask for space and privacy for our family as we begin to navigate this new life – Melinda Gates and Bill Gates"
Now on the important part his 130 billion assets which they have reached an agreement on how to divide. Nobody saw this day coming and are shocked to find out about the joint petition filed in King County Superior Court in Seattle. They have also asked the court to approve their agreement on the division of assets but did not disclose details.
Also read Microsoft Co-founder and Billionaire Bill Gates Reveals Three Skills to Succeed In The Future Job Market, In IT Layoffs Season
What is the reason for Bill Gate's divorce?
Melinda Gates was always transparent about her married life with Bill Gates. In an interview with The Sunday Times, she had revealed that her marriage with Gates was 'incredibly hard' sometimes. She said,
"We've just gotten to a point in life where Bill and I can both laugh about more things. And, believe me, I can remember some days that were so incredibly hard in our marriage where you thought, 'Can I do this?'"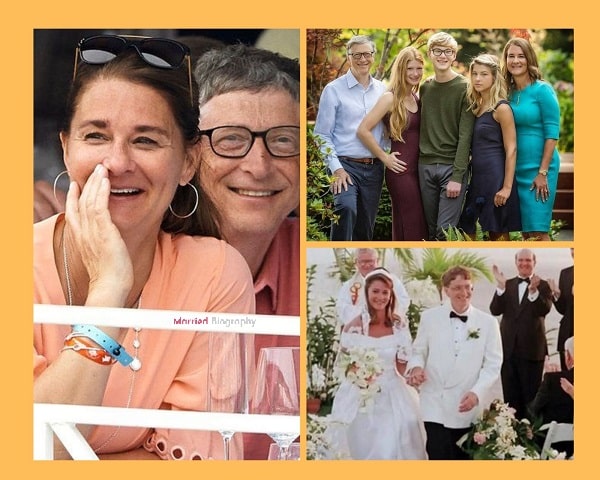 Other than being a billionaire, Bill always struggled to balance his work life and personal life which made a negative impact on their married life of 27 years. Melinda revealed how unsupportive husband he was at times and made it difficult for her to raise their three children. Mrs. Gates' patience has helped them through the ups and downs.
Bill was known about his issue with balancing work and life which made him doubt if he wants to get married or not. He was sure about Melinda but doubted if he could balance his work and family. Melinda is now done with her husband's work-life taking over their married life. The couple somewhere knew their divorce was coming. But Melinda wanted to give her children a normal life. Since their youngest child Phoebe Adele Gates has reached the age of 18, they have decided to end their marriage.
Quick love story of Bill and Melinda Gates
Bill Gates and Melinda Gates's love story began in 1987 after meeting in Microsoft when she joined the technology firm. The same year they sat together at a business dinner in New York. They started dating each other and came to a point where they had no option other than getting married or breaking up so they choose marriage. He said,
"We cared a lot for each other and there were only two possibilities: either, we were going to break up or we were going to get married."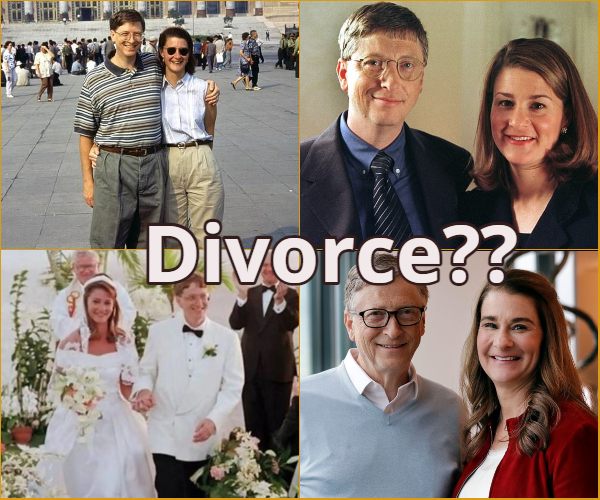 Bill and Melinda walked down the aisle in 1994 on the Hawaiian island of Lanai hiring up all the local helicopters to stop unwanted guests flying over. Their three children are Rory John Gates, Jennifer Katherine Gates, and Phoebe Adele Gates.
Also read Bill Gates Daughter Jennifer Katharine Gates Love for Horse Riding and Supported by Multimillionaire Dad!! Wanna know her Relationship Status? Check out!
Short bio on Bill Gates
Washington-born Bill Gates is the c0-founder of Microsoft Corporation. Similarly, Bill is also the Technology advisor of Microsoft. Additionally, for his charity organization, Bill & Melinda Gates Foundation, he acts as the CEO.
Furthermore, he is also the chief executive officer of Cascade Investment and Chairman of Branded Entertainment Network. Also, he has been a generous philanthropist helping to eradicate several health diseases and eliminate poverty. Read more bio…