Never fails to make her feel special- Luke Combs Talks About Upcoming Wedding with Nicole Hocking!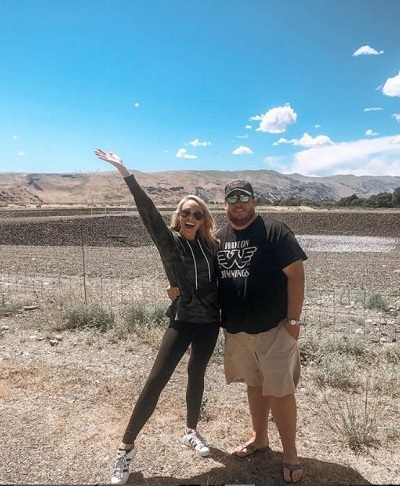 Luke Combs and Nicole Hocking started dating in 2016.
Nicole met Combs when he was a struggling artist.
---
Love so strong!
Growing up as a musician was not easy for him. But, his love for Nicole has remained the same throughout.
She dated him when he had "no publishing deal, no record deal, no booking deal".
Luke shared:
"Everybody was like, 'Yeah, this is never gonna work,' and so I didn't have anything when we met."
Luke proposed to her in their new home when no one was home.
Nicole Hocking worked as a bartender and server when she first relocated to Nashville from Florida. Later, worked at BMI. During her college days, she studied civil engineering.
On the other hand, Luke attended Florida Gulf Coast University. Before dating Nicole, he used to chew tobacco. But thanks to Nicole, after they started seeing each other, he quit chewing tobacco!
Combs told ABC News,
"That got me some serious brownie points. That was before we were officially dating."
Also read: Rumors turned true – Noah Centineo and Alexis Ren made their red carpet debut at the UNICEF's Masquerade Ball!
Wedding Plans
Falling in love for many years and now it is wedding time. When it comes to planning, Nicole has a private Pinterest board going. But she wishes to hire a wedding planner. They are planning for the wedding in 2020. It also seems they have a location picked out.
His songwriting talents have impressed his viewers all around the world. "Beautiful Crazy" is his upcoming second studio album. In this album, he talks about Nicole and many songs will be featured about her.
After Combs won the 2018 CMA Award for New Artist of the Year award, he wrote:
"I won a CMA award last night but I showed up a winner because of this amazing woman, Thank you for believing in me, supporting me, and eating cookout with me at 1:30 AM after the awards. I love you so much Nicole Hocking, you're incredible inside and out."
He never fails to make her feel special. Many of his Instagram post's caption has always gushed about Hocking.
"She's gonna be mad at me for posting it, probably because it's not perfect, but she is. This picture encompasses everything that has made me fall in love with her. Her natural beauty, her smile, personality, and the way she lives life. She's having a rough day, and I'm far away, which is the hardest part of what I do, but I'm coming home baby, I'll see you soon."
Also read: A new romance with Cody Simpson, Miley Cyrus acknowledges Instagram's nipple-ban guidelines!
References: (countryfancast, the boot)