Masika Kalysha Accused Of Faking Her Kidnapping; Her Apology And Fans' Response On The Controversy!
Masika Kalysha is under fire for faking her kidnapping on social media. The reality posted a video on her Instagram where she mentioning her kidnap.
She pleaded her fan to donate money to her OnlyFans account. People started calling out her after she revealed the video was fake.
Masika Kalysha faked her kidnapping
The reality star posted a video faking her kidnapping and asking for her fan's help. In the video, she appeared with fake bruises and cuts on her body. She sobbingly pleaded her fans to subscribe to her fans so that they will let her go.
On the first video, she said:
"I don't know how much time I have, I got beat really bad, and they're coming. They said you guys have to leave me tips and follow me so they can take the money or they're not gonna let me go. And they beat me really bad,"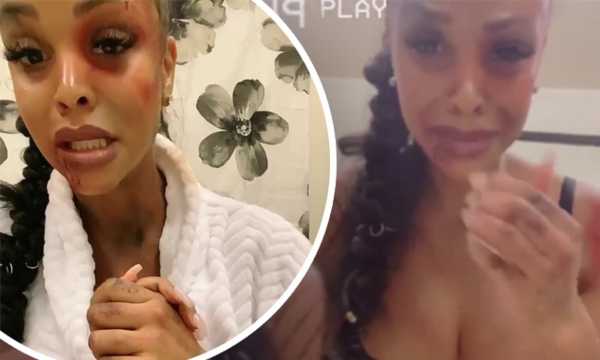 However, the following second video showed everything was fine with her. She then explained that the video she made was to draw people's attention to sex trafficking. However, people were not happy with her reasoning.
She was on her black bra and underwear set with "bruise and cuts" on her shoulder which was make-up. They started calling her out for using such a sensitive issue to promote her Onlyfans account.
Masika's apology and explanation
After finding the fake video, her fans and fellow stars started calling her out. While she posted her first video some of her followers called her out saying it is a disgusting way to promote her OnlyFans. While some of them made fun of the reality star's post.
After getting lots of hate on social media, she explained her first video. First off, she started the video saying she wants to talk about something important.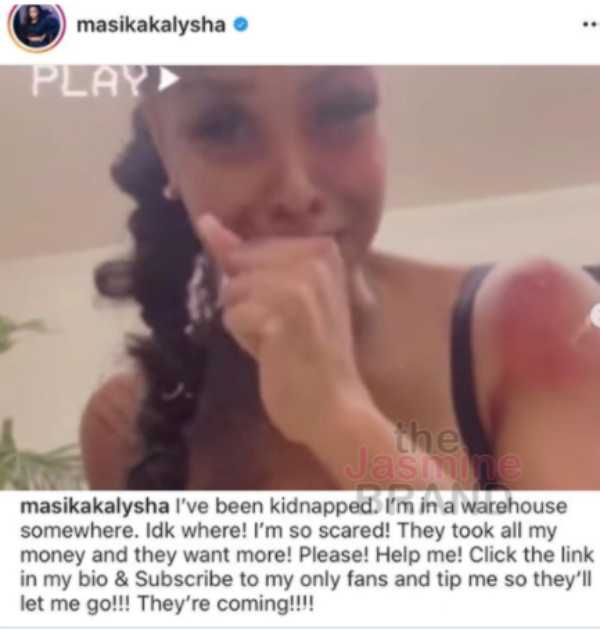 She added:
"I'm sorry if I scared you, but sometimes you need that shock factor. I'm on set right now filming for my new show and this is all camera makeup. I am totally fine guys, but the show that I'm on right now is about child sex trafficking."
Kalysha further explained she is passionate about the matter and it is a challenging role for her. Furthermore, the reality star revealed she has partnered with the R.O.S.E. organization.
It is a non-profit organization to support victims of sex trafficking, focusing heavily on women and children of color.
R.O.S.E president called Masika Kalysha out
After the video of her revealing her involvement with the R.O.S.E, the president of the organization called her out. Toni D. Rivera, the president addressed the whole controversy on her video. Rivera mentioned she got to know about the video recently as she was busy with her work.
She stated Masika's way of raising awareness was not right as it could be triggering to many people. The president of R.O.S.E also made it clear that Masika is not the spokesperson for their organization. She added:
 "In no way shape or form are we expecting money from Onlyfans, FansOnly, whatever the hell it is. No. R.O.S.E. is my organization. I did not approve or ask Masika to do a video at all."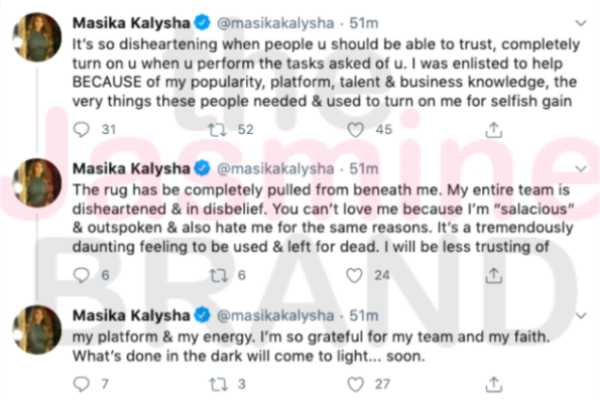 After the statement of Rivera, the reality star again came forward with her side of the story. She claimed that she allegedly received a letter from the organization which reads:
"As an advisory board member, we will highlight you on our social media and our website. We ask only that you help guide us to funding and information resources. You are welcome to help us with fundraising yourself around your label's products and or/services. We will support you in all you do personally as well, for we too are team players."
You may also read- Rhyce Power encashes on his newfound fame by making a profile on Onlyfans!
More About Masika Kalysha
Masika Kalysha is an American actress mainly popular for The Prey (2017) and 7 Lives Exposed (2013). She is also Love and Hip Hop Hollywood star and worked as a model for different music videos including Waka Flocka, Lil Wayne, and Birdman. See more bio…
You may also read- Bella Thorne: Becomes the first to earn $ 1 million in one day on OnlyFans account!