Matt Lauer is dating a 20-plus blonde after his sexual harassment scandal and divorce!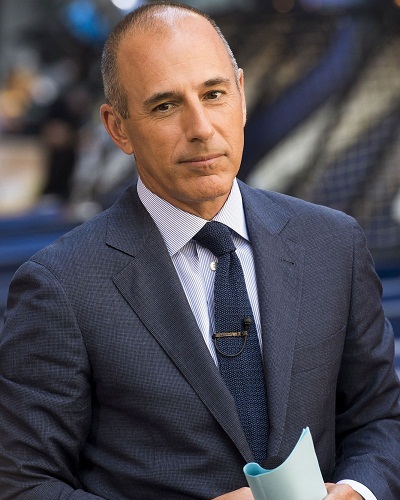 After he was embroiled in a sexual harassment scandal which also led to his divorce with his wife, Annette Roque, Matt Lauer seems to not have lost on his love life. He has been seen romancing a blonde who is in her 20s and the two seem to be serious about their new relationship!
Matt Lauer and Annette divorce!
Annette Roque has filed for the divorce after 20 years of their marital relationship in Suffolk County, New York according to Today Show. The couple has three children, Jack, 18, Romy, 15, and Thijs, 12.
Lucian Chalfen, director of public information for the New York State Unified Court System stated,
"The case, which is an uncontested matrimonial, was filed on July 9th in State Supreme Court in Suffolk County, New York and is awaiting judicial review of the agreement."
Adding,
"Upon a judge's signature, it will be sent to the court clerk's office to be entered. The process could take up to a few months."
Matt Lauer's new date
TV host Matt Lauer has been spotted in the company of a mysterious blonde who is in her 20s. She is much younger to Matt who is now 61 years of age. Sources have revealed that the couple is serious about each other. An insider said:
"He's sleeping with a young blonde in her 20's in the Hamptons, It's getting pretty serious."
The same source revealed that Matt is now planning a romantic trip with his new lady love. They are most probably planning a trip to New Zealand this winter so that they can be saved the cold weather of the USA.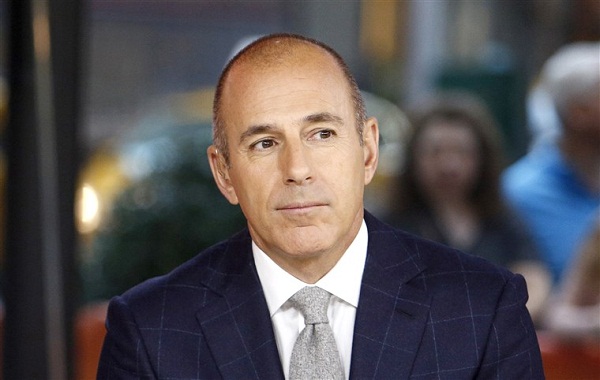 The name and identity of his new girlfriend remains a, mystery. Reports state that the girl's parents are also yet not aware that she is dating a disgraced famous former TV host. They have decided to keep things a low-profile for the moment at least until the divorce.
Also read Is Matt Lauer attempting a comeback on HBO with a talk show?
The reaction of his wife Annette Roque
A source has told Radar Online that Annette is happy to learn that Matt is dating someone else. She wants to move on in her life and get rid of him at the earliest. She has pinned her hopes on this new love in her ex-husband's life and feels that it will help her hasten her divorce process and get him off her back sooner.
In her divorce, Annette has asked for hefty alimony and this could be the hitch in the divorce proceedings. Her demand has been $ 20 million. But in his eagerness to move on in life with his new girlfriend, Matt may even be ready for the heavy compensation which Annette has demanded. His new relationship in an equal possibility may, in fact, help to increase the speed of the divorce.
Matt Lauer and his sexual harassment scandal
In 2017, several woman employees had come forward and complained that NBC host Matt Lauer had harassed them sexually. The police charged him with sexual misconduct and NBC sacked him in November 2017.
Matt was having an annual income of $25 million and after his sacking from the channel, his income from this source has come to zero. It was also stated that his wife kicked him out of his home.
Matt Lauer Reportedly Kicked Out Of The Home He Shared With Annette Roque As $20 Million Divorce Looms https://t.co/DRt9JoplsJ pic.twitter.com/0hmqKnBdqJ

— 9jaBase (@Hq9ja) October 18, 2018
News is that Matt is trying to sell off some of his estates and properties so that he could settle on the divorce and move ahead in his life.
Read more Nancy Alspaugh stands beside ex-husband Matt Lauer amid sexual harassment allegations! Read about her here!
Matt accused by Ann Curry
Ann Curry, an American journalist, and photojournalist revealed that Matt sexually harassed a female staff in 2012 as reported by Washington Post.  That staff was frightened of losing her job and Matt sexually abused her. Ann said,
"A woman approached me and asked me tearfully if I could help her. She was afraid of losing her job … I believed her."
After being aware of this, she spoke to NBC executives to make everyone working alert of Matt's actions, she
"told management they had a problem and they needed to keep an eye on [Lauer] and how he deals with women."
Matt Lauer-Short Bio
Matt Lauer is an American journalist and television personality. He is best recognized as the host of The Today Show. He is also a contributor to the news channel Dateline NBC. More Bio…
Credit: Celebrity Insider