Media Personality Michael Strahan! His Family, Personal Life, Divorce; Is He Dating? Who is his GF?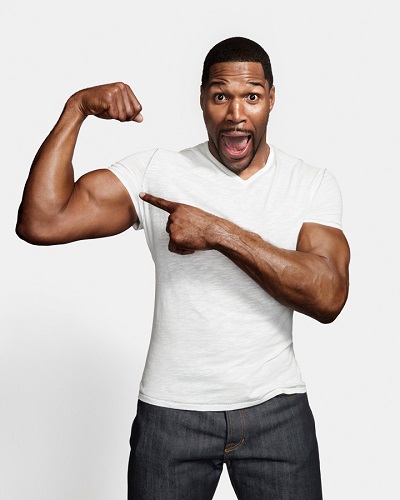 The well-known media personality and former American football defensive, Michael Strahan is also the focus of the lens.
Being a public figures, people are more interested in their personal life. 
---
Scroll to learn more about him: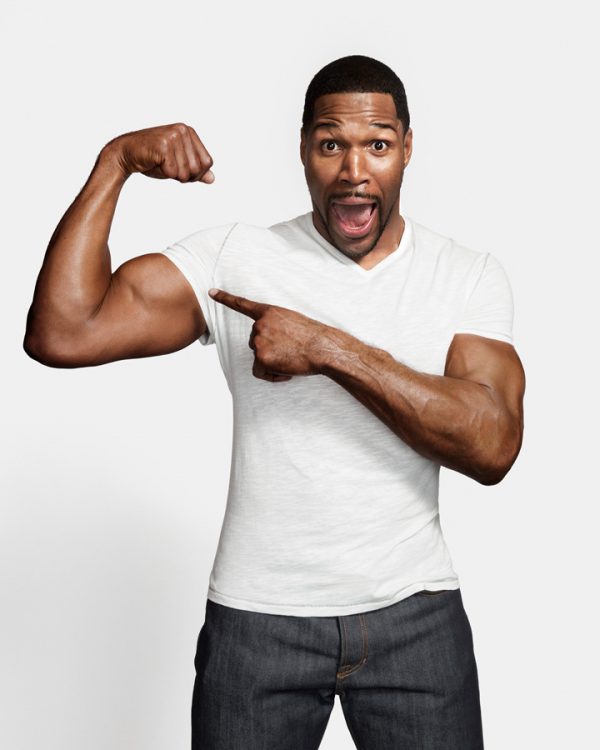 Probably, love was in the air, in St. Barts which made the famous TV personality affected namely, Michael Strahan. He showed the PDA moment in the ocean enjoying the dazzling sun of summer with his bombshell girlfriend, Kayla Quick. Where is the relationship up to? Find out here:
Michael's affair with his younger girlfriend?
With the muscular frame in the ocean with a pair of black sunglasses, the pro football hall of Famer Michael Strahan enjoyed summer with his girlfriend Kayla Quick. The duo has been dating since 2015. Followingly, Quick also made an appearance on her covetable figure in the printed bikini.
The couple was intensely busy making love and didn't pause to show it off. Strahan on the other side was not able to take his eyes off his 28-years old bikini-clad. Moreover, he was glazing with a broad smile on his face.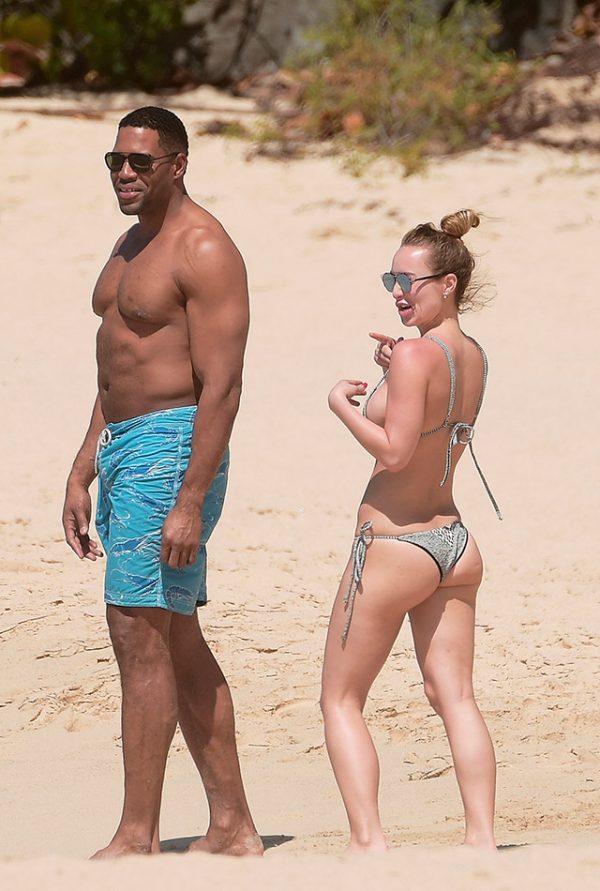 Previously while making his appearance on the show, Watch What Happens Live!, in October 2015, he stated that he "was in a serious relationship". He revealed his love life while talking with the host, Andy Cohen.
During the conversation, he joked,
"You want me to give you the full name? None of your business."
Remembering the past relations, furthermore mentioned:
"You know one thing I've learned, the whole public relationship thing doesn't work. It doesn't work. So I prefer to do my own thing and live my life away from that. Puts too much pressure on it."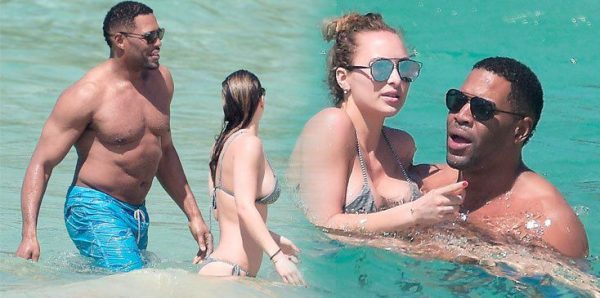 The relationship between the two grabbed all the eyeballs after they were spotted at the DirecTV Super Bowl party in February 2015.
After which we can figure out Kayla Quick happened to be the serious relationship which he was talking about. In addition, Kayla Quick, who shares a tremendous background didn't seem to affect their relationship at all.
Failed Relationships and Divorce of Micheal Strahan 
Earlier Strahan was married to Wanda Hutchins, in Germany in 1992. The couple shares an adult son, Michael Anthony Strahan Jr., and a daughter Tanita Strahan.
The former duo separated in 1996 without giving a specific reason for the divorce. That's why the reason for their separation is still unknown.
After the first failed marriage Strahan again decided to give his love fate another chance. Then, he got married to Jean Muggli in 1999. He had his first meeting with Jean at a Spa in Manhattan.
Strahan has twin daughters from his second wife, namely Sophia and Isabella Strahan. With a very publicized divorce battle, he separated from Jean in 2006 after being accused of physically abusing her.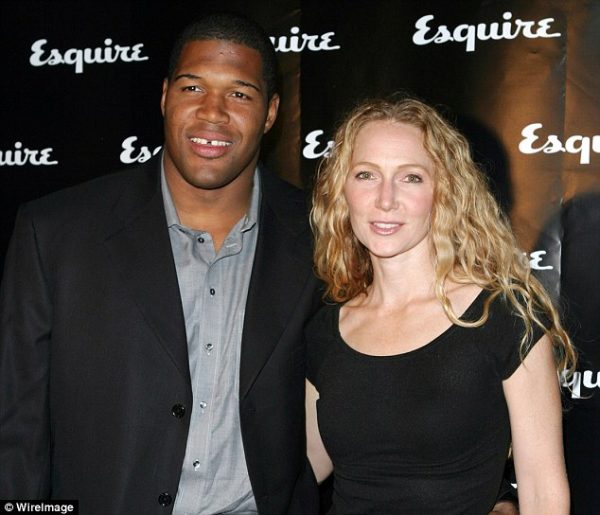 Responding to the complaint, he told Gumbel which got televised on October 23, 2012, where he said;
"I think early on when you're reading all these things in the paper that aren't true — I'm not an adulterer. I'm not gay. I mean, I didn't beat anybody."
After the disturbing divorce, during an interview with People on 5th October 2015, the twice wedded NFL player shared his feeling over the divorce which he experienced.
Followingly, he gave the statement saying:
"Personally, getting divorced is probably one of the toughest things I've ever gone through but it was also a learning experience and I learned a lot about myself and I learned a lot about a lot of the people who were around at that time and some aren't around anymore,"
Relationship of Michael Strahan with his kids
Despite the bad marriage experience, he has a special relationship with all of his kids. He is a very loving daddy to his kids. During his talk with people in September 2016, he shared more about his family and children.
Then, he said:
"My kids give me strength. I love being with the kids. To me it's all about family, now more than anything."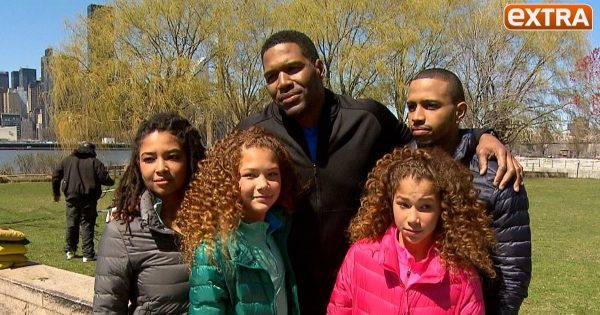 Furthermore, he added about emphasizing his role in his children's life. He said:
"I think a lot of times when you split, people assume that the mother is supposed to take responsibility for the kids. But from day one, it was very important for me to be active, to be a part of their life. I was constantly on planes and phones. And it's very hard – of course it's hard with them being in Germany. But one thing I learned is, you make time for what you want to make time for."
Michael Strahan's Beverly Hills' condo on sale
Michaels wants to sell his 2,670-square-foot condo which is located in the lavish Beverly Hills pied-à-terre. It is a three-bedroom, three-and-a-half-bathroom and is on sale for $4.4 million.
As he does not like any hustle or bustle, he currently resides in a townhouse on the Upper West Side of New York. He said,
"I like the Upper West Side, because, being a father, I like the family feel to it."