Megan Fox and Machine Gun Kelly's Love Story
Megan Fox, 35, and Machine Gun Kelly have been together since July 2020.
The two took their relationship status to the next level by getting engaged in January 2022.
Quite in love H-town couple disclosed they even drink each other's blood on special occasions.
---
Megan Fox, 35, and Machine Gun Kelly, 32 are together since July 2020. Engaged and more to go, What a love story!
In around 2 years of togetherness, the couple has always spiced up their love be it PDA, astrologically significant engagement ring, or quirky announcement of drinking each other's blood.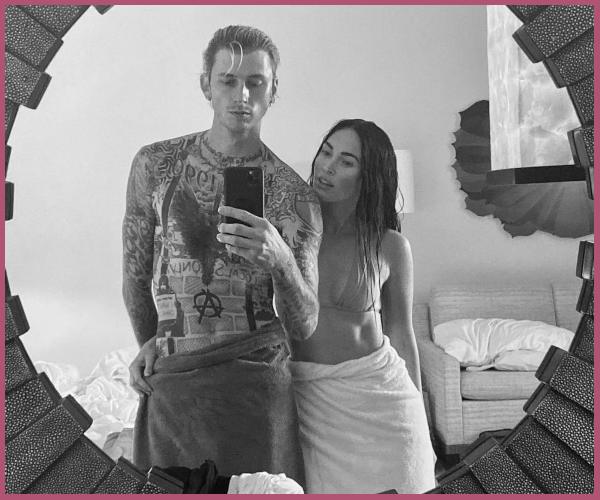 The lobby dubby yet sexy couple Fox and Kelly have photographed for GQ style captioning it,
The tale of two outcasts and star-crossed lovers caught in the throes of a torrid, solar flare of a romance and the kind of sex that would make Lucifer clutch his rosary.
The photograph talked about feverish obsession, guns, addiction, shamans, lots of blood, general mayhem, therapy, tantric night terrors, binding rituals, chakra sound baths, psychedelic hallucinations, and organic smoothies.
Where did MGK and Megan Fox meet?
The Transformers cast, Megan Fox, and Red Devil rapper Machine Gun Kelly first met on the set of Midnight in the Switchgrass in March 2020.
The two first were spotted together as co-workers and after Fox separated from Brian Austin Green they two jumped on to catch each other's heart.
Megan Fox- Drinking Each Other Blood
The duo has the most unique yet the most dramatic yet of showing love on the special occasion. Guess what it is!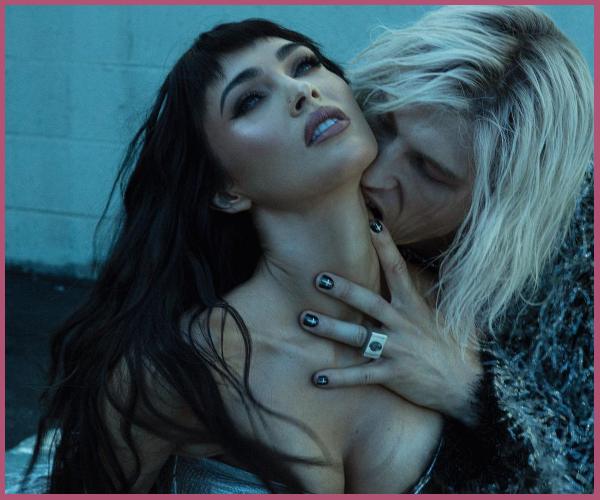 American actress, model cum Instagram star with 20 M followers once confirmed with Glamour UK that she and fiancé Machine Gun Kelly drink each other's blood for ritual purposes. She said,
"So, I guess to drink each other's blood might mislead people or people are imagining us with goblets and we're like Game of Thrones drinking each other's blood."
Megan Gun Kelly – 32nd Birthday
Recently, Fox celebrated Kelly's 32nd birthday via Instagram post which was cute indeed. She wrote,
"Today your mom told us that you were born a month early (you were SO meant to be a Gemini, you charming mercurial Svengali) and as a baby, you were both cuddly and fussy at the same time and I couldn't have imagined a more apt description of you."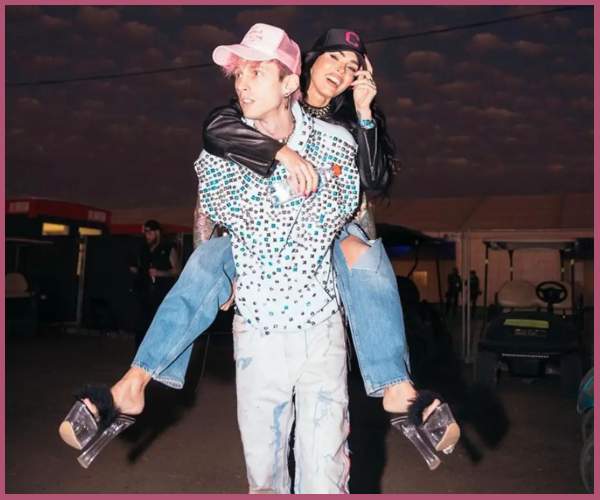 More precisely she keeps on pouring her heart into describing her fiance,
"The world has no idea what a gentle, beautiful heart you have. How generous and how thoughtful you are… How absurdly strange and smart and witty you are… You are by far the most unique human I have ever met."
And as well, she ended it with a beautiful note,
"I'm honored to love you and to be the recipient of your love. Happy Birthday love of my life."
MGK and Meghan Fox- Engagement
MGK and Fox have been engaged since January 2022 as per the Instagram post. She posted on the feed and shared her journey of how a banyan tree formed a connection,
"In July of 2020, we sat under this banyan tree. We asked for magic."
Definitely, both of them were in the phase of knowing each other back then,
"We were oblivious to the pain we would face together in such a short, frenetic period of time. Unaware of the work and sacrifices the relationship would require from us but intoxicated by the love. And the karma."
Looking at the ring worth $50,000 to $75,000 made up of emerald and diamond, and the way they talk about karma, they might be a firm believer in occult and astrology.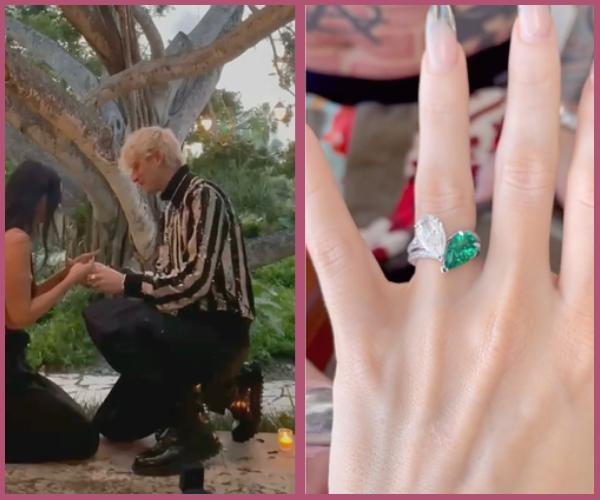 Megan Fox and  Machine Gun Kelly are to be husband and wife! Proposed with an engagement ring worth?
Fox pinpointing the excitement about her engagement dated January 2022 wrote,
"Somehow a year and a half later, having walked through hell together, and having laughed more than I ever imagined possible, he asked me to marry him. And just as in every lifetime before this one, and as in every lifetime that will follow it, I said yes."
Though several rumors about the mother of three kids, Bodhi, Noah, and Journey River Green's engagement to Kelly in January 2021, it came true a year after.
Also, Read about Megan Fox in sexy LBD can't stop touching her black-tongue boyfriend Machine Gun Kelly in PDA-filled BBMAs!.