Megan Fox goes Topless in Behind-the-Scenes Halloween snaps with Fiance MGK!
Megan Fox shares her new topless behind-the-scenes Halloween snaps on November 10, 2022.
She posted her other Halloween pictures after she happened to attack Christianity beliefs previously.
Inside the new photos of Megan with her fiance Machine Gun Kelly dressed as Link.
---
American actress and model Megan Fox are sharing her glam photos dressing as Zelda from the iconic video game, The Legend Of Zelda.
The Transformers fame was there with her fiance Machine Gun Kelly, who dressed as Link. The Bloom singer MGK carried a fake sword at his side while elevating the looks with the pairs of fake pointed ears.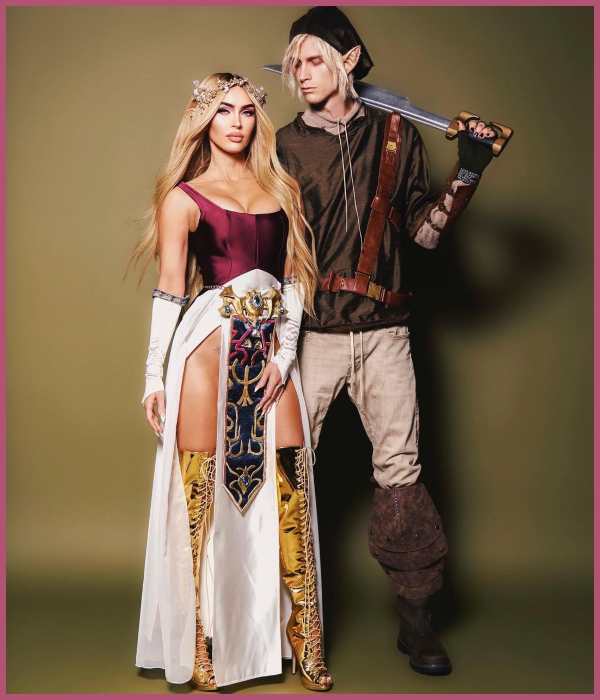 She also shared her glam preparations and behind-the-scenes for the evening where she went opless as a makeup artist finishing touches up on her makeover. They were then seen leaving Delilah's in West Hollywood on Halloween.
Megan cupped her cleavage as the makeup artist completed her elaborate eye makeup. She had a glittering coat of pink blush and a fresh sheen of lip gloss lining her pout. Coming to her hair, she put an intricate crown over her long wavy blonde tresses.
The Zeroville actress gave a shout-out to her ears comparing it to singer Grimes in the caption, writing:
'Very seriously looked into elf ear modification after this. @grimes let me know if you find someone.' 
Megan Fox appeared to ooze sex appeal in a busty burgundy corset that revealed her ample cleavage. She wore a long white embroidered skirt featuring high slits up the front to show off her long legs, accessorizing with white gloves and a pair of eye-catching metallic laced-up gold boots.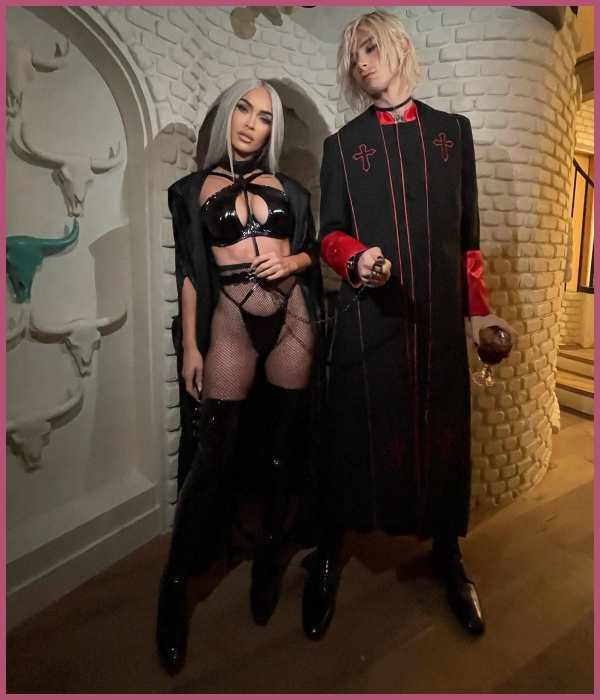 Also, Read Is Machine Gun Kelly still with Megan Fox in 2022?
Controversial Halloween Photos of Megan Fox and Machine Gun Kelly
Megan Fox a week ago had shared her Halloween costumes with her fiance MGK. The couple had a controversial Halloween post earlier which received backlash from Christians.
The rocker dressed up as a priest for his Halloween costume while Fox wore a PVC black bondage wet-look lingerie teamed with fishnets and a dog collar. She received Communion from her fiancé tied to a dog lead with the caption,
On Sundays we take communion 🙏🏻📿( emojis of prayer hands and rosary beads.)
Machine Gun Kelly dressed in a Catholic priest's black robe and put a Communion wafer in Megan's mouth. Their racy outfit backfired them in the comment section as they were allegedly mocking the religion. Someone commented,
"It's absolutely abhorrent and offensive and I'm so sick of the double standards."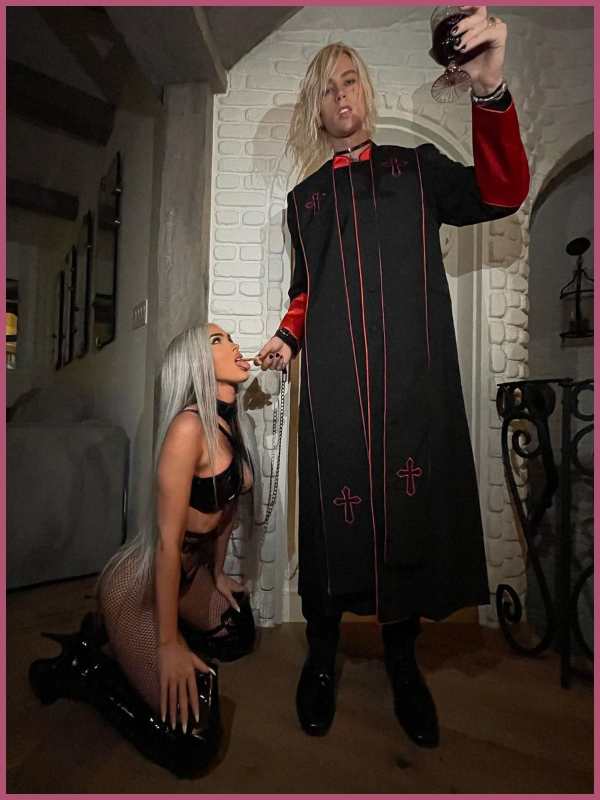 As Fox was seductively crouched on the ground with a chained leash tied around her neck, former American Idol Jimmy Levy commented,
Repent. Jesus Christ died for what you are doing right now. You have children. Where is the example? The respect? Christianity is not a costume. It's not a religion. It's a relationship with God.
While people are commenting one should respect the bible and stop mocking Christianity. Other added,
Why is that all you celebs mock Christianity? What's the agenda? And why you y'all hate God so much? I guess the devil is real.'
Also, Read Billie Eilish goes Instagram Official with Jesse Rutherford in Their Halloween Costumes!