Megan Hilty and Brian Gallagher welcomed their Second Child- Baby boy and they couldn't be Happier!! Their Cute announcement Of baby And family Reactions…..Know it all!!!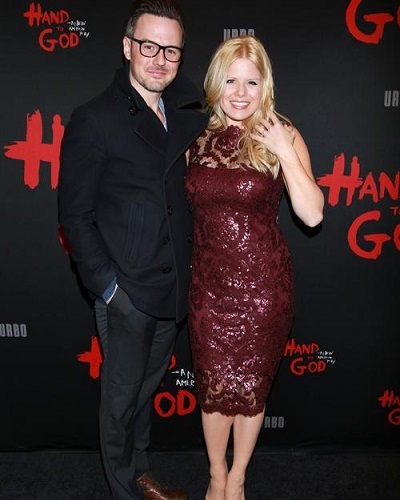 Megan Hilty and husband Brian Gallagher have welcomed the second child and they made it official! The parents could not be happier and know what they have to say about the Baby boy.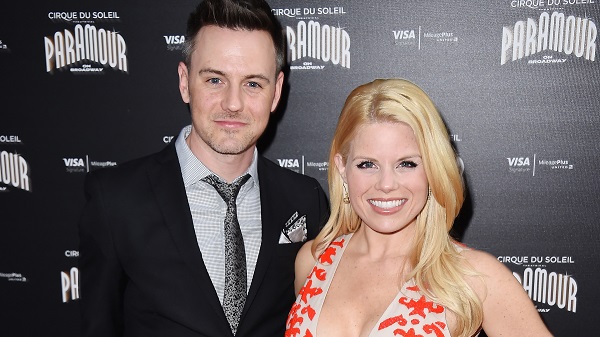 Second child
Yes! The couple has welcomed a baby boy as a second child. We can say Megan Hilty and husband Brian Gallagher are now proud parents to a baby boy.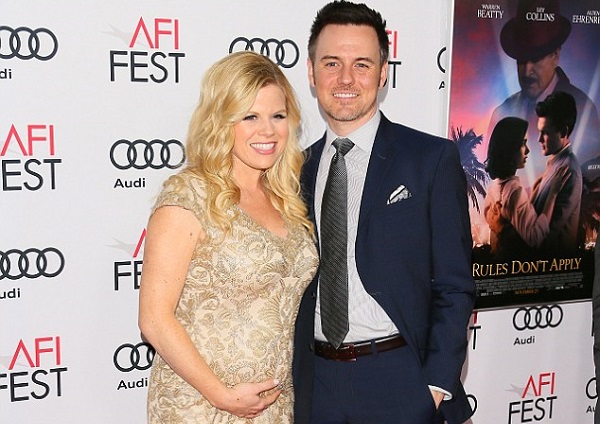 The 35-year-old actress' rep told ET that the couple welcomed their second child, Ronan Laine, on March 13. Megan gave birth to a precious baby boy and they have named him Ronan Laine Gallagher.
The new arrival has made the Broadway star and Brian's first child, daughter Viola Philomena Gallagher, a big sister. So cute!
Hilty and Gallagher's son, Ronan Laine, was born at 3:30 p.m. in Los Angeles and is already an important member of the family. Megan and Brian are extremely thrilled about it.
"We are overjoyed with the new addition to our little family,"
Megan gushed to the publication.
"It's incredible how much love you can feel for someone you've just met."
Announcement of the Baby
The Smash alum, 35, indirectly revealed with an adorable photo in September 2016 that she was "eating for two" again.
She posted a Twitter pic in which she can be seen surrounded by ice cream, cupcakes, cookies and pickles while Gallagher was spotted "drinking for two" with a glass of wine.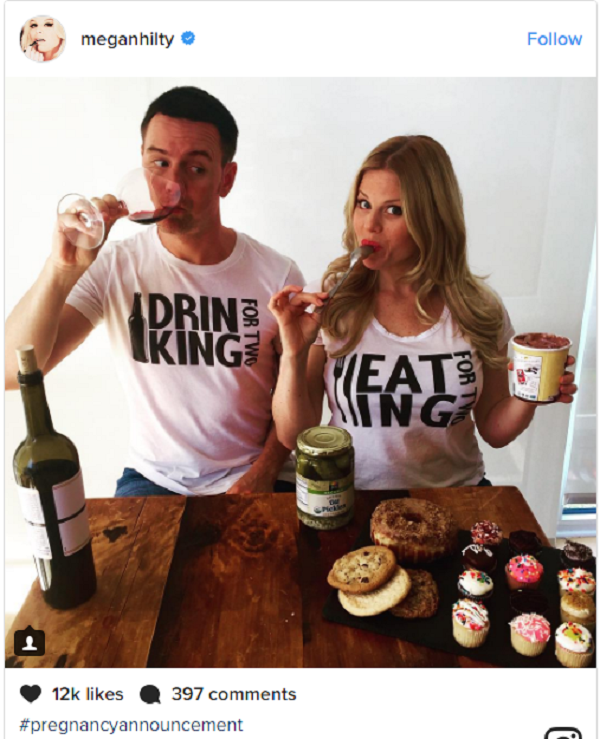 The mom-of-two also uploaded a funny picture of her daughter, who looked less than thrilled.
"Vi just found out she's getting a baby brother! She's taking it… well?"
Megan captioned the photo.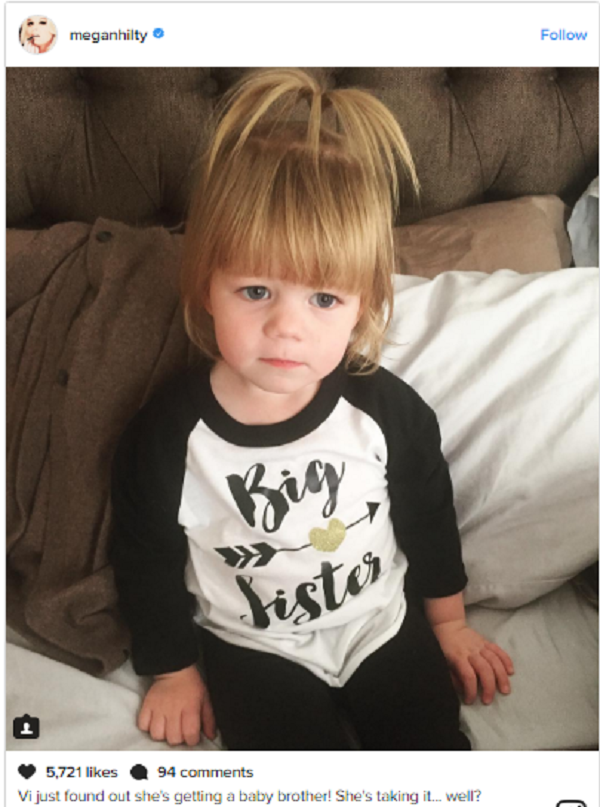 Celebration with family
Vegas in November 2013.
"We shared a perfect weekend with our family,"
the Rules Don't Apply actress disclosed to US Weekly at the time.
"To us, it's more about the marriage than the actual wedding, which is why we decided to skip the whole engagement thing. We couldn't be happier!"
The couple informed their immediate family last minute about the wedding.
"We called them about a week ago and told them,"
she added.
"We invited everyone but didn't expect anyone to show up since it was so last minute but they did! It was perfect!"
Doubts about Pregnancy and Career
For Fit Pregnancy and Babys February issue, Hilty spoke about balancing a career with motherhood, admitting she wasn't sure the latter would be part of her life's plans at all.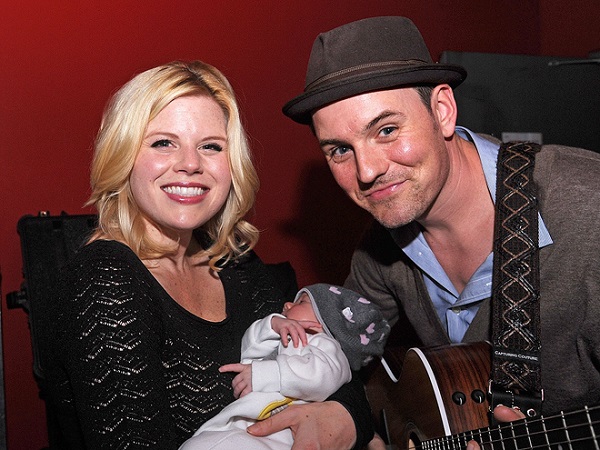 "To be honest, separately, neither Brian nor I ever thought we were going to have children," she said. "I had this idea from childhood that there wasn't room for parenting and my career, and I chose my career. Thankfully, I was totally wrong,"
Megan and Brian Marriage
Megan Hilty and Brian Gallagher tied the knot in an intimate ceremony in 2013 at the Venetian chapel in Las Vegas on Saturday night.
Gallagher, 33, is an actor and is currently working on an original solo album. Hilty, 32, continues to tour the country with her concerts. She also is seen in NBC's Sean Saves The World.
Megan had worn a Badgley Mischka dress, and the Brian was in J Lindeberg.
Megan admitted:
"We were so excited to be married that we skipped the engagement altogether!"
The former Smash star and Brian Gallagher met at a fitness class when they were both working on Broadway.
The couple did not get a long enough honeymoon due to their prior work commitments.
After a year, Brian got pregnant with first child- a daughter Viola, who is now a 2 year old and going to be a big sister soon.
You may like to read Akon, Senegalese-US singer lays the first foundation stone for futuristic smart Akon City in Senegal!
About her daughter she said,
ް'Anything that makes me look like an idiot, she'll laugh at, so I spend a lot of my days now looking like an idiot, just dancing around and singing in the worst voice possible' I'm breastfeeding, that I wasn't starving myself so that she could get the best nutrients too.'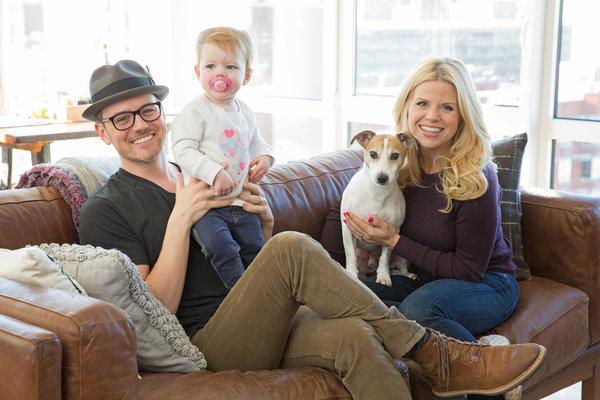 They are now a happy family we hope to see them together and strong as now. Congratulation on second child Megan and Brian!
Also read Singer Pink writes about the wonderfulness and awfulness of marriage! She said that therapy helped save it!
Short Bio of Megan Hilty
Megan is an American actress and singer. She rose to prominence for her roles in Broadway musicals, including her performance as Glinda the Good Witch in Wicked, Doralee Rhodes in 9 to 5: The Musical, and her Tony Award-nominated role as Brooke Ashton in Noises Off. She also starred as Ivy Lynn on the musical-drama series Smash, on which she sang the Grammy Award-nominated "Let Me Be Your Star", and portrayed Liz on the sitcom Sean Saves the World. More bio…