Megan Rapinoe replies to people those who call her unpatriotic! Know about her feud with Donald Trump!
Megan Rapinoe the soccer player is frank and honest. She is gay and her partner is basketball player Sue Bird. The soccer star has stirred a number of controversies in her career and this week was no different.
Megan Rapinoe and her stand on worldly happenings
Megan is different. She is gay, she has short pink hair, open about her sexuality, and takes on political figures. She is talented and formidable. And she does not sing the national anthem and uses her position for social causes.
Hence not many people like her. However, she is not bothered. She continues to be what she is and does not want to change. After all, she is a citizen of the country which believes in free expression and was the pioneer of the concept of democracy.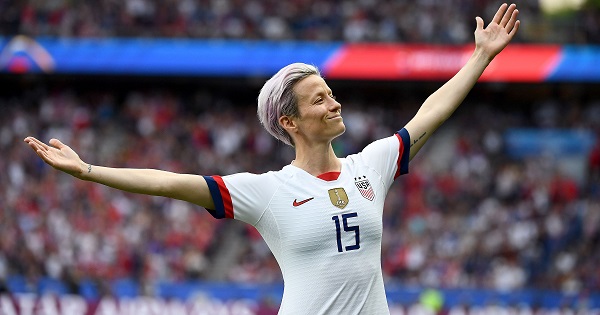 Megan made five goals during the quarterfinals match against France and Spain and took her team to the semifinals. A hamstring injury kept her off play for a while but she is ready for action starting this Sunday.
Megan Rapinoe and her 'patriotic' answer
4th of July would be celebrated as the national day in the US. Megan has been labeled as unpatriotic since she does not want to sing the national anthem. She was asked what she would like to say to those who have branded her as being unpatriotic. This is her long answer:
"I think that I'm particularly and uniquely and very deeply American. If we want to talk about the ideals that we stand for — the songs and the anthem, what we were founded on — I think I'm extremely American,"

"I think for detractors, I would have them look hard into what I'm saying and the actions that I'm doing. Maybe you don't agree with every single way that I do it, and that can be discussed. I know that I'm not perfect, but I think that I stand for honesty and for truth and for wanting to have the conversation and for looking at the country honestly and saying, 'Yes, we are a great country, and there's many things that are so amazing.'

"And I feel very fortunate to be in this country. I'd never be able to do this in a lot of other places. But also that doesn't mean we can't get better. And it doesn't mean that we shouldn't always strive to be better. I think this country was founded on a lot of great ideals, but it was also founded on slavery. And I think we just need to be really honest about that and be really open in talking about that so we can reconcile that and hopefully move forward and make this country better for everyone."
Megan turns 34 this Friday 5 July 2019.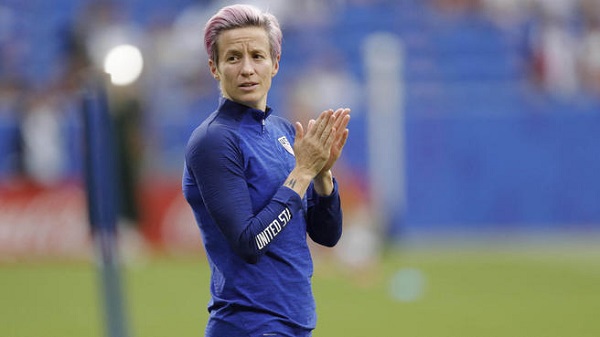 You may like to read Why did Megan Rapinoe say "Gross Men like Trump" are the reason women go gay? Know about her sexuality, girlfriend, family and net worth
Megan Rapinoe and her feud with Donald Trump
The lesbian Megan had said recently that she would not visit White House if her team wins the World Cup. She remarked:
"I am not going to the f—— White House"
The tweet went viral and also reached Donald Trump. He commented:
"I am a big fan of the American Team and Women's Soccer, but Megan should WIN first before she TALKS! Finish the job! We haven't yet……..invited Megan or the team, but I am now inviting the TEAM, win or lose. Megan should never disrespect our Country, the White House, or our Flag, especially since so much has been done for her & the team. Be proud of the Flag that you wear. The USA is doing GREAT!"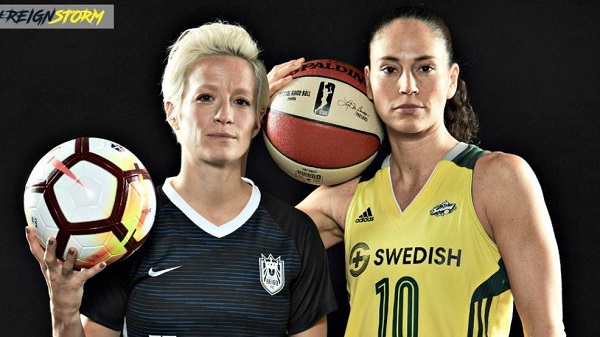 Megan was, adamant and said:
"I stand by the comments that I made about not wanting to go to the White House."
Her girlfriend Sue supports her in this and has a message for Donald after Megan's than won the quarterfinals against France.
Also, read Sue Bird, the lesbian partner of star soccer player Megan Rapinoe has a message for Donald Trump after USWNT's win against France!
Short bio on Megan Rapinoe
Megan Anna Rapinoe or famously known as Megan Rapinoe is an American professional soccer player who plays as a winger for  American women soccer club, Seattle Reign FC, and US Women's National Team. Besides playing for Seattle Reign, she has also played for French women soccer club, Olympique Lyon as well as Australian women soccer club, Sydney FC. More bio…
Source: latimes