#metoo. Alyssa Milano prays that her daughter does not have to go through the sexual harassment, misconduct and assault that she has gone through
#metoo is a movement to make aware of the people who were sexually assaulted and harassed at their home and especially their workplace and to prevent it further. The movement started in October 2017, and more and more women are opening up about their experience via their social media handle.
Alyssa Milano is an actress, activist, and producer from America. She is also a former singer. She has also shared on her Twitter that she was sexually harassed. She tweeted,
If you've been sexually harassed or assaulted write 'me too' as a reply to this tweet. pic.twitter.com/k2oeCiUf9n

— Alyssa Milano (@Alyssa_Milano) October 15, 2017
Her Family
Alyssa is a married woman. Prior, she was married to Cinjun Tate in the year 1999. But soon after their marriage, they started having differences and in the same year, they separated.
Then David Bugliari came to her life. The couple got engaged and they tied the knot on 15 August 2009, in New Jersey, United States.
The couple has two children, Milo Thomas Bugliari(son), born on 31 August 2011, and Elizabella Dylan Bugliari(daughter), born on 4 September 2014.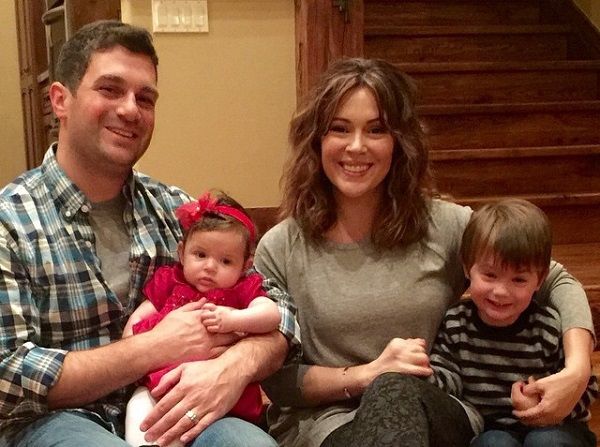 You may like to read Will The Ellen DeGeneres Show become another #MeToo scandal amidst allegations of a toxic work environment and sexual misconduct!
Letter to her daughter
This is way too heartbreaking that in the 21st century, a mother has to still protect her daughter from the men who are not less than animals. Alyssa has written a heartful letter to her daughter hoping that her daughter, Elizabella Dylan Bugliari would never have to face sexual assault or harassment.
She wrote,
"Dear Elizabella,

I wanted to take this opportunity to tell you how much I love you and to thank you for inspiring me every single day to be the best mommy—and the best person—I can possibly be. I want you to understand just how deeply you've impacted not only my life, but also the lives of millions of women across the world. And you're only three years old.

The past year has been incredibly challenging. Donald Trump is our president (crazy, I know) and he has created a culture of crisis. We are fighting on multiple fronts to protect our rights, and to topple those systems in place that protect and promote bigotry and discrimination.

You, my sweet Bella, are one of the reasons I'm deeply engaged in this fight and am committed to changing the status quo.

For several months now, women everywhere have been sharing their stories of sexual harassment and assault, and saying phrases like "me too" and "time's up." I don't expect you to comprehend this now, because you're still a baby, but one day you will read about this powerful movement and I want you to know the role you played in it.
One night, when I was lying in bed next to you, I looked down at your sweet, innocent face and I got really scared. I thought about all the ways girls and women are mistreated, and I got scared for you; I don't ever want you to experience discrimination or abuse, not for one nanosecond of your precious life.

In that moment, I sent out a tweet asking women to stand in solidarity and share their experiences with sexual assault and harassment.

A lot of people replied. Now, women all over the world are speaking up and standing up —not just to the individuals who perpetrate this abuse, but also to the culture that has enabled it for so long. (My tweet helped amplify the work of the Me Too movement, which supports survivors of sexual violence). We are collectively shattering the stigma around this issue and are having much-needed conversations on how we can end the systemic cycle of discrimination against women.

As a result, we are seeing positive, sweeping changes: the media is increasingly covering these issues, men in power are being held accountable for their actions, and legislation to prevent and respond to sexual harassment in Congress has even been introduced.

In a way, all of this is because of you, because you gave mama the strength to speak out. Sexual assault and harassment can be very difficult to talk about, which is why many women—like your mommy—choose not to share such personal, traumatizing stories.

As your mommy, it is my job to lead by example, to teach you to recognize your own power and how to be brave. You make it easy; you are already so fierce! There's a reason your big brother likes to say, "Bella is beautiful like Belle, but strong like the Beast." We all see your strength and I promise to do whatever it takes to help you continue cultivating it.

I want you to grow up from the strong little girl you are today into an even stronger woman who knows her worth. I want you to be valued for your brain, your beautiful big heart, your talents, and your sweet, sweet soul—not for your body. And I never want you to be silenced or suppressed.

All too often, as girls become women, things like sexism, violence, discrimination in education and the workforce (to name a few), work against us. They try to shatter our confidence and worth, but I promise I'll do everything in my power to protect you from such negative forces. There's no parenting handbook that explains exactly how to do this, but I'll do my best. I will teach you to advocate for your needs, to lift other women up, and most importantly, to believe in and respect yourself.

This is why I'm working so hard to make sure silence is not the norm for your generation. My biggest hope is that you never have to say "me too." But, God forbid you do, I want you to know that you will be heard and believed, and that you should speak your truth. And know that mama is always here for you.

I asked you once what you would do if someone tried to hurt you and you said, "I would scream 'no' really loud, run away really fast and then put on my cape!" That's right, ladybug. You are a super hero, and I don't ever want you to forget it.

I love you, I love you, I love you."
Also read Alexandra Vino, the new rumored girlfriend of Harvey Weinstein defends him calling him a scapegoat of the #MeToo movement
Short Bio on Alyssa Milano
Alyssa Milano is an American actress and activist. She rose to prominence after appearing in Who's the Boss?, followed by Melrose Place and Charmed. 
Furthermore, she is also the three-time winner of the Blimp Award and Young Artist Awards for her role in Who's the Boss? Additionally, she is also an activist who takes part in various charitable works. More Bio…