Qatar's Internet Sensation 'Metro Man' Abu Baker Abba Wins Hearts during FIFA World Cup! Where is he now?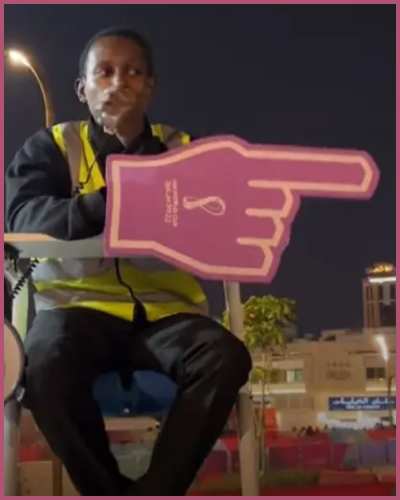 A new internet sensation in Qatar amidst the FIFA World Cup 2022, he is the 'Metro man'!
Souq Waqif station guy goes viral on the internet with his iconic lines Metro Metro Metro This Way.
Here's everything you need to know about Abu Baker Abba, the station guy at Souq Waqif 'Metro man'.
---
Qatar's internet sensation 'Metro Man' is gaining Hearts in Tiktok
Something so normal got so viral, and it's his unique style, A Metro man goes popular with his iconic lines. Sitting atop a high chair in the Souq Waqif, with a megaphone and a foam hand, the popular metro guide continuously said,
"Metro! Metro! Metro…Metro.. Metro.."
All football fans are liking this guy while heading towards the station at Souq Waqif. The world-famous metro guide has gone viral for turning an ordinary commute journey into a memorable one.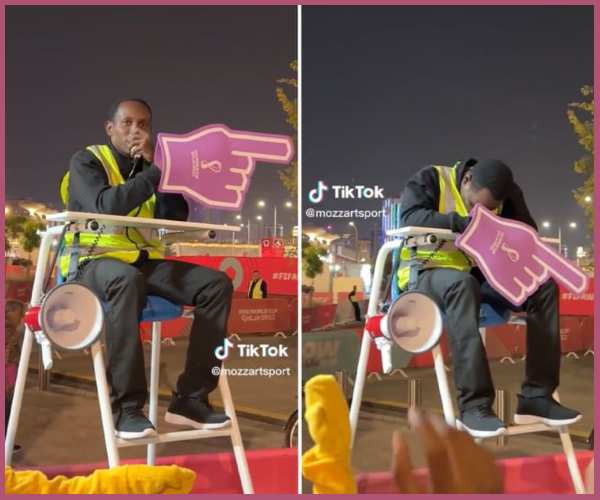 This is all because of the festive atmosphere of the FIFA World Cup in Qatar that his workstation Souq Waqif later turned into a favorite stop-over for fans.
Also, Read 'Al Rihla' journey to Mt. Everest! Nims Dai & team to take the FIFA World Cup Qatar 2022 match ball to the top of the world
What happens to the Metro man and where is he now?
Abu Baker Abba from Kenya got famous simply by saying metro this way. Hilarious but this guy is appointed as the metro ambassador with an extended contract for months.
Even CZN Burak has made his food videos in front of this metro guy, who held a huge signboard that shows this way. In the TikTok video by Discoverwithmoe, where he is interviewing random people in his daily FIFA 2022 content, many strangers are getting viral and this metro man tops the list.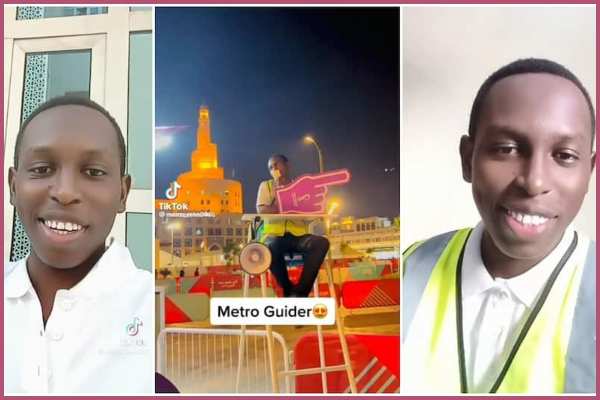 "Metro! Metro!" A group of volunteers also responds with "This way!" as he guides fans through the megaphone in the busy Doha station. He has also formed a new TikTok account following the fame with the username @metromanqatar.
The Kenya native has garnered nearly a Million likes over his content while his TikTok bio reads,
Supporting Qatar metro guys. Kenya Forever (including Qatar and Kenya's national flag emojis in between)
The 'Metro Man' whose real name is Abu Baker Abba has been awarded for his efforts by Qatar 2022 organizers for his contribution in managing crowds and transportation during the FIFA World Cup.
He was also a special guest at last night's match between England and USA. His contents from busy Al Bayt Stadium where he is guiding the football fans through the microphone and shouts "Metro!" are really hilarious and worth appreciating.
Also, Read Find Out Why Fans are not happy with Nicki Minaj's FIFA World Cup song 'Tukoh Takah!'