The Mexican-American Singer Becky G!! Here Are Some Lesser Known Facts About The Pop Singer
Becky G birth name Rebbeca Marie Gomez is a well-known singer, songwriter, rapper, actress, and a model. The multi-talented Mexican-American Singer Becky is extremely talented and amazing on stage. This is the reason she has a huge fan following.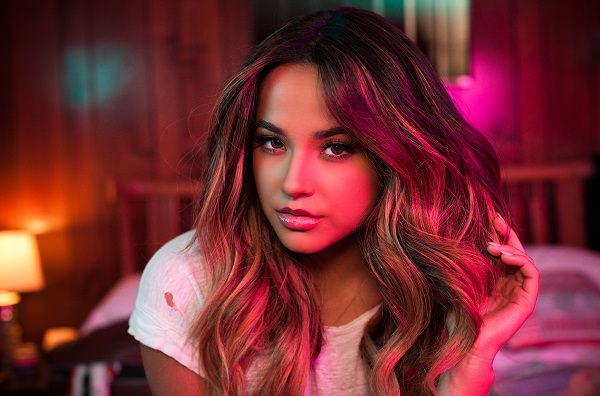 Some lesser known facts about Becky G
Becky G born in Inglewood, California on March 2, 1997, grew up with her three siblings. She has two brothers named Frankie and Alex, and a sister named Stephanie.
Her brother is suffering from autism spectrum disorder. On April 2nd for World Autism Awareness Day, the singer introduced fans to her brother in a heartfelt Instagram post.
Becky G has a very big family as her maternal grandparents have 19 grandchildren while her parental grandparents have 15.
Her family went through lots of financial struggles during her childhood. Hence, at 9-years-old the singer moved into a converted garage in her grandparent's home, after her family was forced to sell their house.
Once, she said:
"Cover Girl was the first make up I've ever purchased when I was 10 years old, and now I'm the easy breezy beautiful Cover Girl,"
Moreover, she also revealed that she not only sings but also write her songs on her own. She stated:
 "I'm a singer and rapper, but not only that, I write my own songs,"
In 2011, she started posting cover songs on YouTube performing remixes of popular songs. Becky caught the attention of her producer Dr. Luke after her cover song of Kanye West's song "Otis," went viral. Afterwards, he offered her a deal after only one meeting.
You may also like to read What did Austin Mahone say about his ex-girlfriend Camila Cabello?
Personal Life and Relationship of Becky G
Becky G has been going through the steps of success in her career. But what about her personal life? Many celebrities like to keep their personal life low key, same as Becky G. She does not talk about her off-camera life much in the camera.
Back in February 2015, she was in a relationship with singer Austin Mahone, but the couple broke up in August 2015 after a very short period of time.
Later on, in April 2016, there came a news that Gomez is in a relationship with American professional soccer player Sebastian Lletget.
Previously, on tour with Fifth Harmony, Gomez suffered an "out-of-control fan attack" while in Mexico City. While she was about to exit the hotel, though her security guard tried to hold the fans back, several fans pulled her who wanted to take pictures with her.
At that time, she revealed that she has anxiety, explaining why she ran during the commotion.
Also read WWE champion Becky Lynch is pregnant with her first child with fiance Seth Rollins!
More About Becky G
Rebbeca Marie Gomez (Becky G) is a Mexican-American singer, songwriter, rapper, actress, and model. She portrayed the Yellow Ranger, Trini, in the 2017 film 'Power Rangers'. She released her album 'Play It Again' in 2013. See more bio…