Bizzare! Mexican Mayor Victor Hugo Sosa Married Alligator In Centuries Old Pre-Hispanic Ritual!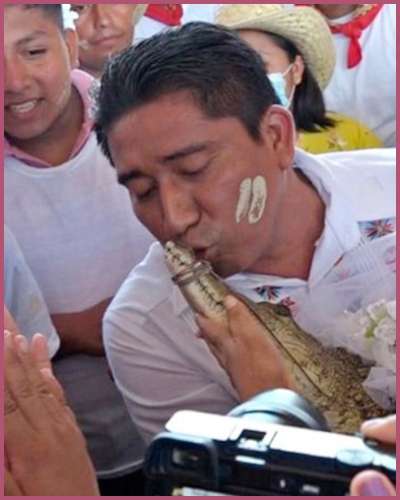 The San Pedro Huamelula, Mexican Mayor Victor Hugo Sosa wedded an alligator to please pre-Hispanic culture.
As the representative, Mayor Victor married a seven-year-old alligator to bring prosperity to his community.
Learn about the centuries-old Hispanic rituals of marrying alligators that the mayor performed.
---
Mexican Mayor Victor Hugo Sosa continued the centuries-old Hispanic rituals of marrying alligators! What's the motive behind the bizarre marriage tradition?
See the strange rituals of marrying alligators in Mexico
Mexican Mayor Victor Hugo Sosa kissed a seven-year-old alligator as his beautiful wedded wife. His wedding rituals were a traditional ritual marriage dating back to pre-Hispanic times.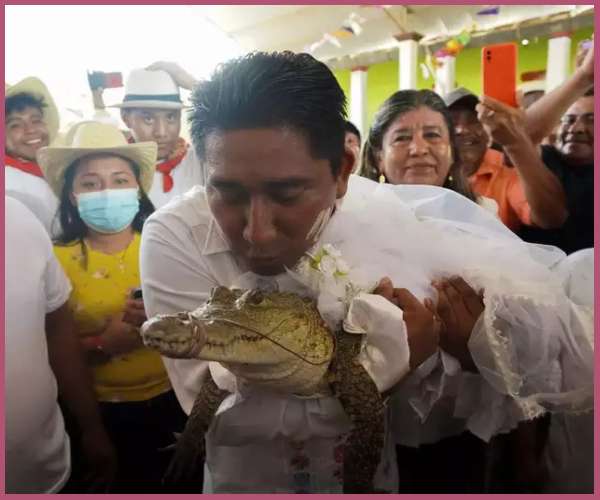 It's a form of prayer to plead for nature's beauty that that mayor carried out respecting the sentiments of his community. The weird married ceremony of the Mayor happened in San Pedro Huamelula, in Oaxaca state, Mexico June 30, 2022.
The absolutely bizarre content is still going viral on social media platforms like Tiktok, Instagram, and throughout the internet.
Also, Read English actor Jake Wood recalled his wife's near-fatal attack by an alligator during a family vacation in Florida!
More into the wedding of the Mexican Mayor of San Pedro Huamelula, whose bride is an alligator
Victor Hugo Sosa, the mayor of San Pedro Huamelula in Mexico, married an alligator bride for bringing fortunes to his community. His hopes of bringing prosperity made him perform the ritual ceremony while the wife alligator is in a white bridal dress.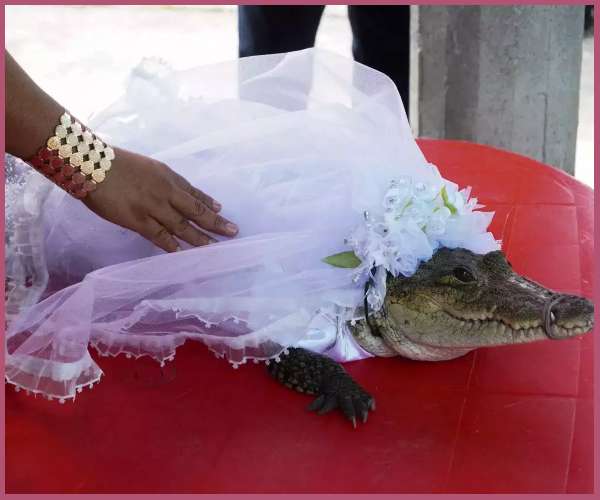 The alligator was brought to tie the knot with the mayor with its mouth bound shut. According to the prehispanic culture, the animal is believed to be a deity representing mother earth. They carried out wedding ceremonies to connect humans with the divine. Reporters told,
"We ask nature for enough rain, for enough food, that we have fish in the river." 
The procession was carried out while the bride was welcomed in the arms of the locals. Many people thought it is a fascinating tradition saying,
"It gives me so much happiness and makes me proud of my roots. It's a very beautiful tradition."
Elia Edith Aguilar, the godmother of the alligator organized the wedding. She also selects garments for the alligator to wear for the ceremony and takes care of what is necessary to officiate the rituals. The indigenous culture is passed on from generation to generation.
Also, Read Queer Love of Erika LaBrie! How Can One Fall In Love With A Fence?