Mia Tyler welcomes her baby boy together with her boyfriend Dan Halen; Shares the adorable picture of baby and his grandfather Steven Tyler holding him
Being a parent to the baby is very big happiness in a couple's life.
The experience of being a parent comes with the biggest happiness.
And above that welcoming, a grandchild is above everything.
---
Mia Tyler gave birth to the baby boy with her Boyfriend Dan Halen. With the birth of the child, Steven Tyler is now a grandfather.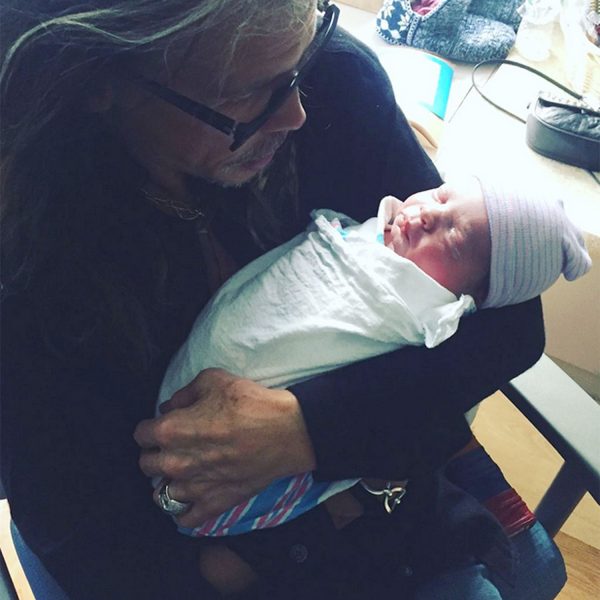 Mia Tyler and Dan Halen: proud parents of a baby boy
Mia Tyler gave birth to the baby boy with her Boyfriend Dan Halen on May 10. The proud mom of a baby boy shared a picture of her newborn on Instagram.
She shared a picture of her holding her baby with the caption:
"The love of my life has finally arrived and I am now complete. No words can explain how I am feeling. Just pure unfiltered love. My son, Axton born May 10th at 5:45 am"
Followingly bunch of pictures, where you can see newly born baby with the eyes open, also Mia feeding the baby. Among all the pictures, Dan is holding the baby and sleeping, whereas another picture shows Mia's father holding his grandson. He looks so adorable in the picture.
She shared the photo with the caption:
"Best day of my whole entire life. I'm so grateful for my family and my lover for being here & being so supportive. And to the friends and family that came to welcome our new lil wolf cub, Ax into the pack."
Axton is Steven Tyler's fourth grandchild. Mia's older sister Liv Tyler is already a mom of sons Milo, 12, Sailor, 2, and daughter Lula, 10 months.
Steven Tyler posts snap of cozy dinner with daughters Liv and Mia in New York
Two years back, Steven Tyler was captured on a full daddy look with his daughters Liv and Mia at the restaurant. He came out walking his two Yorkshire Terriers Butch Cassidy and The Sundance Kid to visit his daughter Liv Tyler at her home in the West Village.
Later on, he also joined at Sant Ambroeus restaurant with his younger daughter Mia and Liv. Steven posted the memorable moment with his family on Twitter.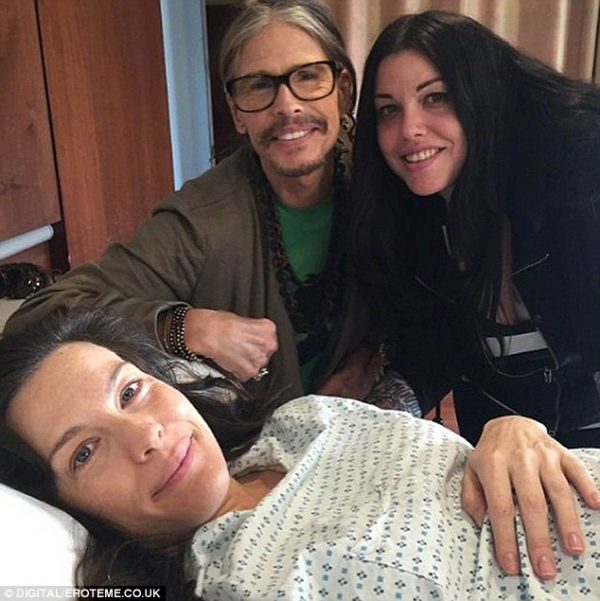 The model  Heidi Albertsen also joined the cuddling family gets together. Sharing the picture from inside the restaurant, Steven captioned the picture saying:
"WHEN YOU SEEK BEAUTY IN ALL PEOPLE AND ALL THINGS… YOU WILL NOT ONLY FIND IT… YOU WILL BECOME IT."
Steven came out with a typical look with the eccentric outfit, which started from the bottom with a pair of leather, studded open-toed sandals, and red socks.
In addition, he paired his black and white patterned flared trousers with a striped shirt and charcoal gray sports coat, with several busily patterned neckerchiefs, all wrapped in an enormous yellow scarf.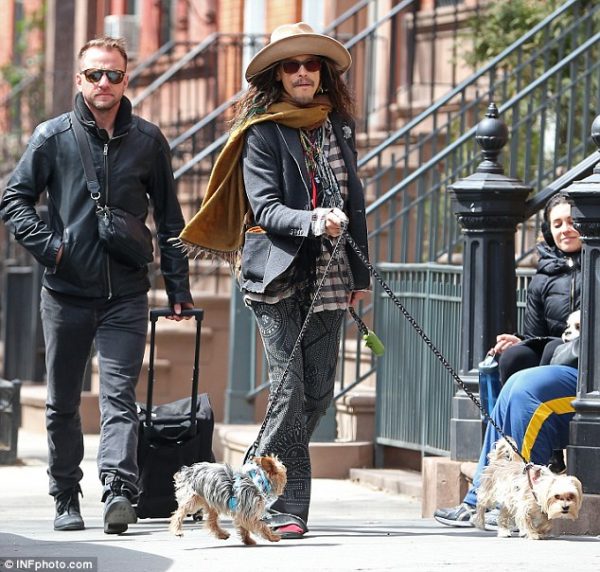 Steven Tyler is the father of three daughters who were born from different mamma's. Among three, Liv is the oldest who was born after his relationship with Playboy Playmate Bebe Buell.
'After a year, he was again blessed with a baby girl who took birth from Tyler's first wife, former Andy Warhol model Cyrinda Foxe, who died of a brain tumor in 2002.
His third daughter Chelsea is the daughter of Tyler's second wife Teresa Barrick and is seen much less frequently in public than her elder half-sisters. The Cyrin singer and Barrick also have a son, Taj who is now 24 years old.
Short Bio on Mia Tyler
Mia Tyler is an American actress, model, and fashion designer. More Bio…