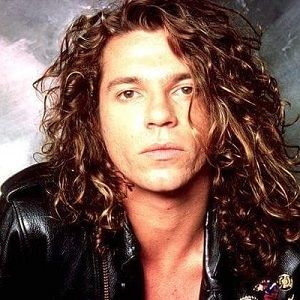 Facts of
Michael Hutchence
Quotes
I don't think success arrives and you're suddenly happy. It's not like that. If people think that they'll be very disappointed.
Women are incredible in groups together. Terrifying. Men have nothing on them.
I look at Jagger and the like and if I see a good attitude I'll admire it but I wouldn't copy their style.
Relationship Statistics of
Michael Hutchence
| | |
| --- | --- |
| How many children does Michael Hutchence have ? (name): | One(Tiger Lily) |
| Is Michael Hutchence gay ?: | No |
More about the relationship

 He was rumored and heard to have the relationship with singer

Kylie Minogue

and model Helena Christensen. Hutchence also had a relationship with television personality Paula Yates who was already married to Irish artist Sir Bob Geldof.

He even had a daughter with Paula named Tiger Lily who was born on 22nd July 1996. Paula and Geldof's marriage ended on a bitter note and reportedly, Michael was held responsible by the media as being the reason behind the rift.
Who is Michael Hutchence?
Michael Hutchence was one of the renowned personality of Australia who rose to international fame with his band 'INXS. INXS was a popular rock group in the 1980s and 1990s. He was one of the popular Australian musician and actor. Hutchence was found dead in his hotel room in Sydney on the morning of 22 November 1997.
Michael Hutchence: Birth Facts, Family, and Childhood
Michael was born on 22nd January 1960, Sydney, Australia. His father's name was Kelland Hutchence who worked as an employee at a trading company. And mother's name was Patricia Hutchence. He often used to hang out with his mother on film sets and meet many famous people including his former classmate, Nastassja Kinski.
Hutchence's family shifted to Brisbane, and his brother Rhett was also born there. Again later they moved to Hong Kong and was grown up there. His parents split in 1976 and Michael went with his mother to live in America. Living there for a while he couldn't maintain his lifestyle. He found it too hectic and difficult and so moved back to Australia to live with his father.
From his school time, he was in the band name, Doctor Dolphin. His friends were there and he was asked to join it. They always use to work together in forming various kinds of music. In 1977, the band named 'The Farriss Brothers' was formed.
The other members of the band were Tim, Andrew, Jon, Michael, Kirk Pengilly, and Garry Beers. On 16th August 1977, 'The Farriss Brothers' made their first performance at Whale Beach, Sydney, Australia. The following year, the Farriss family shifted to Perth, Western Australia. And he couldn't perform together.
But later Michael and Andrew also went to Perth reuniting the band. They made a few performances there and a few months later traveled to Sydney, and in 1979, the band 'INXS' was formed.
Michael Hutchence: Education History
He studied at the 'King George V School' situated at Ho Man Tin, Hong Kong. Hutchence was studying there as his family settled in Belrose, so he enrolled at the 'Davidson High School'. At this school, he came in contact with Andrew Farris, who later became a founding member of the band 'INXS'.
Between his school time, he was enrolled in different music-related activities. Andrew his friend was a member of the band named 'Doctor Dolphin'. Andrew insisted Michael join the band and accordingly it was joined by Geoff Kennelly and Garry Beers, who studied at the 'Forest High School'. Later all of the boys studied at the 'Davidson High School'.
Michael Hutchence: Early, Profession life and Career
Michael started his professional career on 1st September when they introduce'INXS' band. They perform their debut performance at the 'Oceanview Hotel' in Toukley town, New South Wales and were liked by many. No sooner In 1980, this band recorded their first song 'Simple Simon.
The same year, they release the album 'INXS' named after their band. They receive great achievement as their song 'Just Keep Walking'  was placed in the 'Kent Music Report' chart among Top 40 Australian singles.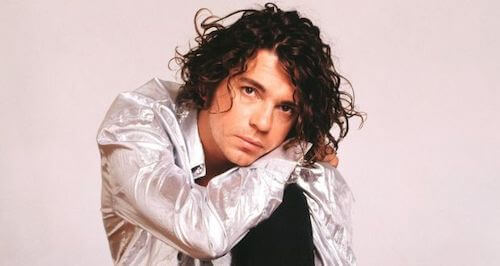 They were working unitedly and releases their second album, 'Underneath the Colours'. Hutchence after that also get a chance to sing his solo on films. He records a song 'Speed Kills' for the film 'Freedom' released in 1982. The following year, their album 'Shabooh Shoobah' was release reaching the music stores.
The band was providing various good kinds of music.
In 1984, they complete the album 'The Swing'. It was followed by the release of the Extended Play (EP) which was a version of 'Dekadance'. This EP  was hit and rank at number two in the 'Kent Music Report Albums Chart'. Between 1985 to 1990, the band produced different albums such as 'Listen Like Thieves', 'Kick' and 'X'.
In 1986, he gets the chance to perform in the acting field. Hutchence casts in the film 'Dogs in Space' in the leading role. The singer also becomes the composer in 1989 when he works with Ollie Olsen together to form the band 'Max Q'. They recorded an album 'Max Q'.
The album was critically acclaimed but it couldn't receive much commercial success as expected. From 1991 to 1997, Hutchence worked with the 'INXS' band and produces albums namely 'Welcome to Wherever You Are', 'Full Moon, and Dirty Hearts' and 'Elegantly Wasted'. Same time, he also appeared in films such as 'Frankenstein Unbound' and 'Limp'.
'Elegantly Wasted' was the final album of 'INXS' with him, as the same year, he died under mysterious circumstances.
Michael Hutchence: Lifetime Achievements and Awards
Hutchence was loved by all and his music too. He has outstanding performance and also receives various rewards. In 1991, he receives Brit Award for International Male Solo Artist. Likewise, he was awarded World Music Legend Award for Outstanding Contribution To The Music Industry in 1992.
In 1984, the 'INXS' band win awards in seven categories at the 'Countdown Music and Video Awards'. Hutchence also receives the 'Best Songwriter' award with Andrew in the same show. And he also won the 'Most Popular Male' award. Likewise, the band 'INXS' won five awards at the 'MTV Video Music Awards' in the year 1988.
Michael Hutchence: Salary and Net Worth
His net worth hasn't been known as far and he is no more with us. But it was estimated to be between $10 million to $20 million.
Michael Hutchence: Rumors and Controversy
Different rumors about the cause of Michael's death were spread. Some claim it due to overdose, whereas some due to personal problems. It is not yet proved that what was his real cause. Many of them believe it as suicide.
Michael Hutchence: Death
Michael Hutchence died in a hotel room in Sydney on 22 Nov 1997. He died by hanging and the reports regarding claims it as the case of suicide. But some of his acquaintances say that he was not a person who would commit suicide. So the reason behind his death is still undetermined.
Everyone was sad to do this news. His band members also publish different songs dedicating to him. Before he hanged himself in his hotel room Hutchence had been rummaging through a bin, desperate to find drugs, as said by the investigators. The same bin also consists the lyrics of the last song which he wrote lastly but was never published.
Michael Hutchence: Description to Body Measurements
He had a tall height of 5 feet 10 inches(178 cm). And the singer weighed (165 lb) 75 kg. Hutchence had light brown colored hair and dark brown colored eyes.
Michael Hutchence: Social Media Profile
Michael was active on different social media. He was active on Facebook with more than 1K followers. He was active on Instagram with 10.5 K followers and on Twitter with more than 2K followers.
Related Posts on Michael Hutchence
---