Top Chef Champion Michael Voltaggio Marries Bria Vinaite in an Intimate Hawaii Ceremony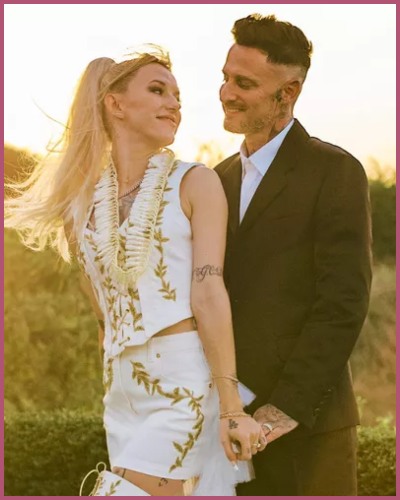 Michael Voltaggio is married to his girlfriend, Lithuanian-born American actress Bria Vinaite
They've been dating since 2021 and got engaged in July of this year
Michael and Bria walked down the aisle in a romantic Hawaii Ceremony
---
Top Chef Champion Michael Voltaggio is now married!
Michael Voltaggio said "I Do" to Bria Vinaite
Michael Voltaggio, a celebrity chef, tied the knot with fiancee Bria Vinaite just six months after their engagement. The two, who announced their engagement in June on Vinaite's 29th birthday, are now officially husband and wife.
A day before their wedding, the Battle of the Brothers star confirmed to PEOPLE,
"We have our handful of friends that stay engaged for years and we wanted to change that narrative. We want to be married to each other, that's obviously why we're engaged. So we expedited the whole thing."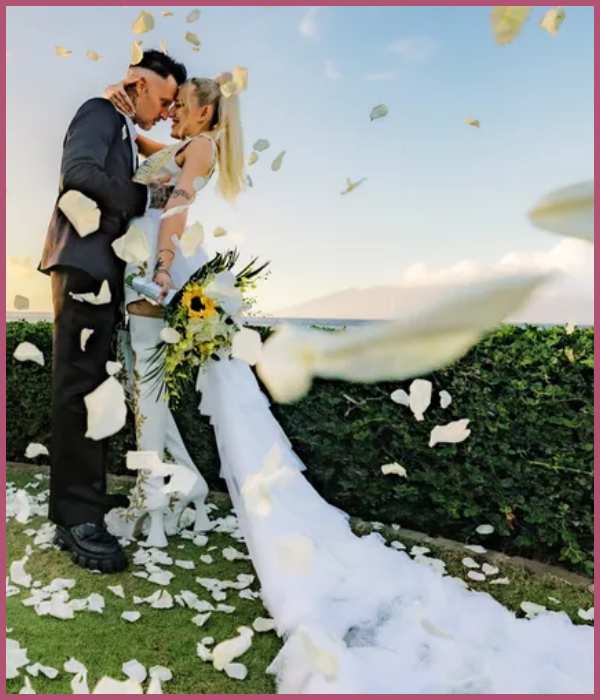 The 44-years old chef continued,
"We're like, 'Let's have our dream wedding and do it on our own schedule. Everyone wants the dream wedding, but it's all the other stuff that comes with it that maybe gets you off track from what the meaning is behind the whole thing,"

"And so for us, we really just focused on that. This is genuinely about just being in love with each other and wanting to be married to our best friends."
Also read All We Need to Know about Taylor Lautner and Taylor Dome's Intimate Californian Wedding!
After the ceremony, the newlyweds dined at Spago on specialties like smoked salmon pizza prepared by Wolfgang Puck and his team.
Michael and Bria had a really intimate wedding
Their wedding ceremony took place at the Four Seasons resort in Maui, Hawaii. The couple chose Maui as their wedding destination because it is Voltaggio's "favorite place on the planet."
Similarly, Sunset was the perfect time for their ceremony on the breathtaking Wailea Point, which had a backdrop of a stunning turquoise ocean and lush vegetation. A Hawaiian wedding song was played live during the ceremony as Vinaite made her way down the aisle by a ukulele player.
Also read Love Is Blind's Amber Pike and Matt Barnett praise each other on their 4th Wedding Anniversary
Aside from the bride and groom, only one friend was present at their wedding, and the rest of their loved ones attended via Livestream. While interviewing with PEOPLE, Voltaggio clarified,
"We started to plan the wedding and we tried coordinating with family and it just got to be sort of overwhelming. So we're just here by ourselves,"

"I feel like there's so much meaning behind those vows. And so I want to make sure that those points are said because I genuinely believe I am making that promise to my person."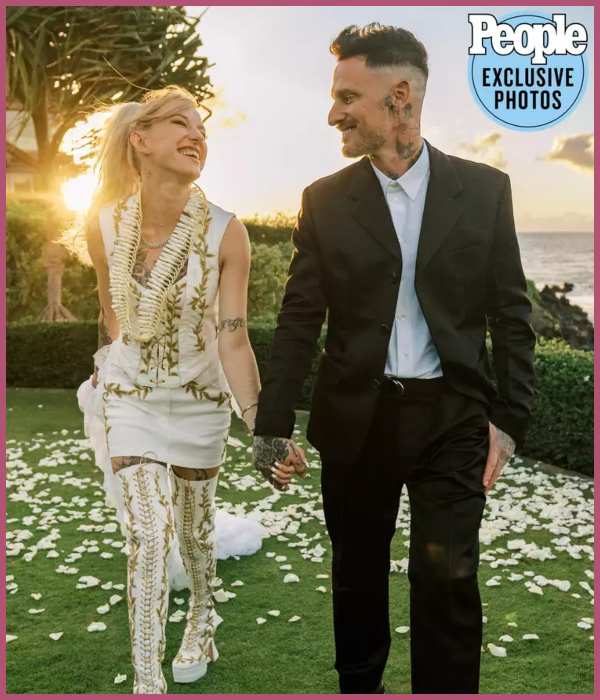 Wedding attires
Bria, unlike other brides, does not wear a gown to her wedding. The bride, 29, wore a denim corset with a denim mini skirt with a 10-foot long train and thigh-high boots with gold embroidery.
Her wedding outfit was designed by Jeremy Scott. Voltaggio noted that Bria adores her "untraditional" wedding gown and is astounded that Scott designed it for her.
The groom, on the other hand, looked dapper in a black velvet tuxedo suit.
Also read Inside Southern Charm's Madison LeCroy and Brett Randle courthouse wedding