EastEnders Michelle Collins is Married to her Age Gap Fiance Mike Davidson at 60!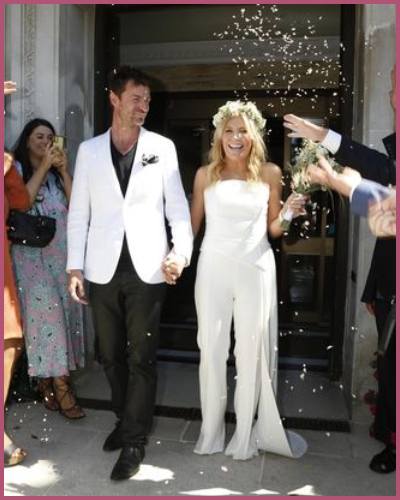 EastEnders star Michelle Collins, 60 has married her toyboy fiance Mike Davidson, 38.
Collins exchanged vows with her husband on 10 August 2022 at Islington Town Hall in London.
Let's learn about the love journey of the actor couple before the start of their forever.
---
Cindy Beale from EastEnders, Michelle Collins is a married woman!
Who is Michelle Collins married to?
Rise of the Footsoldier: Origins star is married to her longtime love Mike Davidson whom she is seeing for years. She walked down the aisle a few months after getting engaged in April 2022.
Getting married to your lover of 10 years felt special for Michelle. The two newlyweds were introduced by Michelle's niece. Michelle and Mike thus, after the set up immediately began dating each other in late 2012.
Earlier this year after their engagement Michelle also confronted,
"We know it's late notice, but we've been together for 10 years and what's the point in waiting."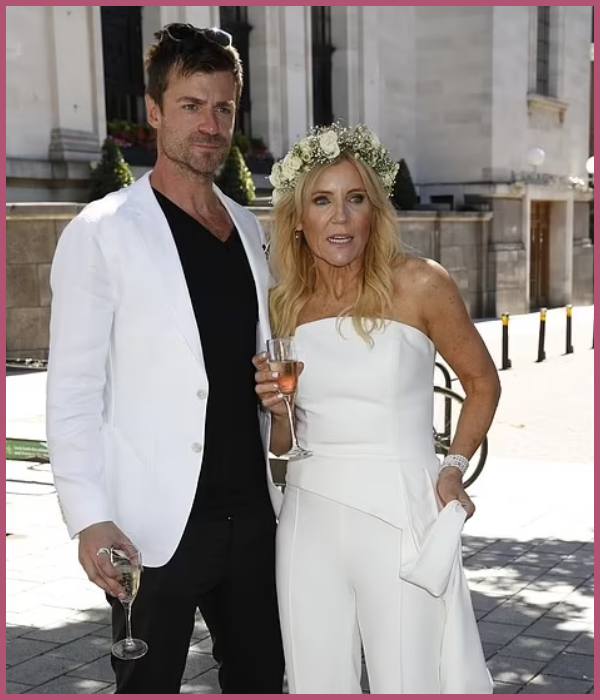 Also, Read Limp Bizkit's Fred Durst Marries Arles in a Secret Los Angeles ceremony!
Wedding attires of Michelle and Mike Davidson
The 60-year-old actress opted for a low-key wedding with her 22 years of age gap husband. To match the vibe, she donned a white jumpsuit contrary to the traditional wedding dress concept.
Michelle added a quirky white and gold flower crown while marrying her groom Mike Davidson at Islington Town Hall in London. Her flared jumpsuit without a wedding veil made her look modern while Mike styled a white jacket which he wore over a black shirt and trousers.
Cindy's ex-husband on EastEnders, Adam Woodyatt also enjoyed the wedding while dressed in blue trousers and a striped shirt.
Also, Read Wendy Williams Confirms Marriage to NYPD Officer Henry But Her Reps Says Otherwise!
Mike Davidson Came as Life Changing Blessing to Michelle Collins
Mike Davidson is indeed a life-changing blessing to Michelle Collins as connecting to him let her over her devastating self who attempted suicide in 1998.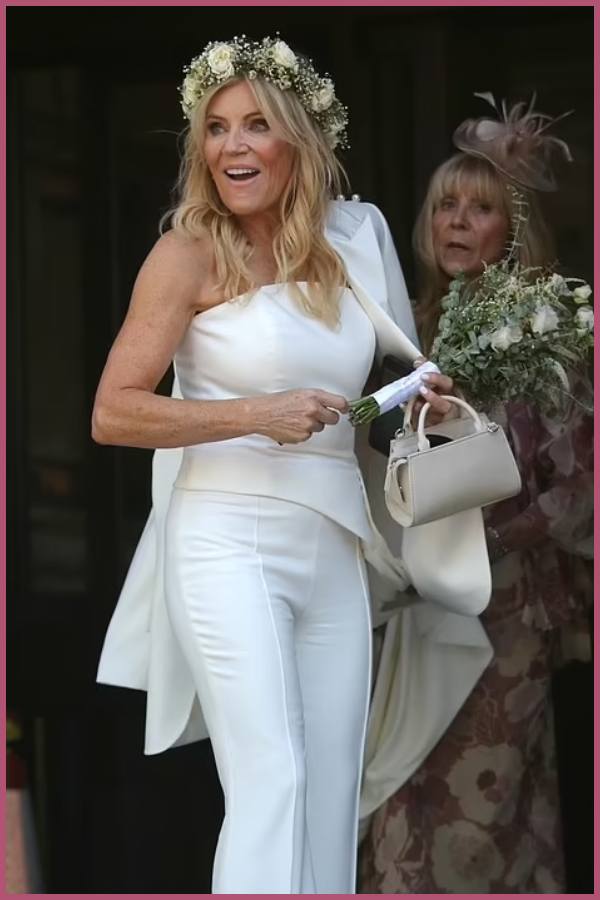 Michelle Collins who was in a relationship with Fabrizio Tassalini amidst her broken relationship and career pressure was planning to take her own life in 1998.
She then took an overdose of sleeping pills while filming Sunburn in Cyprus. Fortunately, she woke up in hospital; next to her co-star and now she has a successful career and a husband at 60.
Likewise, Michelle Collins is the mother of a daughter Maia Rose, 25 with ex-partner Fabrizio Tassalini born on September 28, 1996. The former partner was co-parenting their child before Tassalini passed away in 2014.
Also, Read Detroit Pistons' Kelly Olynyk Married Jackie McNulty in Basketball-Themed Wedding!