Mike Vrabel's wife Jen Vrabel's reaction on Mike's "cut off d-" story! Know about his married life, children, NFL career, and Net worth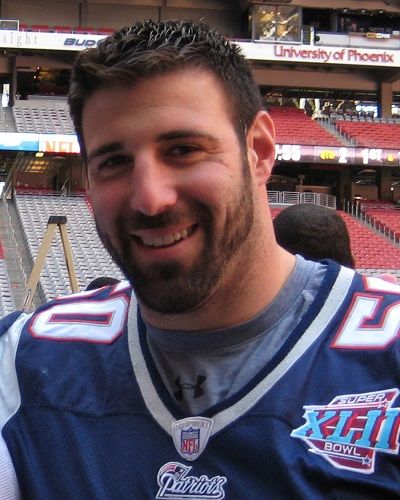 The head coach of Titans said that he would cut off his male appendages for a Super Bowl ring. He said that on Bussin' with the Boys podcast with hosts left tackle Taylor Lewan and former Titans linebacker Will Compton.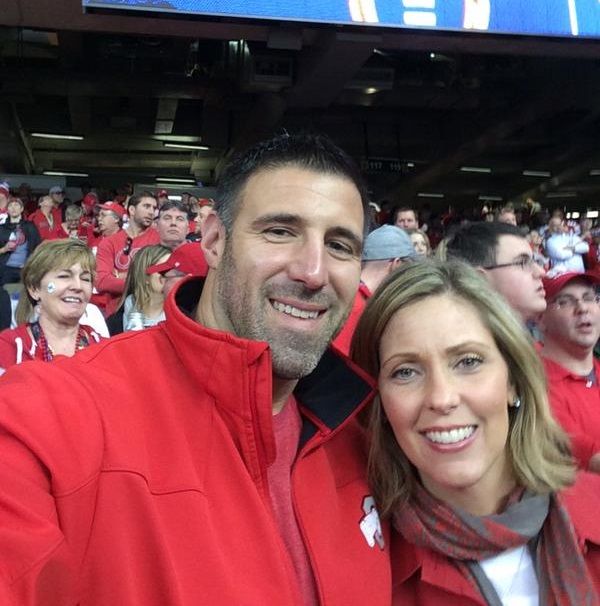 Similarly, he said that his wife would help him in it. After that, his wife tweeted,
"Not mad at all, I actually offered to help with the process."
It seems like Mike knows his wife very well. It is a difficult thing to do but his wife has the right sense of humor to handle what has turned into a ridiculous situation.
Mike Vrabel and Tom Brady's joint practice
Mike and Tom Brady are not teammates anymore. But they are not afraid to tease each other and have a good time from the opposite side of the field. On 14th August, their teams had a joint practice. Mike and Tom reunited.
They had a little trash talk from taking place as Brady took the field on Wednesday. Mike chirps Brady for his casual stroll, the veteran QB smiles before returning fire with a,
"why don't you pay attention to your own s**t?"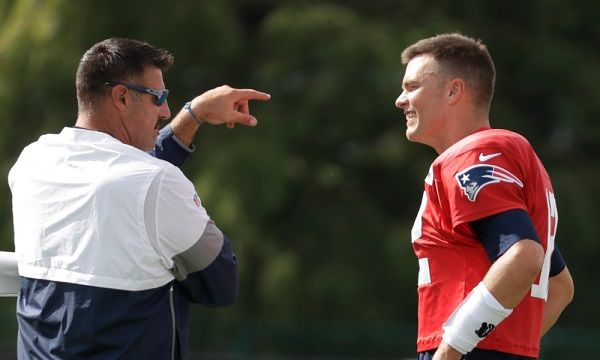 It was a fun way to kick off a handful of days in Nashville, and it sounds like it wasn't the end of the fun between the two former teammates. Likewise, after practice, Vrabel spoke to the media and revealed that Brady was quite talkative during the session.
Also read The American football coach Buddy Stephens won NJCAA Football Coach of the Year! More on his series, wife, and children
Who is Mike Vrabel married to?
Football coach Mike Vrabel is a married man. He has been married for more than two decades. The woman of his life is Jennifer Vrabel known as Jen Vrabel. There is no much information about her as she is not as popular as her husband.
This beautiful married couple is the parents of Tyler Vrabel and Carter Vrabel. They are a very happy couple. Even though they have been married for a long time there is no news of any disputes and extramarital affairs causing an effect on their marriage.
Mike Vrabel's NFL history
The American football coach Mike Vrabel was born on 14th August 1975 in Akron, Ohio. She studied at Walsh Jesuit High School near Cuyahoga Falls. At there he was a standout on the football team.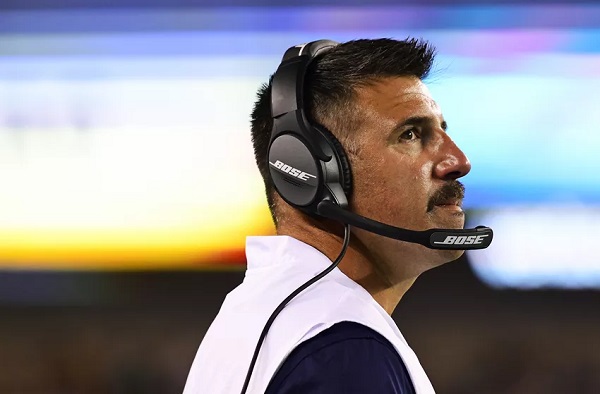 He accepted an athletic scholarship to study at Ohio State University. From the year 1993 to 1996, he played as a defensive end. Similarly, he is the current head coach of the Tennessee Titans of the National Football League(NFL).
Pittsburgh Steelers chose him in the third round of 1997 NFL Draft.  In the 2010 season, he retired from his playing career. Likewise, his NFL coaching career began in the year 2014 with the Houston Texans as linebackers coach and then defensive coordinator, before being hired in 2018 as head coach of the Titans. He has the estimated net worth of $11 million.
Also read The late Bobby Dodd, college football coach is remembered lovingly by his fans, team players, and his children-Linda and Bobby Jr.!
Source: cbssports, clutchpoints, Wikipedia