Miley Cyrus and Liam Hemsworth Married! Wedding photos on Instagram. The couple's on and off relationship affair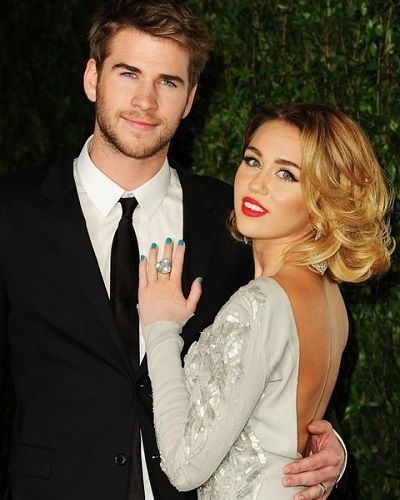 When it's meant to be, nothing can stop it which many people also call 'destiny'. We are talking about the most talked about couple in Hollywood town, Miley Cyrus and Liam Hemsworth.
All the Wedding Details of Miley Cyrus and Liam Hemsworth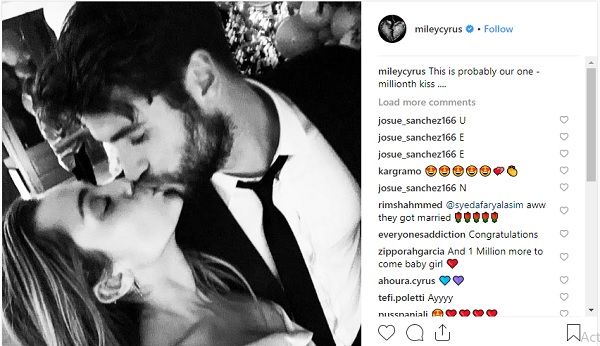 Miley, 26 has shared the wedding picture of her with her newly married hubby, Liam. The couple tied the knot on 23rd December 2018.
However, they had not planned the wedding, they just got married when they felt like it. Or they did not want to share the details and had planned a private affair.
It is also stated that they married during their holiday weekend.
Moreover, the 29-year-old actor had proposed to her in the year 2012, with a 3.5-carat Neil Lane ring but their wedding plans and dates were not decided.
She shared their wedding pictures with the caption,
"This is probably our one – millionth kiss."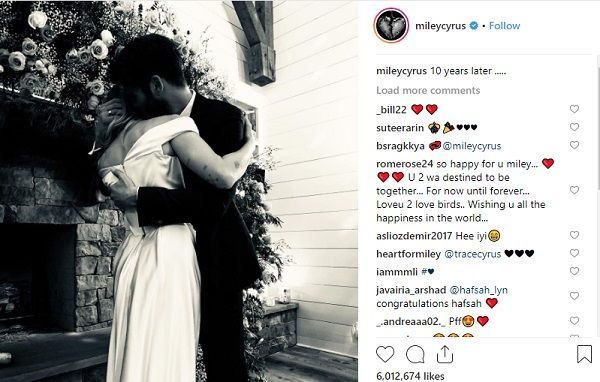 Another picture she uploaded was again a black and white photo where they were seen sharing a passionate hug with the caption,
"10 years later ….."
Wrecking ball singer, wore a beautiful white dress, while her love, Hunger Games donned a tuxedo. She shared the third picture of them in which they were seen hugging with the caption,
"12.23.18"
On and off Relationship of Miley Cyrus and Liam Hemsworth
In November 2017, we updated you stating Miley and Australian actor Liam Hemsworth got engaged. The couple got engaged in June 2012 and she stated her feelings after she was committed saying,
"all my dreams are coming true."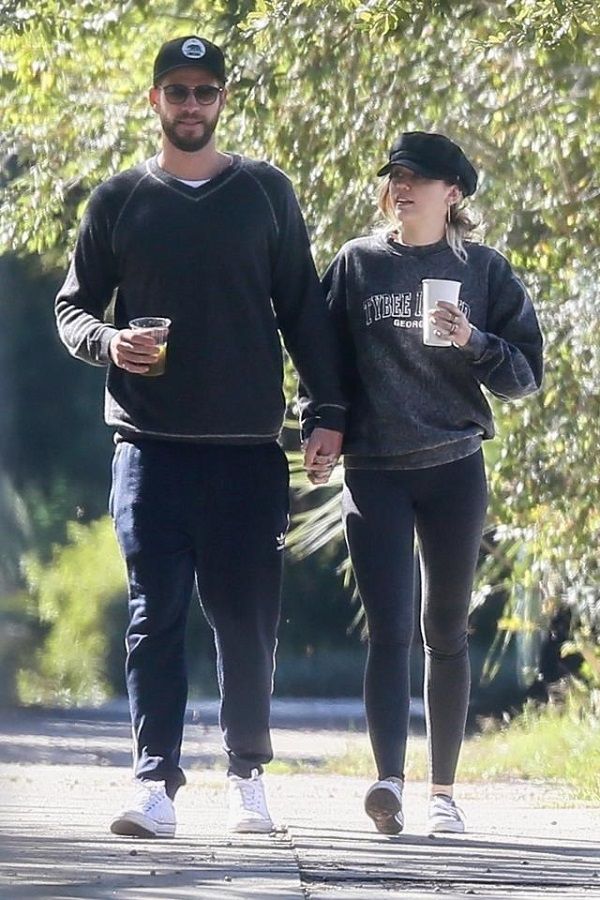 They have been dating for many years. They were filming for their movie 'The Last Song' in Tybee Island, Georgia. Read More…
In September 2013, the couple separated and both the actors had a very hard time personally. And they were meant to be together and could not live without one another, hence they again hooked up in January 2016. Similarly, Miley wore her engagement ring again.
After the patch-up, when Hemsworth was asked about his separation from Miley with an interview with GQ Australia, he said,
"actually a good decision at the time. We were both going in different directions, and it's just what needed to happen. We were both super you, we both needed that."
Miley's interview in 2017
Miley in an interview in 2017 said,
"I think people that break up and get back together, that's awesome. You get time to be yourself. You get time to grow up. I think if you're growing up attached to another person, you never really get solid as your own being. So I'm really solid, and then he gets to be really solid. And together we get to be two really grounded people. It's not a half and a half making a whole."
Also read Miley Cyrus' brother Braison Cyrus is engaged to his girlfriend whom he began dating less than a year ago!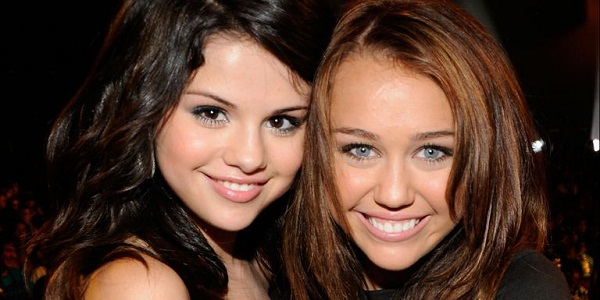 Also, the couple seems to be enjoying their marital relationship as they keep posting and updating their pictures or videos together via their social media handle. Moreover, they also keep going to places for the holidays.
Also read Italian fashion designer Stefano Gabbana calls Chiara Ferragni 'cheap' on her wedding day! Her fans hit back!
Short Bio on Liam Hemsworth
Liam Hemsworth is one of the attractive-looking actors in the Australian industry. He is known for his roles in some series like Neighbours and The Elephant Princess.
He has also been a part of some American movies like The Last Song, The Hunger Games film series, and Independence Day: Resurgence. Read More…
Short Bio on Miley Cyrus
Miley Cyrus is a singer, songwriter, as well as an actress. Her real name is Miley Ray Cyrus and she belongs to American society. She had acted as the character Miley Stewart on the Disney Channel television series Hannah Montana in 2006. Along with her, her father had also starred in the series, which aired for four seasons until 2011. Read More…
Reference: seventeen, us magazine