Milla Jovovich Talks About Acting On The Stage With Her Nine Year Old Daughter Ever On Resident Evil; Says "She Acted Me Off The Stage"
Milla Jovovich is the well-known star of the apocalyptic action-horror Resident Evil franchise. The American actor and model is known for her several appearances on the action films and fiction.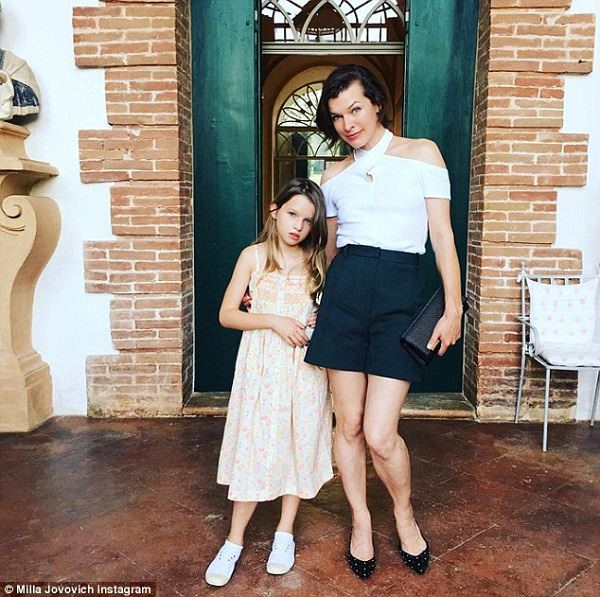 Meanwhile, she was amazed by her co-star on the set of the series Final Installment as she was none other than her nine-year-old daughter, Ever Anderson.
Milla Jovovich talks about her daughter's acting
It is said that many things come with the genes in the child as so is happened with Ever. As she is the daughter of well-known Hollywood actress Milla Jovovich, no doubt the acting is in her genes.
During the chat with the Exclusive Online, she praised her daughter's skill of acting and also said:
"She acted some people off the stage including me"
Moreover, she has also taken another role as the narrator of Toyota's The Night That Flows experience in London.
The actress went to the way of fame in the 90's as a model. She once revealed her plans of working with her daughter Ever.
The proud mom also recalled the memory that how her daughter Ever took into the into a perfect British accent and nailed the complex language in the script. And she got the role of supercomputer the Red Queen.
She explained the experience saying:
"It was amazing watching Ever work because she loves acting, she takes it so seriously and she's exceptional. For her to memorize that kind of extremely difficult, technical language to play a supercomputer, to have a British accent, she's really amazing".
Milla also explained her double role on the set as the parent. Furthermore, she also explained her little daughters had been the absolute professional.
You may like to read The intriguing life story of the octomom-Nadya Suleman!
Moreover, she also admitted:
"I didn't even have to pull out the mom card,' Milla revealed. 'She was so on her best behaviour and so happy to be on set and be accepted as an equal. I mean, listen, she acted some people off the stage including me in my opinion."
On the screen, not only her mother but also Ever is the heroine for their fans. Meanwhile, she also revealed that her daughter finds her perfect in every way.
Furthermore, she added:
"My 20 month old definitely thinks I'm the best mum ever. My nine year old, it's not because of the movies, I mean we're a very, very connected family and she thinks I'm the best at everything."
As her daughter says her the cool mom, she said that she is very sad because she has to open up about her failings to her daughter one day.
Moreover, she also added:
"For the moment I'm the coolest mum in the world, not because of the movies but because I'm just there. I'm really interested in her."
Also read Actress Milla Jovovich is pregnant again? Know about her married life, children
More About Milla Jovovich
Milla Jovovich is an American actress, model, and musician. She has appeared in numerous science fiction and action films. Additionally, she was the highest-paid model in the world according to Forbes in 2004. See more bio…