Mina Starsiak, a strong and independent lady! Works with her mother on the show, Good Bones. Reveals that she's pregnant with her husband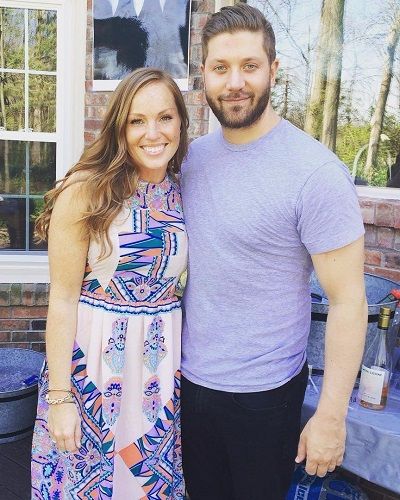 Mina Starsiak is an American businesswoman and a real estate agent. She along with her mother, Karen E Laine opened a house renovating company, 'Two Chicks and a Hammer.' For advertisement and marketing, she opened social media account and started updating what she does in 2015.
Then in 2016, she and her mother started her show titled, Good Bones which was aired by HGTV. The show was a hit with over 15 million viewers worldwide.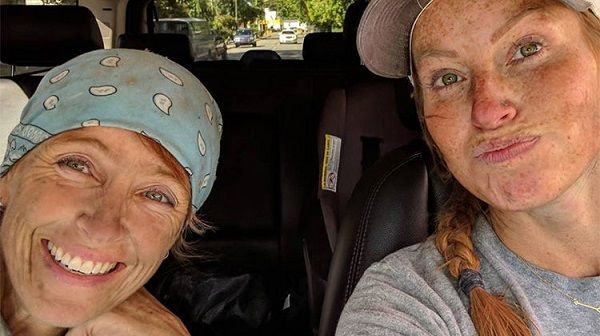 Source: lifeandstylemag.com(Mina Starsiak with her mom)
Mina Starsiak's Bio/Wiki and Family Background
Mina Starsiak was born on 26th November 1987, in Indianapolis, in the United States of America. Her father's name is Casey Starsiak and her mother's name is Karen Laine. She has two siblings but their names are unknown. But her parents after having three children started having differences and divorced.
After the divorce, both of her parents remarried. Her mother married a guy named Randy. Her mother and her new husband Randy had a baby together named Kelsy.
After a while, Karen and Randy also divorce and she remarried for the third time with Mick. But the relationship with Mick didn't work out and separated him as well. And again she remarried for the fourth time with Roger.
Whereas her father tied the knot with Cheryl and had two children, Jess and Tad with her. Sadly, Cheryl passed away and her father started to work with her(Mina).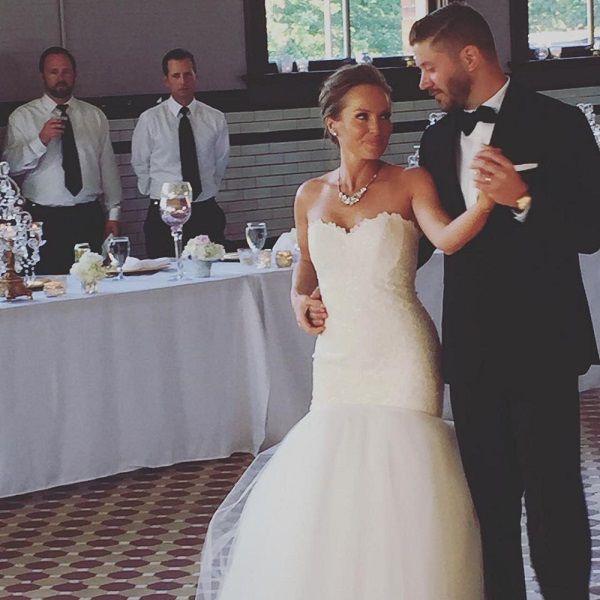 Source: hgtv.com(Mina Starsiak family)
Mina Starsiak's romantic relationship
Talking about the romantic relationship and affair of Mina, she has been lucky as she has a very loving husband. Yes, you heard it right! She is a married woman. She is married to her longtime boyfriend, Stephen Hawk. The couple tied the knot on 11th June 2016. Their wedding ceremony was a grand one where their friends and family were invited.
After the wedding, the couple went on a honeymoon in Charleston, S.C., and Cabo. They have fostered a baby girl named, Julie. Their social media account, Instagram is filled with the couple's cute pictures.
In April 2018, the couple announced via Instagram that Mina is pregnant and they are expecting their first child. The baby's due date is said to be "later this summer," i.e., around August 13. The couple announced it with the caption,
"[Steve] and I are suuuper excited to finally announce…. Baby Hawk coming 2018!!!!. We're thrilled for this first baby journey and that we're going to be able to share it all with YOU!"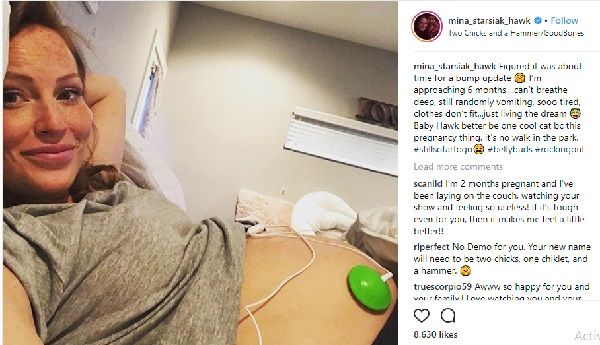 Source: Instagram(Mina Starsiak reveals her pregnancy)
The couple has revealed the gender of their baby to their close friends and family but they have not yet revealed it to us. Mina said,
"When I was somewhere between six and eight weeks, I fell about thigh-deep through a couple floor joists. My very first reaction to Mom was, 'Don't tell my husband.' But I went home and told on myself and he just kind of gave me the look. I said 'I'm not going to do it anymore.'"
Short Bio on Mina Starsiak
Mina Starsiak is an American real estate agent and television personality. Currently, she appeared on HGTV's new Reno show, "Good Bones" alongside her mom.
In the show, "Good Bones", Mina and her mom traveled across the country to reconstruct the house. Furthermore, she runs a home renovation business along with her mother. More Bio…