Mina Starsiak shares her second pregnancy journey on Instagram revealing diagnosed with diastasis recti! Also read about her married life with Steve Hawk, children, company
Mina Starsiak of Good Bones is currently pregnant with her second child with husband Steve Hawk. Her first pregnancy was way simpler than her second as Mina revealed that she developed diastasis recti.
She revealed it through her Instagram story. She announced her second pregnancy in March after five months of their in vitro fertilization process and her due date is coming soon.
Mina and Steve turned to IVF after multiple failures to have a second child. They have named the child to be as Charlie Drew despite the unknown gender.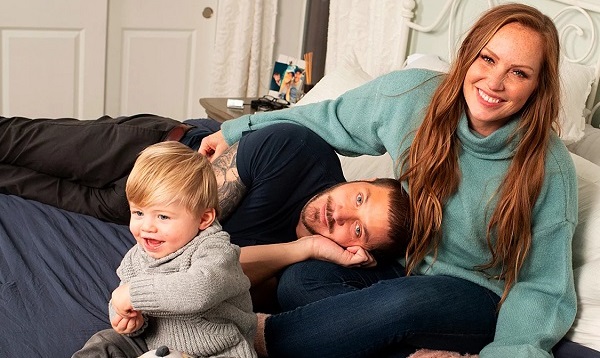 Mina wrote on her Instagram story,
"So I first kind of noticed about a week ago … if I laid down flat and tried to sit up and contract my abs, instead of being like a smooth circle for my belly, it's kind of like a triangle,"
Starsiak hopes to have healthy childbirth. They are looking forward to baby Charlie and are going to announce the gender of the baby after its birth. She has documented her fertility journey on her Instagram account. Their baby no. 2 can be here anytime soon.
Also read Morgan Stewart pregnant with fiance Jordan McGraw – a baby girl! Know about their relationship, Morgan's previous marriage, net worth and more…
Mina Starsiak and Steve Hawk relationship
Mina Starsiak and Steve Hawk met each other in the year 2013 after the two connected on Facebook after the Good Bones star noticed him. Their first date was at a baseball game which did not do much to Mina as she felt ignored.
But she gave him a second chance which worked out and Steve appeared on her Instagram in July 2014. They attended many parties together.
Eventually, they decided to get married after he proposed her in March 2015. They officially became husband and wife a year later of their engagement on 11th June 2016.
Their nuptial was held in Indianapolis, Indiana. Mina and Steve celebrated their wedding with 400 donuts instead of a wedding cake.
After almost two years of the wedding in February 2018, they announced that they were expecting their first child.
Their son Jack Richard Hawk was born on 9th August 2018. John is 2 years old and the couple is ready to add a new member in their family.
They celebrated Jack's second birthday and Mina shared a couple of pictures of the family and wrote,
"Happy 2nd Birthday Jack!!! This little man has been the light of our lives the past two years. I genuinely don't even know what we did before him??! All I do know, is that our lives were not complete until he joined the party."
How did Mina start 'Two Chicks and a Hammer, Inc?
Mina Starsiak and her mother Karen E Laine are the co-founders of Two Chicks and a Hammer, Inc. Her husband Steve Hawk also assists her in running the business.
Mina and her mother have been renovating homes since 2007 after she bought a house that needed renovation. She had bought her first home with the help of her mother.
As per their company's website,
"The two were not only able to renovate the house but also discovered a passion for home renovation. They were bitten by the renovation bug and Two Chicks and a Hammer was born. Mina and Karen would work on 2-3 houses a year when they had downtime between their day jobs as a lawyer and waitress."
Their company focuses on renovating homes in Fountain Square, Bates Hendricks, and the surrounding areas. The company was found in 2014 by High Noon Entertainment, who filmed a pilot for HGTV. The show's pilot aired in May 2015 under the name Two Chicks and a Hammer on HGTV.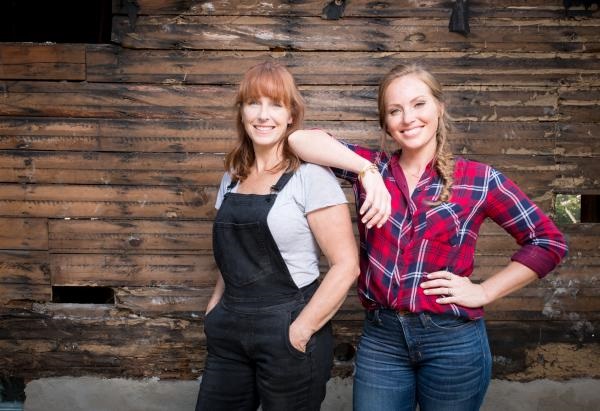 Mina's mother retired from the business in the year 2019 and Starsiak works on renovating homes as a full-timer. She is able to complete 14 houses a year.
Also read Warren Buffett's Berkshire Hathaway Company makes a huge profit! Learn about Warren Buffett, his prostate cancer, and how he battled it bravely!
Short bio on Mina Starsiak
Mina Starsiak is an American real estate agent and television personality. Currently, she appeared on HGTV's new Reno show, "Good Bones" alongside her mom. Read more bio…